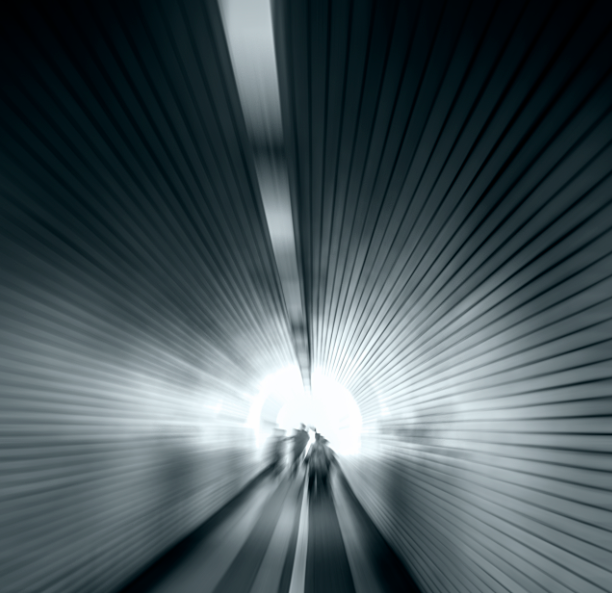 After falling 19 percent last year, aluminium is enjoying a good start to the year, up 7 percent from its low in December, chiefly owing to an improvement in sentiment after numerous supply cut announces inside and outside China.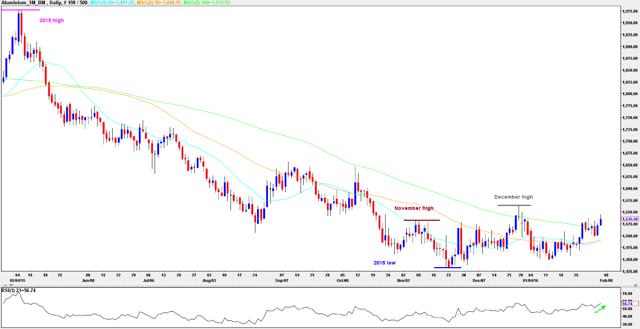 Source: NetDania.
In my previous article published on December 4, 2015, I contended that the recovery in aluminium prices could continue in the near-term amid an improved sentiment but the long-term trend should remain downwards. Since I wrote article, aluminium prices have remained in a trading range, with no clear breakout to the upside. I wish therefore to re-assess the situation in the aluminium market and update my outlook.
The rally in aluminium after spot prices plunged to a 2015 low of $1,433 per tonne late in November 2015 was triggered on the news that China Nonferrous Metals Industry Association (CNIA) requested to the National Development and Reform Commission (NDRC) NDRC to buy output surplus aluminium and consider a probe into short-selling in domestic metal contracts to shore up prices. Although this was not officially confirmed by Chinese authorities, China's State Reserve Bureau (SRB) has intended to buy 2 million tonnes of aluminium from 14 Chinese smelters and hold the metal for at least three years.
In addition to SRB buying, numerous supply cuts inside and outside China have been announced recently, the last one being the announcement by Alcoa of the permanent closure of its Warrick smelter, corresponding to 269,000 tonnes per year, in Indiana by the end of the first quarter of this year.
More importantly, a critical energy-cooperation protocol was signed between China and Russia in November 2015. According to this protocol, both countries agreed to bring aluminium in line with demand in order to stabilize the market and avoid inefficient use of energy resources. Although the protocol did not provide specific details about the coming supply cuts in Russia and China, Rusal's Deputy Chief Executive Officer Oleg Mukhamedshin said to Bloomberg that it was "mega news for the industry". Although I remain skeptical, I contend that this kind of news tends to improve sentiment, at least in the near-term.
Finally, according to the latest International Aluminium Institute (IAI) statistics, global production has fallen in recent months. Aluminium production amounted to 4,777 tonnes in December 2015, down 1.8 percent in November, reflecting a 6-percent decline in Chinese production and a 3-percent increase in the rest of the world. Chinese supply cuts should continue in the months ahead, thereby underpinning the recovery in aluminium prices.
However, I remain concerned over the longer-term for two main reasons.
First, on the supply side of the equation, although China has cut aluminium capacity, around 4.9 million tonnes per year, more new capacity has come on stream, in addition to important capacity expansions in India and the Middle East. In other words, global aluminium capacity continues to grow, albeit at a slower rate. In 2016, smelting capacity is expected to rise 4 percent, slowing from 6.3 percent last year. In this context, the rebalancing of the market should warrant lower prices for longer.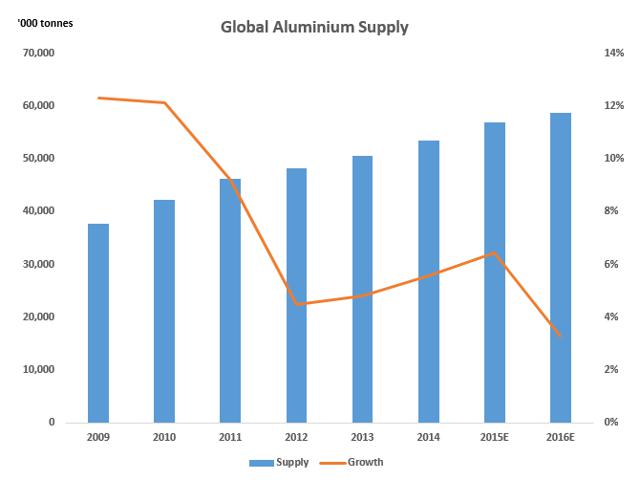 Source: Wood Mackenzie, MikzEconomics
Second, on the demand side of the equation, global aluminium growth demand has slowed down significantly. Indeed, global demand growth was at 4 percent in 2015, sharply down from 7 percent in 2014. This was essentially attributed to slower growth in China, which accounts roughly 50 percent of total demand, while growth outside of China picked up slightly but this was insufficient to offset slowing growth in China. The deterioration of the global economic outlook could point to a slower demand growth this year, which would translate into lower prices.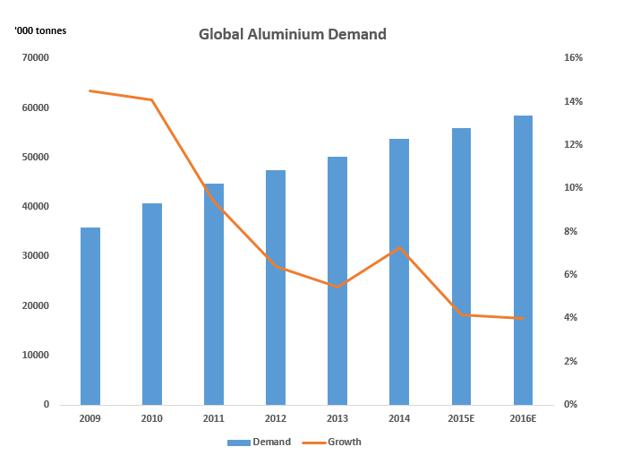 Source: Wood Mackenzie, MikzEconomics
To sum up, I am inclined to believe that aluminium prices should continue to recover in the first quarter of 2016, largely fueled by short-covering, but the rally is unlikely to be sustainable because further supply cuts, most notably in China, are needed to correct the oversupplied nature of the market.
Disclosure: I/we have no positions in any stocks mentioned, and no plans to initiate any positions within the next 72 hours.
I wrote this article myself, and it expresses my own opinions. I am not receiving compensation for it (other than from Seeking Alpha). I have no business relationship with any company whose stock is mentioned in this article.