BP (NYSE:BP) has had a very volatile year so far. Driven by the weakness in oil prices at the beginning of January, BP shares started 2016 on the wrong foot. However, a mini rally in crude oil prices from January 20 onwards, when the Brent had dropped to less than $28 a barrel, brought about a mini rally in BP shares until the company posted its results on February 2, reporting its worst annual loss in two decades.
As a result, BP shares fell over 10% in a single day, but surprisingly, on the very next day, an impressive jump in crude oil prices brought helped BP erase some of its post-earnings decline. But, in the midst of this tremendous volatility, I think that BP investors should not miss the fact that the company is having a terrible time due to weak oil prices and a decline in refinery margins last quarter. However, I think that from here onwards, BP's performance should get better as it has possibly seen the worst that there can be. Let me tell you why.
Upstream struggles might ease out
Last year, due to the massive drop in crude oil prices that hurt realizations, BP's upstream segment took a severe beating as the replacement cost of profit declined on a year-over-year basis. This weakness was clearly evident in the recently-reported fourth-quarter results with the upstream segment swinging to a loss of $0.7 billion from a profit $2.2 billion before interest and taxes in the prior-year period. The following chart clearly shows the weakness in BP's upstream segment: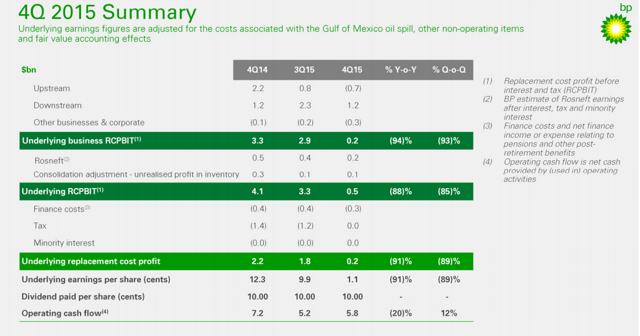 Source: BP
As seen above, due to weakness in BP's upstream segment, the company's underlying replacement cost of profit in the recently-concluded quarter came down to just $200 million from $3.3 billion in the prior-year period. But, going forward, I think that the downside in the upstream segment is limited.
One key reason behind the possible improvement in the upstream segment will be a decline in supply and better demand, which will play a role in balancing the market. For instance, last year, the rapid decline in crude oil prices in the U.S. pushed up demand by 1.8 million barrels per day. Now, this was twice the growth in annual average demand witnessed in the past decade.
Concurrently, crude oil production in the U.S. is declining and fell by 14,000 barrels/day in the week that ended on January 22 to 9.2 million barrels per day. Now, it is forecasted that after peaking at 9.6 million barrels per day last year, crude oil production will drop to 8.7 million barrels per day this year, and then to 8.5 million barrels per day next year. This decline in production is being driven by a rapidly declining rig count in the U.S., which will eventually put a lid on production.
Thus, a combination of higher demand and lower supply will eventually bring about a balance in the oil industry. In fact, as shown in the chart given below, BP believes that the market will hit balance in the second quarter of this year itself: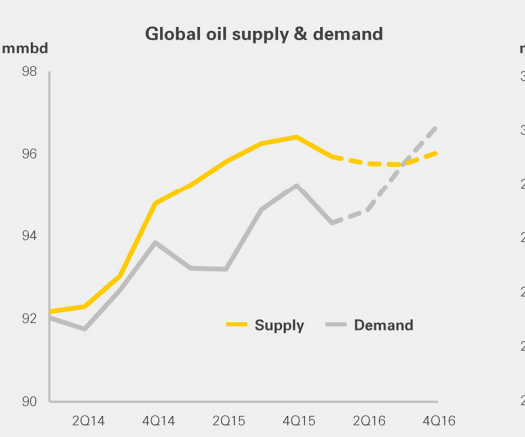 Source: BP
Efficiency will be another tailwind for the upstream segment
To counter the weakness in the upstream segment, BP has taken aggressive steps to improve efficiency and lower costs. For instance, the company has taken concrete steps to reduce partner-operated spending, as a result of which its third-party spending has gone down by an average of 15%. The company has done this by promoting more competitive bidding among its third-party service providers, and it is expected that it will be able to achieve more reductions in this area.
For instance, by the end of the year, BP plans to have re-bids for 40% of its third-party contracts, which will allow it to reduce costs further. Additionally, BP has taken some more organic steps such as reducing the non-productive downtime to the tune of 20% in three years, which has led to an improvement in capital efficiency to the tune of 15% in the past year. Moreover, aggressive reductions in the workforce, which are expected to continue in 2016, will also contribute to a lower cost base.
The net impact of all these cost-reduction activities is that BP has managed to reduce its production cost per barrel of oil as compared to other oil majors. This is shown in the chart below, which also shows further reductions in BP's workforce this year: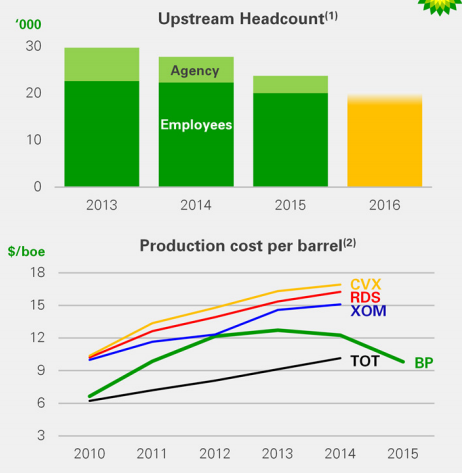 Source: BP
Conclusion
BP's upstream segment has weighed heavily on the company's performance, but it is likely that the worst is over for this segment due to the points discussed above. So, in my opinion, investors can consider buying BP at current levels since its performance could improve going forward.
Disclosure: I/we have no positions in any stocks mentioned, and no plans to initiate any positions within the next 72 hours.
I wrote this article myself, and it expresses my own opinions. I am not receiving compensation for it (other than from Seeking Alpha). I have no business relationship with any company whose stock is mentioned in this article.