On January 26, 2016 Terex (NYSE:TEX) announced Zoomlion had made an unsolicited offer to acquire TEX for $3.3B, or $30/share, roughly a 100% premium compared to the day before the announcement. Never mind that TEX had agreed to an all-stock merger with Konecranes on August 11, 2015. The all-stock merger is expected to close in the first half of 2016, so Zoomlion had to act quickly to make the offer and have the TEX board evaluate it.
Several authors have commented on the merits of each of the deals here and here. I'd like to add my thoughts on why Zoomlion made the offer, and why I feel it will eventually trump the Konecranes offer, and, quite possibly, could command a greater premium than already offered.
Manufacturing: Zoomlion is one of the larger Chinese companies in the construction equipment business. Their base in China provides for low cost manufacturing. But it also comes along with a stigma of lower quality than a Japanese, German, or US manufactured machine. In addition to acquiring the technology and knowledge behind western manufacturing methods and processes, (i.e. something akin to the well known and often emulated Toyota Production System), a Zoomlion acquisition of TEX would provide an instant manufacturing base in the western world. Machinery sporting a Made In Japan/Germany/USA label would certainly add to the brand and the customer acceptance.
A competitor, SANY, has a manufacturing presence in the USA, and owns the Putzmeister brand making it a leader in concrete pumping. It also purchased the manufacturing know-how of Putzmeister and can incorporate that into their construction product lines.
Distribution: Another large hurdle for Chinese branded equipment in the US and Europe has been the lack of distribution and support both before and after the sale. As Doug Oberhelman, CEO of Caterpillar (NYSE:CAT) told Construction Equipment magazine at the 2014 ConExpo show, "We've always had these players, you can remember some over the last decades, different kinds of players that have come in with very low-end product, and there's no support network. There's a certain faction of people that will buy it, and certainly in economic times like today they would be more popular than other times."
SANY America has also pointed out weakness in distribution, stating to Construction Equipment magazine that "their business model includes robust customer and product support through a traditional dealer network-the lack of which has traditionally been an Achilles' heel for Chinese OEMs seeking a foothold in the U.S."
Technology: The third leg of the argument for Zoomlion's interest is the largest reason for the deal. TEX has a portfolio of industry leading products, and has aggressively protected the intellectual property behind the products. The chart below, from the 2014 Annual Report, shows about a third of TEX business is Aerial Work Platforms, a quarter is cranes, and a quarter material handling and port solutions. The balance is split between construction and materials processing.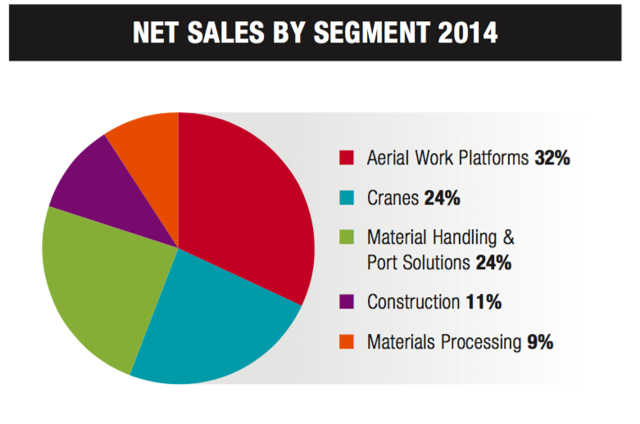 AWP is also the most profitable business segment, as seen from the table below, again from the 2014 Annual Report.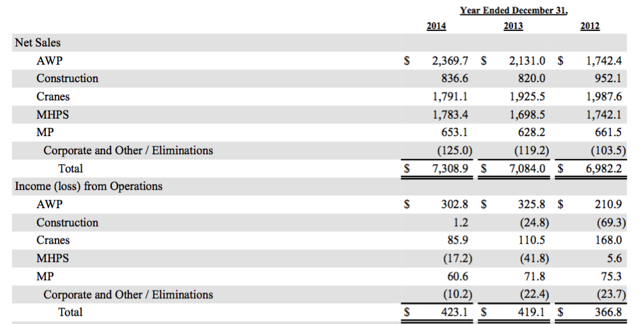 Financially, it is easy to see the crown jewel to any acquirer is the AWP portfolio. For a Chinese company, this takes on additional importance. AWP's are a machine that does not exist in large part in the Chinese market by a Chinese brand. Demand for this machine will be significantly growing over the next 3-5 years for building maintenance and support. It is likely that there will be a surge in demand to fill the market need much like was seen with hydraulic excavators in the 2006-2012 timeframe. With TEX being one of the big three (along with JLG (a unit of OshKosh (NYSE:OSK)) and SkyJack (a Linamar Company (TSE:LNR)), the TEX technology and product can expect to fill a great deal of this demand.
In my opinion, a back of the envelope calculation suggest that today, stand-alone, the AWP segment is worth at least $2B, or 60% of the offer price. This value is roughly 1x sales. It is also simply 8x profit, roughly what Zoomlion has offered for the entire company. This does not factor in any type of significant growth in opening a new market, China. Adding estimates for the demand in China this could grow by 25% or more.
Caveat: Reuters has reported that the TEX sale to Zoomlion could be blocked by the Committee on Foreign Investment in the United States (CFIUS). The basis for this would be to maintain control of port crane technology, which is seen as critical US Infrastructure. With the approval of the Fixing America's Surface Transportation (FAST) Act, where as much as $48B over 5 years will be spent updating freight lines and ports, this is a viable concern.
This may actually be to the TEX shareholder's benefit.
What I believe investors need to consider is a split purchase. That is, TEX could decide to break up the existing company, and sell the pieces separately. Material Handling and Port Solutions (MHPS) could be sold to a domestic company, alleviating any government concerns. With the opportunities that the FAST Act will provide, this business should bring between $0.7 and $1.4B. Zoomlion and Konecranes are both interested in the crane business, possibly bringing a bidding war. Cranes are worth the same $0.7 to $1.4B. Construction has struggled to be profitable, but is still worth at least half of sales, or $0.4B. And there would be many suitors for the material processing business, with its profitability. It could draw between $0.5B to $0.7B.

Summary: TEX is in a wonderful position of having 2 suitors. The business is solid and profitable, even in the difficult times we currently live in for machinery companies. The offers that TEX has received are fair offers based on the current market conditions, but underestimate the value going forward. TEX has the ability to achieve greater benefit for shareholders by considering a break-up prior to sale, which would also alleviate US movement concerns.
Disclosure: I am/we are long TEX.
I wrote this article myself, and it expresses my own opinions. I am not receiving compensation for it (other than from Seeking Alpha). I have no business relationship with any company whose stock is mentioned in this article.
Additional disclosure: This is my personal opinion and is offered as food-for-thought to others interested in TEX