An Italian car company that is pretty much reliant on US SUVs
With 82% of adjusted operating profit coming from the US, it's fair to say that Fiat-Chrysler's (NYSE:FCAU) business is reliant on Americans buying Jeeps and Ram Trucks. Forget about Chrysler Sedans and that Fiat 500 thing, this is a SUV/Truck company. To me, this puts the company in a tight spot as the majority of its business is dependent on the viciously competitive (And also shrinking) American SUV/Truck world. Alas, look up any car brand, and you'll see the number of "body on frame" steel beasts that beckon us back to the time of titans is regrettably limited. Carmakers are now spending more energy on catering to consumers' desires for affordable all wheel drive crossovers (The shame...). All the while, Fiat Chrysler is incurring costs in phasing out its Chrysler 200 and dodge darts in order to use the factory for Jeep's and Ram Trucks.
Moving against the current
Jeep just had its best ever sales for the month of January. The very nature of what makes a Jeep awesome, is also what keeps it from being the best selling brand in the world. To people like me who like spending weekends at the cabin, and want a car that'll get you there without compromising to weather, it's the best brand ever. To those who want practical, utilitarian cars, crossovers like the Ford Explorer or Hyundai (OTCPK:HYMPY) Sante Fe are going to win. Jeep has made moves into this segment with car based vehicles such as the newly released Jeep Renegade, and the mid size Cherokee. Purists were not thrilled with the former, and were plain disgusted with the latter. Unfortunately, in order for Fiat to put up growth numbers for its stock, they have to grow the brand. The only way to grow it is to hop into things like the crossover market. This in turn alienates all the loyal jeep fans. See the conundrum? It seems to me that regardless of what Fiat-Chrysler does with Jeep they're in a lose-lose situation. Market share they may gain from altering their lineup may be lost due to loyalists being upset (On top of that there is already disillusion owing to the fact that Jeep is no longer a true American brand). I think this concept is well demonstrated in the company's car sales numbers remaining unchanged year over year at 4.6 million. The jeep crossovers have sales, but I wonder if the changed lineup will alienate loyalists of the old Jeep away from the company.
Admittedly, the company has truly done wonders in turning around the Ram Truck series. Any old Dodge pickup that I have ever been in has always showed premature corrosion and wear and tear. Moving the Ram trucks away from "Dodge" to their own exclusive brand, drastically improving fuel economy and reliability rankings have been responsible for a real uptick in not only the perception, but also the demand for Ram pickups. These successes still beckon the same question. In a world where cars of economic efficiency and strong EPA crackdowns on emissions are a constant threat, can a car company that is putting its eggs in the SUV basket still prosper?
I see doubt in the firm's own CEO Sergio Marchionne. I don't mean doubt in his abilities, I see doubt in his own feelings about the company's future. Whether he'd ever admit it or not, last year's attempt to drum up merger interest with General Motors (NYSE:GM) (What!?!?!?) is a clear indicator to me that Marchionne doesn't see a clear avenue for how to expand Fiat Chrysler on his own. If you read about the man, he likes cars. He's not just a CEO playing the game. The guy likes automobiles. I don't see him wanting to give up Fiat's independence lightly. There are clearly problems he see's in Fiat's path for future growth. Why else would you try to merge a company that does nothing but boast of its month after month of improving sales?
Look at the profit drop in their Q4 of 2015. Their profits dropped 40% for the quarter. Much of this seems to be related to how they're restructuring their production. Principally they're moving sedan production to Mexico in order to focus the US factory base on the big cash Jeeps and Trucks. My question still stands in regard to the long term growth potential of the SUV market. People such as myself who "need" big four wheel drive cars are a rare breed these days, and the crossover market (where Jeep's newer models fall into) is the most competitive segment in the auto industry. With the number of competitors, and Jeep's lackluster reliability ratings, I can't help but question the long term success they'll experience in the crossover segment. It could be great, or it could crash and burn.
The Good times have rolled. Now we face uncertainty
Every business goes up and down. It's the nature of economics. The past few years have been BOOM time for car companies. Easy money and a bull market (not to mention that massive cash infusion back in 2009 that helped rev up the industry) have helped the big guys like Ford (NYSE:F) General Motors and Toyota (NYSE:TM) make waves. Heck, one of the main reasons that I'm not at all worried about Volkswagen (VLKAY) after their "scandal" is the ridiculous amount of cash they've made. However, analysts are already predicting a peak in auto sales has occurred. It concerns me how all the automakers will fair. Fiat-Chrysler is of particular concern considering their weaker margins than some rivals. Revenue growth has been impressive since 2011, but net income has been squirrelly. As with most investors, I'm big on earnings per share, and the companies hasn't been able to get back to 2011's levels above $1 per share. Some swing trades might be in order regarding the auto sectors recent pullback, but as a long term play Fiat-Chrysler is looking lackluster. I like their cash position, but I don't love their lack of diversification in terms of income. 2015's stock performance tells the tale of investor confidence in the company.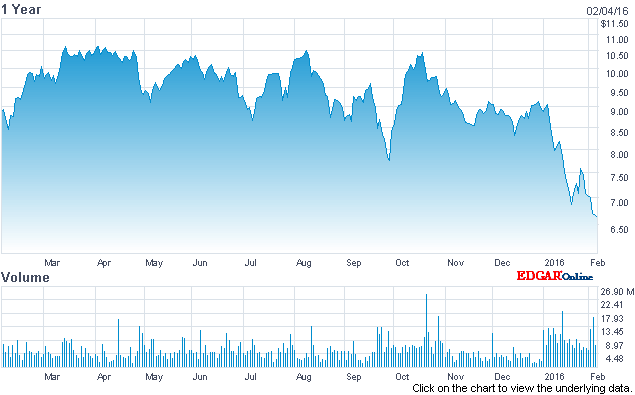 (Source: Nasdaq.com)
Disclosure: I/we have no positions in any stocks mentioned, and no plans to initiate any positions within the next 72 hours. I wrote this article myself, and it expresses my own opinions. I am not receiving compensation for it (other than from Seeking Alpha). I have no business relationship with any company whose stock is mentioned in this article.