"Success consists of going from failure to failure without losing enthusiasm."
Winston Churchill
Introduction
With a mix of fascination and foreboding, that is eerily reminiscent of 2008 and 2009, I am watching, and chronicling through my writing, one of the most fascinating monetary experiments in history. The world's central banks have rampaged down a path of unprecedented intervention, seemingly with the intent of creating inflationary pressures, to inflate away the tremendous overhang of debt that encumbers almost every economy in the world.
While Ray Dalio would call this a beautiful deleveraging, to me, it has been simply another, bigger, all-encompassing bubble fueled by artificially low interest rates and central bank injections.
Amazingly, and ironically, the tip of the spear of this current iteration of our running series of bubbles, have been momentum growth stocks, where growth, not hyper growth, but any growth, is outrageously rewarded, while the examination of fundamentals is pushed far out into the future, circa the late 1990s.
One would think that investors would have learned, and the Fed would have learned. In fact, if the Fed wanted to create inflation, why are they not more explicit about this endeavor? In trying to create inflationary pressures, they have actually created a self-reinforcing disinflationary/deflationary cycle that saw the world's capital flows funneled into the largest companies in the world. Bill Ackman criticized this "index bubble", and rightly so, but investors like him have benefited from the short sighted nature of the current central bank policies.
Now, we stand on the precipice, once again, as interest rate increases are being questioned, not because rate increases might be the right thing to do, to reward savers, who have been punished for far too long, but rather, because the patient being treated, the high frequency trader, the day trader we all know, and the mom and pop investor searching for yield, have all simultaneously become addicted to the placebo benefits of low interest rates.
Like a blockbuster novel, or movie, the plot has been set. Can investors handle another bubble bursting for the third time in fifteen years? Will another round of global QE cause bond markets to decline? What happens when the 30 year bull market in bonds bursts? Will the religious faith in central banks finally be questioned?
Thesis
The third bubble in fifteen years is now deflating. Volatility will be immense, and wild bounces should be expected, but rallies in market capitalization indexes should be sold until broad market indexes reflect the drawdowns in individual stocks.
Bonds Have Outperformed Stocks
The seemingly unrelenting, index-fueled rise in the stock market has masked a surprising truth. The bond market, as measured by the iShares 20 Year+ Treasury Bond Fund ETF (NYSEARCA:TLT), has actually outperformed the stock market over the past five years in the United States, as measured by the SPDR S&P 500 Index ETF (NYSEARCA:SPY).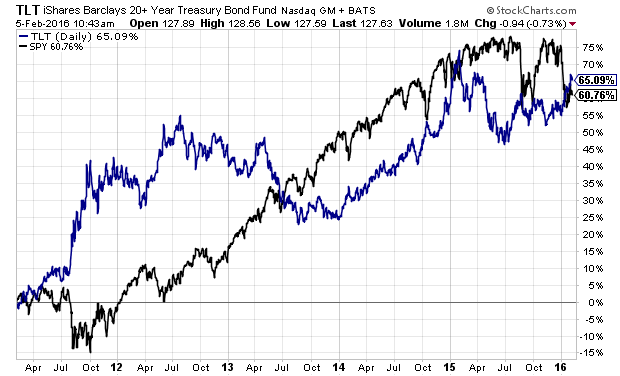 For the record, as of the morning of February 5th, TLT was up 65% while the SPY was up 61% over the last five years. With the decline in the average stock now reaching over 25%, and many individual stocks imploding, many investors would have been better off by holding low yielding bonds over the past five years.
Value Stock & Momentum Stocks Are Imploding
I have written about the merits of Ralph Lauren (NYSE:RL), a former growth company, as a value stock. As I have articulated in my research, RL traded at ten-year low valuations at the end of 2015. The low price, and historically low valuations, did not stop the company from facing one of its worst declines in its stock price, ever, when it marginally reduced forecasts upon reporting earnings yesterday morning. The market did not like the updated forecast, as evidenced by the stock price reaction.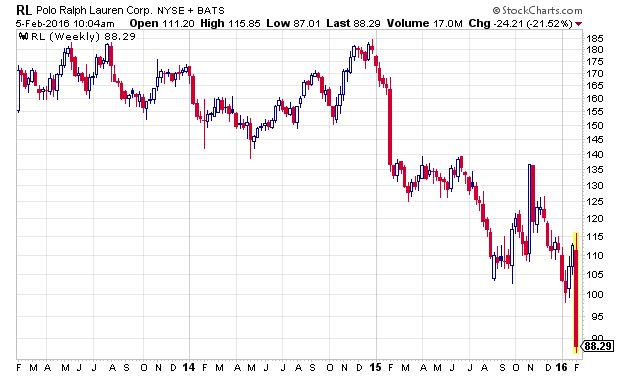 On the opposite side of the spectrum, former growth darlings are suffering even steeper declines, as their growth prospects are now being openly challenged. LinkedIn (NYSE:LNKD) is off by nearly 40% after they reported their earnings last night, with results and forecasts missing expectations.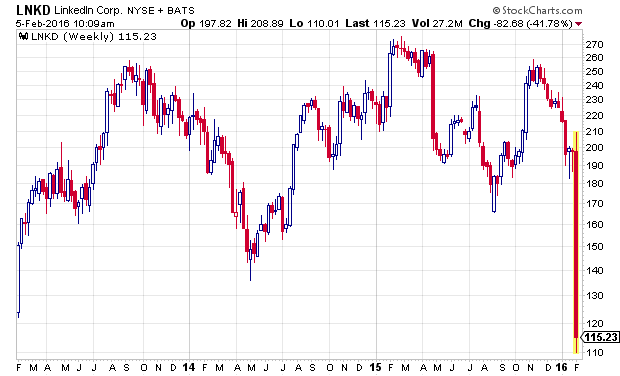 Investors are becoming increasingly scared of companies that miss their own growth forecasts. The price action in Tesla Motors (NASDAQ:TSLA) perhaps best represents this newfound fear.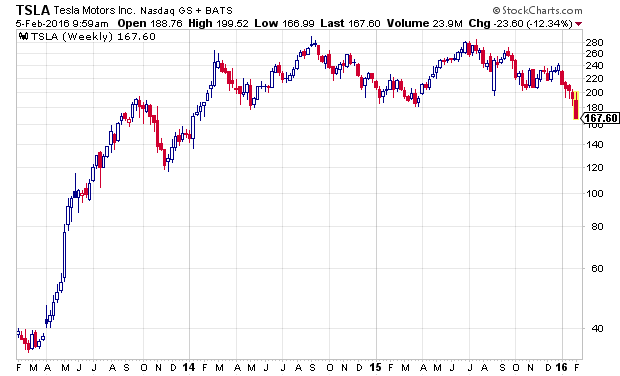 After being clearly wrong for several years, perhaps my calls to short Tesla's stock, are being reviewed in a different light.
A Look Through The Trauma Ward
In analyzing the markets over the years, I have found that viewing weekly charts can remove some of the noise inherent in daily fluctuations. I have found this to be particularly true in times of higher volatility. A perfect example of emphasizing weekly price action over daily price action is in the chart of Alphabet (NASDAQ:GOOGL), (NASDAQ:GOOG), which is shown below.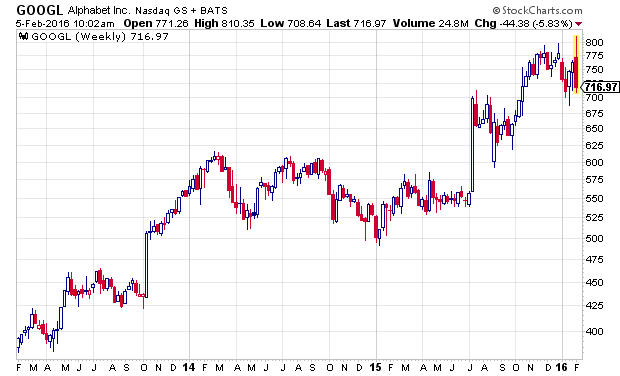 Alphabet surged higher, after reporting stronger than anticipated quarterly results. The surge generated a lot of media attention, as Alphabet surpassed Apple (NASDAQ:AAPL) to become the world's largest company by market capitalization. Looking at the above weekly chart, however, shows that the daily surge was overshadowed by the sell-off during the remainder of the week.
With that premise, I wanted to show weekly charts of important market leaders and bellwethers, including AAPL, Amazon, (NASDAQ:AMZN), Netflix (NASDAQ:NFLX), iShares Biotech ETF (NASDAQ:IBB), and the SPDR S&P Biotech Index ETF (NYSEARCA:XBI) to show how much the market has declined below the surface.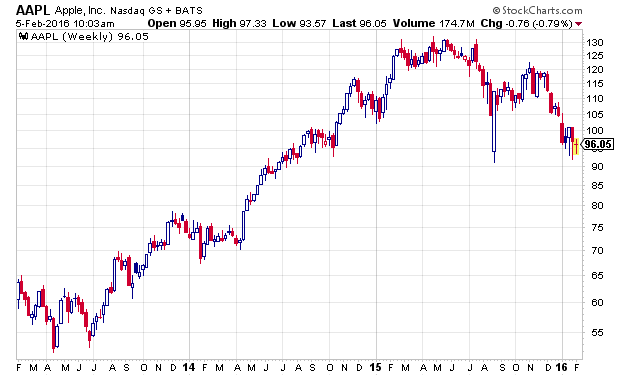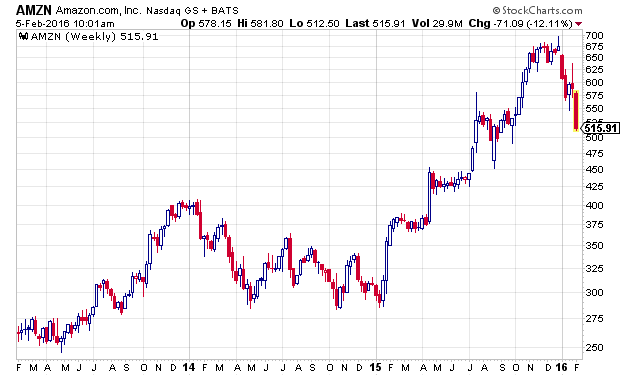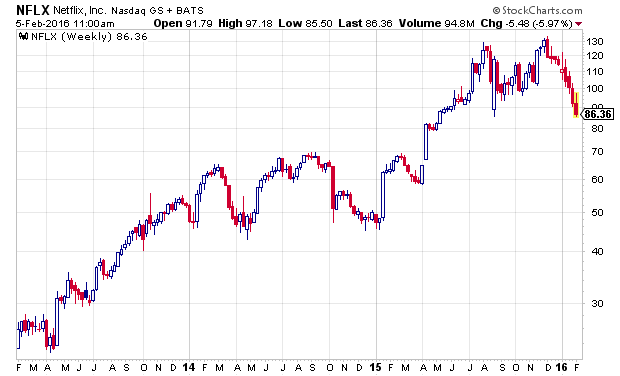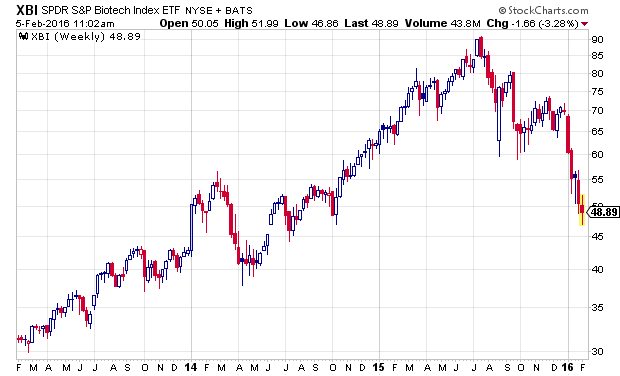 Apple and Amazon are off by more than 25% from its highs. Netflix is off by more than 33%, while the biotech stock ETFs have declined by more than 35%, for IBB, and nearly 50%, in the case of XBI.
Market Capitalization Indices Have More Room To Fall
With the average stock off by more than 25%, and leading stocks down even more than that as shown above, it is only a matter of time till market capitalization indexes, like the S&P 500 Index, and the NASDAQ 100 (NASDAQ:QQQ) catch up on the downside.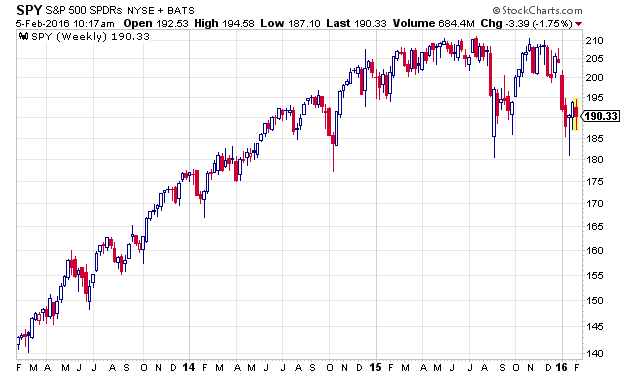 A 20% correction would take the S&P 500 Index below the 1700 level, when it still sits around 1900 today. With tech stocks struggling as growth expectations are challenged, expect the NASDAQ 100 Index to decline even more than the more diversified SPY.
Rays Of Sunshine
As market participants question the growth trajectory of the U.S. economy, the U.S. Dollar Index has come under siege. In fact, Wednesday, February 3, 2016, saw the U.S. Dollar suffer one of its worst days of losses over the prior decade.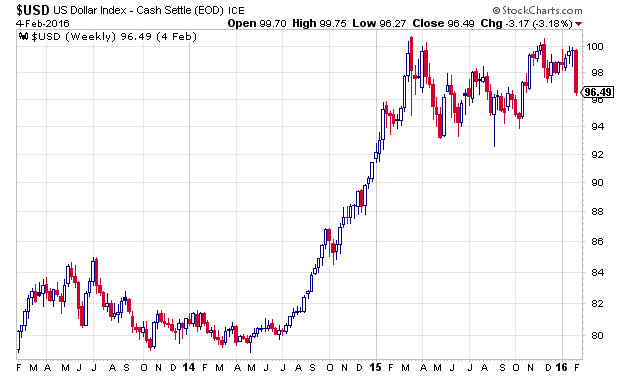 From looking at the chart of the PowerShares DB US Dollar Index Bullish Fund (NYSEARCA:UUP), it should be clear that the U.S. Dollar has been unable to surpass its spring 2015 high.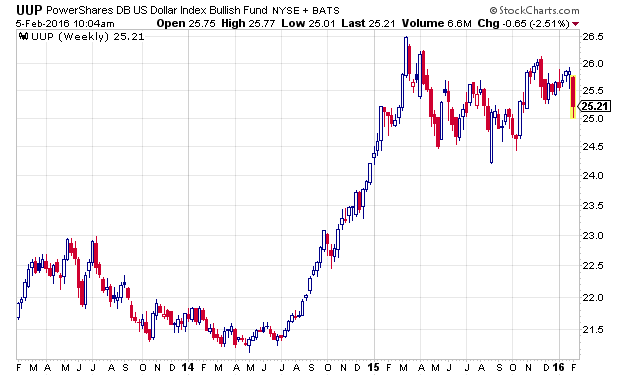 As the U.S. Dollar has struggled, downtrodden commodities have shown signs of life. Copper has rallied back from the dead.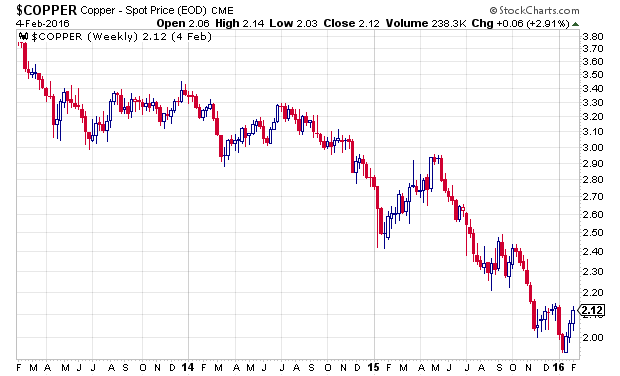 The rally in commodities has sparked share price advances in some of the most heavily shorted names in the market, including Freeport-McMoRan (NYSE:FCX), who I recently profiled, and U.S. Steel (NYSE:X), the first company examined in my "Too Cheap To Ignore Series" of articles.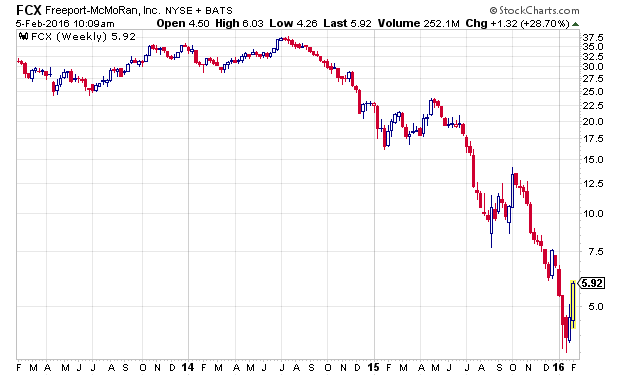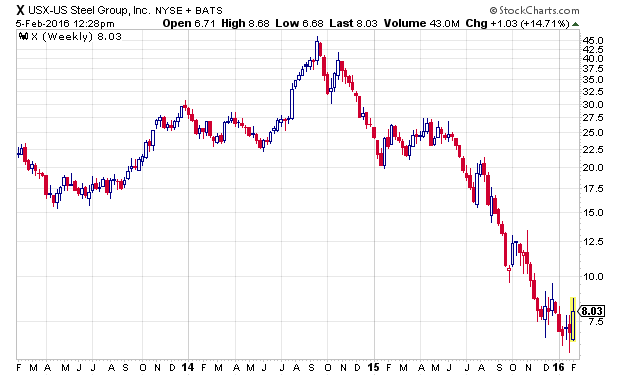 In December, the most crowded trades in the market according to Bank of America Merrill Lynch, were long the U.S. Dollar, short commodities and commodity stocks, and short emerging markets. Could these trades be unwinding in front of our eyes?
Conclusion - Reduce Exposure & Look For Opportunities
The wholesale liquidation of institutional favorites, combined with short covering in out-of-favor equities, suggests that large institutional investors, like hedge funds, are still reducing their weightings to U.S. equities.
While the recent sell-off may be due for a strong countertrend bounce at any time, it is likely that the capitulation phase, or the puke phase, where everything is sold to raise liquidity is just getting started.
Thus, investors should anticipate a further pullback in the broad market indexes, as they have not yet reflected the carnage under the surface of the stock market.
As the imbalances of the last five years are corrected, out-of-favor assets, and alternative investment strategies likely have merit, in an environment where both bonds and stocks imply very low return expectations.
Central banks around the world have been quick to respond with further monetary easing as their own stock markets have pulled back. In the U.S., futures markets are discounting the possibility of additional rate increases in 2016. Is there a chance that the Fed reverses course? What will that mean for stock prices? Stay tuned, as we are all witnessing, and participating in, one of the most fascinating monetary experiments in history.
Disclosure: I am/we are long FCX, RL, X, SHORT AMZN, IBB, SPY.
I wrote this article myself, and it expresses my own opinions. I am not receiving compensation for it (other than from Seeking Alpha). I have no business relationship with any company whose stock is mentioned in this article.
Additional disclosure: Every investor's situation is different. Positions can change at any time without warning. Please do your own due diligence and consult with your financial advisor, if you have one, before making any investment decisions. The author is not acting in an investment adviser capacity. The author's opinions expressed herein address only select aspects of potential investment in securities of the companies mentioned and cannot be a substitute for comprehensive investment analysis. The author recommends that potential and existing investors conduct thorough investment research of their own, including detailed review of the companies' SEC filings. Any opinions or estimates constitute the author's best judgment as of the date of publication, and are subject to change without notice.