I've published a couple of articles which were negative on NeuStar (NYSE:NSR), on account of the loss of its NAPM (number portability) contract, which constituted nearly half of its revenues and quite possibly all of its earnings. These articles were titled "NeuStar: The Loss Of The NAPM Contract Sees New Disclosure" (NSR @ $27.19) and "NeuStar: 2016 Guidance Makes Little Sense" (NSR @ $24.63). the stock stands at $22.26 as I write this (down 18.1% and 9.6%, respectively).
The contract loss is a fact; however, the timing for the loss of revenues from said contract is getting ever more into the future. Last week, NAPM confirmed a transition period which now goes all the way to Q3 2017: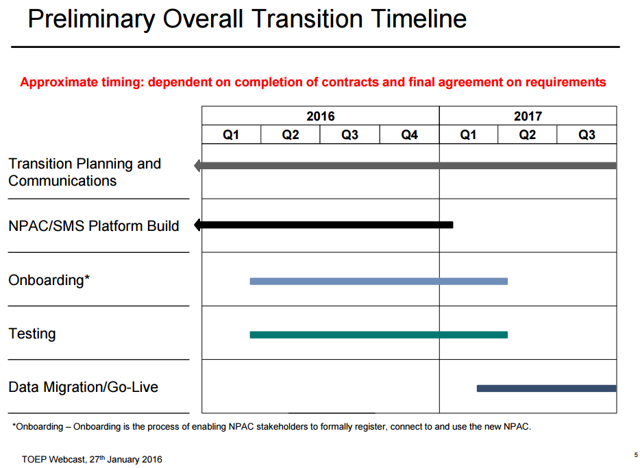 Source: NAPM TOM - TOEP Webcast, January 27, 2016
With NeuStar realizing high-margin revenues from the contract for nearly a year more than I expected and with it still having nearly 2 years of said revenues to receive, the reasons to remain negative are dwindling. This is so because:
NSR is already a severely depressed equity, trading at ~3.9x ~2016 EV/EBITDA (already considering the impact from acquisitions).
With nearly 2 years of FCF still coming from the NAPM contract, this will allow for a reduction in net debt if NSR stops with acquisitions (I'd estimate NSR can pay down ~50-60% of its debt if it does no acquisitions).
Nearly 2 years to transition also allows NSR to further adapt to the new environment and grow businesses ex-NAPM.
Putting all of these together, while I am not turning positive on the name - after all the contract is still a loss, and the resulting company is still an unknown - I don't see the point of waiting for nearly 2 years to see how the situation plays out.
The stock ended up underperforming anyway, but I'd put it mostly down to luck, as the developments since I wrote my articles were unfavorable for the thesis.
Conclusion
I am no longer negative on NSR on account of the NAPM transition date being too far into the future and allowing too much EBITDA/FCF degeneration between now and then.
Disclosure: I/we have no positions in any stocks mentioned, and no plans to initiate any positions within the next 72 hours.
I wrote this article myself, and it expresses my own opinions. I am not receiving compensation for it (other than from Seeking Alpha). I have no business relationship with any company whose stock is mentioned in this article.