Looking for a safe haven in this volatile market? Several of our recent articles have profiled some Dividend Aristocrats which have been outperforming, including AT&T (NYSE:T).
This article will focus on AT&T's rival, Verizon, (NYSE:VZ), which also has been outperforming the market over the past year, quarter and year to date: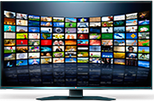 (Source: VZ website)
In fact, VZ also has outperformed AT&T so far in 2016, and is the top performing stock among the Dow 30 stocks in 2016, gaining over 9%:

Dividends: Our High Dividend Stocks By Sector Tables track VZ's price and current dividend yield (in the telecoms section). Although VZ doesn't have a high dividend growth rate, management has raised the dividend every year for the past nine years. The increase generally occurs in October.

Analysts' Price Targets: With its outperformance, VZ is only around 1% below its 52-week high, and is right around analysts' mean price target of $50.71.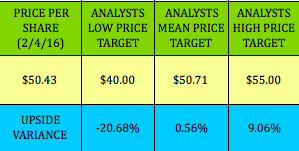 Put Options: With that in mind, we took a look at what selling cash secured put options at $50 would achieve. This July $50 put strike pays $2.59, giving you a $47.41 breakeven, vs. VZ's next two dividends, which equal $1.13.
You can see more details for this and over 30 other put-selling trades in our free Cash Secured Puts Table:

Call Options: We also just listed a July Covered Call trade for VZ in our Covered Calls Table, which also tracks over 30 other income-producing trades.
The July $52.50 call strike pays $1.10, which would just about allow you to double your dividends during this six-month period.


The $52.50 strike is $2.23 above VZ's $50.43 price/share, which leaves some headroom for potential price gains. The table below details the three main scenarios for this trade:

Strong Earnings Growth: Although top-line growth wasn't robust, VZ's EPS grew over 25% in Q4 2015, and its trailing 12-month EPS grew over 17%. Operating cash flow grew over 27% in the past four quarters and jumped 41.72% in Q4 2015.
Net income was the biggest gainer as VZ swung from a $2.15B loss in Q4 2014 to a $5.51B gain in 2015, which gave it a 53.72% trailing 12-month growth figure. The share count also got whittled down by almost 1% between Q1 and Q4 2015.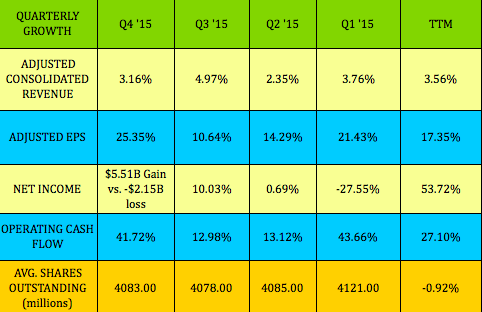 2015 vs. 2014: The wireless segment accounted for over 70% of VZ's 2015 revenues, but chipped in even higher amount of its EBITDA, at 81.49%.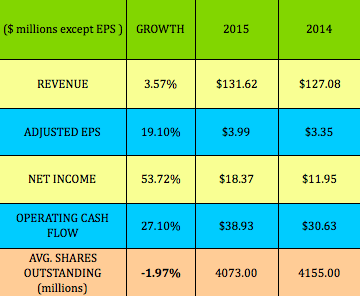 Analysts' Estimates: VZ has beaten EPS estimates for the past four quarters, and, although the overall 2016 EPS consensus is flat, at $3.99, there have been 13 upward revisions over the past 30 days. The 2017 estimate inched up to $4.06 from $4.05 in the past seven days, with seven upward revisions in the past 30 days, but, hey, December 2017 is still quite a ways away, eh?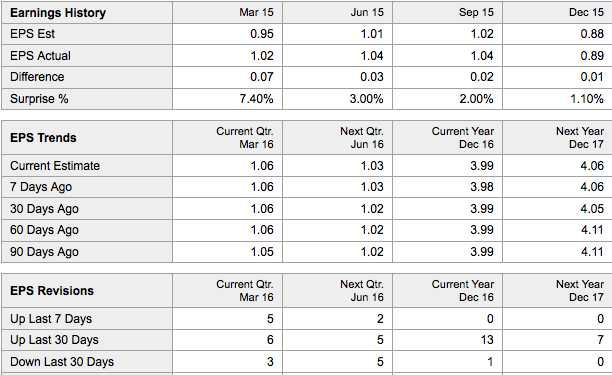 (Source: Yahoo Finance)
Bonds: VZ has debt maturities stretching out from 2016 to 2055 - these are just the bonds with the highest yield to maturity. There are many more available.

(Source: Morningstar)
Valuations: Except for price/book, VZ and T look fairly close in their valuations.

Financials: Unlike AT&T, VZ has favored debt issuance in its capital structure, vs. issuing shares, hence the higher debt load and much higher ROE ratio.

Debt Ratings: Verizon has a stable outlook rating from all three rating agencies, with ratings varying from Baa1 to A3 from Moody's. Management is aiming to bring debt levels down to pre-Vodaphone levels by 2018-2019. Wikipedia has a useful grid which compares the three agencies' ratings. These ratings fall mainly in the agencies' lower medium grade category.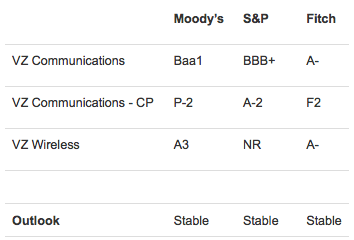 (Source: VZ website)
All tables furnished by DoubleDividendStocks.com, unless otherwise noted.
Disclaimer: This article was written for informational purposes only. Please practice due diligence before investing in any investment vehicle mentioned in this article.
Disclosure: I am/we are long T.
I wrote this article myself, and it expresses my own opinions. I am not receiving compensation for it (other than from Seeking Alpha). I have no business relationship with any company whose stock is mentioned in this article.