ConocoPhillips (NYSE:COP) reported fourth quarter and full year 2015 results on Thursday; net losses were higher than expected. The company also announced a dividend cut, which sent shares lower by nine percent. The outlook remains dim, but lowering the dividend means less pressure on the company's balance sheet.
Numbers recap
ConocoPhillips grossed revenues of $6.8 billion in the fourth quarter, $5.1 billion below last year's number. ConocoPhillips reported an adjusted net loss of $1.1 billion for the quarter, which means net losses of $0.90 per share.
Full-year revenues came in at $30.9 billion; the company's full-year losses totaled $1.7 billion, or $1.40 per share.
What was good and bad?
ConocoPhillips has been cash flow negative for a couple of quarters, and the company's fourth-quarter results show that the situation is getting worse: Operating cash flows totaled $1.6 billion, which is more than 40 percent below last year's number and a decrease of 16 percent quarter to quarter. ConocoPhillips reacts to lower operating cash flows by lowering capital expenditures as well, but with capex for the fourth quarter coming in at $2.1 billion, ConocoPhillips was free cash flow negative for the quarter, even before paying any dividends. The dividends for the fourth quarter totaled another $920 million, which means that the company had to fund parts of its capex budget and its dividend by new debt and divestitures. New debt issuance was low this quarter, but ConocoPhillips sold assets for $1.6 billion in the fourth quarter.
I believe asset sales during times of low oil prices are not beneficial for shareholders in the long term: The prices for oil-related assets move in line with the price of oil, which means that during times of high oil prices the corresponding energy assets have high prices as well, whereas those assets have a low price when the price of oil is low. It is thus good for investors when companies acquire assets in times of low oil prices (i.e., buying energy assets for a low price), whereas it is bad for investors when assets are sold during times of low oil (and asset) prices. Companies with very strong balance sheets, such as Exxon Mobil (NYSE:XOM), have been acquirers of assets in times of low oil prices historically, and the company's owners profit from this since those assets (which were bought for a low price) produce huge profits when the price of oil rebounds. ConocoPhillips' moves were the exact opposite: The company is selling assets while the price for these assets is low, which means that future profits will be lower (due to a smaller asset base), and the proceeds from these asset sales are not high either. With the dividend cut by 66 percent, the company's cash needs will be lower in the future, which means that the pace of asset sales will hopefully decline.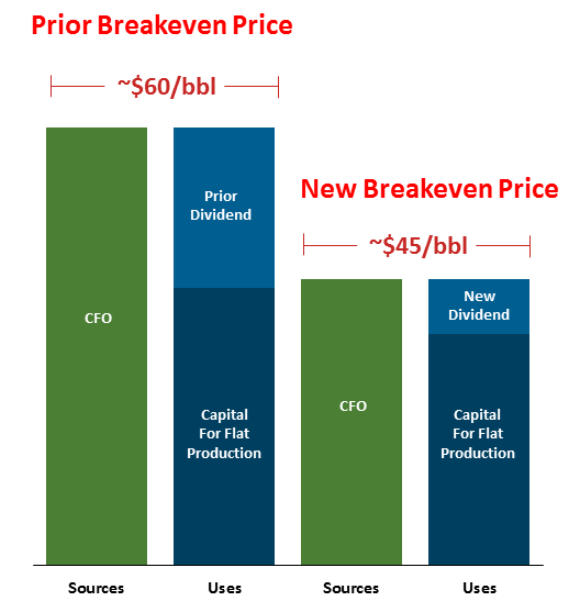 Source: ConocoPhillips Q4 '15 Conference Call Presentation
Lowering the dividend and cutting capex budgets further means a lower breakeven price for the company (speaking in terms of cash flows), but even the new breakeven price of $45 per barrel is well above the current price of oil - the combination of lowering capex and cutting the dividend will mean lower additional burden for the company's balance sheet nevertheless.
Free cash flows minus dividends (i.e., operating cash flows - capex - dividends) totaled $7.2 billion for 2015, asset sales totaled $2.2 billion, additionally the company has taken on $2.4 billion in new debt and reduced its cash pile by $2.7 billion. At $24.9 billion, ConocoPhillips' debt position is now equal to 57 percent of the company's market capitalization; ConocoPhillips' debt to EBITDA ratio stands at 3.4, which shows the company's substantial leverage. Total debt stands at 62 percent of the company's equity as of the end of December.
The trend doesn't look good for ConocoPhillips' first-quarter results, either: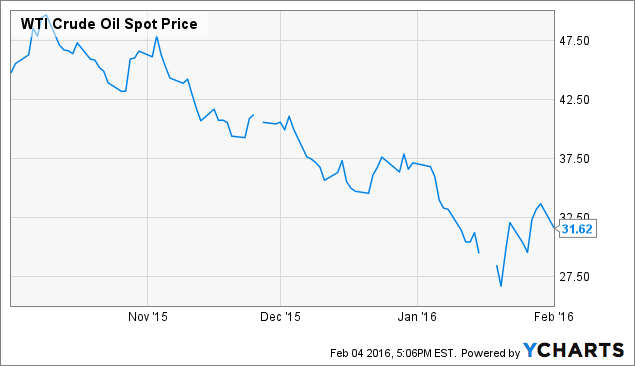 The price for WTI stands at $31.62 right now, which is well below the fourth quarter's average of around $45. In 2015, WTI averaged $52 per barrel, whereas ConocoPhillips' average realized price per barrel was lower at $48. When we assume that this discrepancy between WTI's trading price and realized prices for COP remains flat at $4 per barrel, this will mean that the company's Q1 average realized price will come in around below $30 per barrel if oil prices do not rebound sharply in the coming weeks. This would mean Q1's average realized price would be even lower than last quarter's average realized price, which stood at $40 from October to December.
This will mean additional, substantial revenue declines for the company: $10 / barrel * 1.52 million barrels per day * 90 days = 1.4 billion in lost revenues in comparison to the fourth quarter of 2015 if oil prices remain at the current level. This will mean even lower operating cash flows, even higher net losses and this will force the company to keep selling assets to fund its capex and (reduced) dividend, or to take on more debt, which would propel the company's debt ratios up even higher: If ConocoPhillips reports a net loss of $4 billion in the first quarter (net losses for the fourth quarter were $3.5 billion), this would lower the company's equity value to $36 billion, should ConocoPhillips take on $2 billion in additional debt the company's debt to equity ratio would stand at 75 percent. It is harder to forecast what might happen in the following quarters, but we can say that the outlook is not too good if the price of oil doesn't move substantially. Even at $40 per barrel, which would be 25 percent above current levels, the company would continue to report losses (thus lowering equity value) and would have to take on more debt to fund its insufficient cash flow. I thus believe that a second dividend cut (possibly a suspension of the dividend altogether) is not unlikely in 2016 if oil prices stay this low (and since some analysts are calling for oil prices to hit $20 in the next months, this is a possible scenario).
Takeaway
ConocoPhillips reported net losses, which was already expected, but the company lost more money than most had hoped for. The dividend cut was prudent, since ConocoPhillips' cash burn rate was unsustainable.
With even lower oil prices in the current quarter, ConocoPhillips' Q1 results will not be pretty, the company's cash burn rate will be significant (despite the dividend cut), and its leverage and debt ratios are poised to increase further.
If oil prices remain this low, I believe a suspension of the dividend is possible, and I do not believe ConocoPhillips is a buy at current levels.
Disclosure: I/we have no positions in any stocks mentioned, and no plans to initiate any positions within the next 72 hours.
I wrote this article myself, and it expresses my own opinions. I am not receiving compensation for it (other than from Seeking Alpha). I have no business relationship with any company whose stock is mentioned in this article.