If you look at the stock chart below, it almost appears as if LinkedIn's (LNKD) shares went through a 2-for-1 stock split recently. Unfortunately, this is actual performance, and it shows what happened to LinkedIn this week. Shares cratered on Friday after the company's fourth-quarter report, with the daily low being more than 50% off of prices seen earlier in the week. While many will look for a buying opportunity on the drop, a valuation argument can be made that the stock is still overvalued.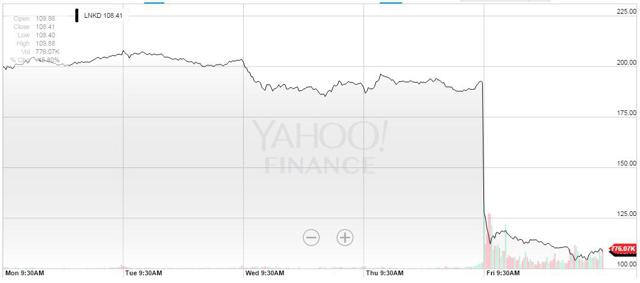 (Source: Yahoo Finance)
For Q4 2015, the company actually had a decent quarter. Revenues grew by 34% over the prior-year period and beat analyst estimates by more than $4.3 million. On the bottom line, non-GAAP EPS of $0.94 smashed estimates for $0.78. Unfortunately, investors like to be more forward looking, and the following guidance taken from this SA market current explains the stock's drop (bracket is mine):
(LinkedIn) expects 2016 revenue of $3.6B-3.65B and EPS of $3.05-3.20, below a consensus of $3.91B and $3.67.
This implies 2016 revenue growth of just 20-22%, a dramatic slowdown from the 35% seen in 2015. Worse yet, non-GAAP EPS is forecast to rise just 7% to 13% this year, after a roughly 40% jump in 2015. The slowing revenue growth was bad enough, but an even larger drop in adjusted profits makes the situation much worse.
The problem for LNKD is that the name is heavily compared to the social media giant Facebook (NASDAQ:FB). Fair or not, the most recent results show a large divide between the success of these firms. In another strong quarter, FB reported a GAAP profit of $2.56 billion on nearly $6 billion in revenues. For the entire year in 2015, LinkedIn didn't even hit $3 billion in revenues and lost more than $164 million.
While non-GAAP numbers are used by all, investors love how Facebook has actual profits while LinkedIn and Twitter (NYSE:TWTR) continue to lose money on a GAAP basis. Facebook's GAAP profit for all of 2015 was just under $5 billion, nearly the total amount of revenues that LinkedIn and Twitter will have while the two laggards will combine for hundreds of millions in GAAP losses.
After such a large fall, investors might think that LinkedIn's shares could be a very strong buy. However, you can still make the argument that shares are way too expensive. Just take a look at the following comparisons for 2016 in the table below:

*LinkedIn numbers based on midpoint of company guidance. Facebook and Twitter numbers based on current analyst estimates
*Non-GAAP
LinkedIn is expected to show the least amount of revenue and non-GAAP EPS growth, yet it still trades at the highest non-GAAP P/E. You don't even have to do the math to see how this works out. The midpoint of LinkedIn's non-GAAP EPS guidance was for $3.125 while Facebook analysts expect $3.14 this year. Yet, LNKD's shares closed more than $4 higher on an actual dollar basis on Friday. If we were to give LinkedIn the same P/E as Twitter for 2016, you'd be talking about a sub-$90 stock.
In the end, LinkedIn's awful guidance did the stock in, falling more than 43% on Friday. However, you can make the case that the stock is still expensive, especially against peers Facebook and Twitter. While Facebook delivers billions in GAAP profits per quarter, LinkedIn is losing money and growth is slowing tremendously.
Disclosure: I/we have no positions in any stocks mentioned, and no plans to initiate any positions within the next 72 hours.
I wrote this article myself, and it expresses my own opinions. I am not receiving compensation for it (other than from Seeking Alpha). I have no business relationship with any company whose stock is mentioned in this article.
Additional disclosure: Investors are always reminded that before making any investment, you should do your own proper due diligence on any name directly or indirectly mentioned in this article. Investors should also consider seeking advice from a broker or financial adviser before making any investment decisions. Any material in this article should be considered general information, and not relied on as a formal investment recommendation.