| | |
| --- | --- |
| Current Price: $89.63 (1/23/2015) | Market Capitalization: $44.67 billion |
| Enterprise Value: $42.94 billion | P/E: 71 |
| Price Target: $30 (~66% downside) | Time Frame: 12-24 months |
Adobe Systems (NASDAQ:ADBE) is one of the largest software companies in the world. ADBE offers a line of products and services used by creative professionals, marketers, knowledge workers, application developers, enterprises and consumers to create content across multiple operating systems, devices and media. Some of its illustrious products include Photoshop and Illustrator. No other company offers as comprehensive of a collection as Adobe does; in fact, the term "Photoshopped" is used by the masses to connote an image that has been altered in some way although the alteration may not have been done with Adobe's Photoshop.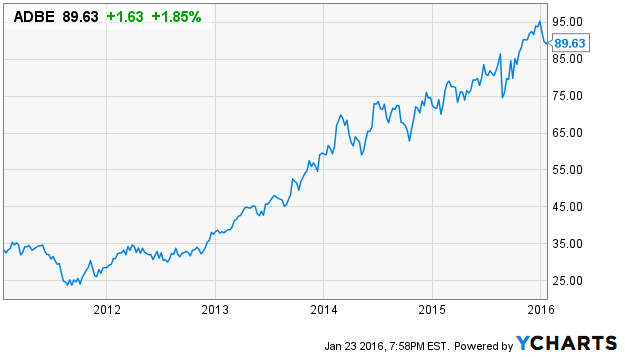 (Chart 1) Adobe Systems five-year price chart
Adobe is in a strategic transition from offering perpetual licenses for its products to a subscription-only cloud model. Four years ago, the company offered its Creative Suite 6 (CS6) product as a Master Collection for $2,599 or as a stand-alone. Photoshop as a stand-alone purchase, for example, would cost $700 for a new customer, or $200 for an upgrade from the older CS5. The new subscription model is called Creative Suite, and the subscription model will, over the long term, improve margins because there no longer is the need to physically distribute the software. During the great recession, Adobe's sales peaked in 2008 at $3.6 billion and subsequently fell 18% in 2009 to $2.9 billion. This subscription model will decrease the cyclicality of the business, because rather than paying $2,599 or $700 for a product, pricing is now much more flexible; one can effectively subscribe to Photoshop for $19.99/month. The caveat is that the software is rented forever and cannot be owned. This is an industry-wide trend; Microsoft (NASDAQ:MSFT) has done the same with its popular Office product, although it still offers an ownership option.
Adobe operates under three segments:
Subscription
Product
Services and support

(Image 1) Adobe segments (Source: 10-K)
The Product segment, which represents the previous strategy of licensing, is being phased into the Subscription segment, the new strategy. That is the reason why the change in growth for the Product segment was -31% in FY '15 and the growth rate for the subscription was 55% for FY '15.
The Subscription segment is comprised of:
Digital Media - Provides tools, services and solutions that enable individuals, small and medium businesses and enterprises to create, publish and promote their content anywhere. This segment includes the flagship Creative Cloud.
Digital Marketing - Provides solutions and services for creating, managing, executing, measuring and optimizing digital advertising and marketing campaigns across multiple channels.
Print & Publishing - Provides eLearning solutions, technical document publishing, web application development and high-end printing services.

(Image 2) Subscription segments (Source: 10-K)
These three segments will be the primary drivers of the business going forward.
Why short such a great company?
Acquisitive Growth
Adobe has spent $4.7 billion on acquisitions since 2009. This is only seven years, and yet we have only seen revenues move from peak $3.6 billion in FY 2008 to $4.7 billion in FY '15, or a 4% CAGR. It is even more important to note that $1.5 billion of those acquisitions have come since 2013. Wikipedia has laid out a list of those acquisitions; it's important to note though, that it does not have a complete list of the purchase price. These acquisitions have been consolidated into the Digital Media and Digital Marketing segments, and I believe that they are the primary drivers of the Digital Media and Digital Marketing growth you see in (Image 1) above. Let's examine some of them:
Fotolia
Fotolia is a microstock photo bank that caters to businesses or individuals who are in need of royalty-free photos. It is basically an eBay (NASDAQ:EBAY) for Photographers to "rent out" their photos to people or corporations in need of copyright-free photos and videos. These photos are generally used for advertising or as stock photos. Fotolia was acquired by Adobe in December 2014. I noted a few odd things while digging for data on the company:
It had a debt offering (high-yield) for $300 million.
Debt was issued to refinance existing debt and pay a $161 million special dividend.
It was acquired at a minuscule premium to its equity value.
According to Moody's Investor Service, the company recorded revenues of $87 million for fiscal 2012, and $90 million for the 12 months ending June 2013. The last equity transaction was when KRR acquired 47% of the equity from TA Associates (PE Firm), and Oleg Tscheltzoff, a co-founder and CEO. This transaction valued the company at $455 million. According to Moody's:
Fotolia's B2 corporate family rating reflects very high leverage with pro forma debt-to-EBITDA of 6.6x (including Moody's standard adjustments) estimated upon closing of the proposed dividend transaction. Based on Moody's forecast, debt-to-EBITDA will improve to less than 6.0x over the next 12 to 18 months driven by low to mid-single digit percentage EBITDA growth and application of free cash flow to reduce term loan B borrowings. Fotolia is a leading provider of microstock imagery in German and France, and has generated annual increases in revenues since its founding in 2005 supported by growing demand for imagery products used by small businesses, publishers, and freelancers. Moody's expects revenues to increase in the low to mid-single digit percentage range over the next 12 months, despite economic weakness in Europe (80% of FY2012 revenues).
It is rarely ever a good idea to throw $300 million in debt on a company with $90 million in revenues, but PE firms are all about the money. Fotolia "raised" ($210 million) more money in September to "refinance the existing debt" and to "pay a $73 million special dividend", as if the $161 million was not enough. KKR seriously sucked the company dry. My guess is that the company became unstable since Adobe paid only $800 million for it. Conservatively assuming that the debt balance stayed at $300 million, if we subtract the $300 million from the $800 million Adobe paid, ADBE acquired the equity for $500 million, which is a paltry 9% premium over the $455 KRR bought it for in 2012. Since this was done in 2014, if we take on Moody's expected 5% revenue growth, then we would have approximately $95 Million in sales for FY 2014, and $100 million in FY 2015. Fotolia was consolidated into Adobe's financials in FY 2015, so that would mean that it added $100 million to ADBE's top line.
Aviary
Aviary is a photo editing app offered on both Android and iOS mobile operating systems. The app has been downloaded over 50 million times and also received solid ratings from its users. The app makes money through in-app enhancement purchases and also by leasing the SDK to developers. It offers a premium and a basic version (free). Adobe did not disclose the price paid for Aviary, but given the obscene multiples, these app companies are bought and sold for in the name of "growth"; my assumption is that it likely overpaid. We know that Adobe acquired Aviary on September 22nd, 2014, which was Q4 of 2014. Adobe's Q1, Q2 and Q3's 10-Qs did not record any "acquisitions net of cash acquired" in the cash flow from investing section. We only saw that in the 10-K, meaning that it was done in Q4; $29.8 million was recorded. If ADBE only paid $29.8 million, then Aviary likely lost the interests of venture capitalists, which is extremely difficult to do in this tech/app bubble 2.0 environment. My guess is that it was burning too much cash while margins were falling as a result of competitors entering the market. Avairy was consolidated in FY 2015. Only thing mentioned about Aviary in the 2014 10-K was:
We also continue to face competition from new and free products, including web services and mobile/tablet applications that compete directly with our Aviary offerings. (Source: FY 2014 10-K)
The singular nature of the following quote proves that there was only one acquisition, and we also know that Aviary was acquired in FY '14, therefore, it was the only acquisition in 2014.
During fiscal 2014, we completed a business acquisition which was not material to our Consolidated Financial Statements
I don't know how much revenue Aviary has added to Adobe's top line, and while I loathe making these sort of estimates, it is required in this situation. The company announced in March 2013, that 3 billion photos had been edited through its platform. Just 10 months later, in January 2014, it announced that it had crossed the 10 billion mark. If we assume that just 1% of the photos that were edited via Aviary had a $0.99 enhancement attached, it'd imply $70 million in revenues for Aviary during just that 10-month span. It is important to note that the 10 billion mark was two years ago, and since Aviary tripled the number of photos edited from 3 billion to 10 billion in 10 months, so it is likely that the number today is now a multiple of 10 billion. According to App Annie, Aviary's ranking in the App Store has fluctuated between 208 and 252 over the past month, so it's obviously still popular when you take into account the over 1 million apps available in the App Store. Users are also recurring, as it is rated a solid 4.5 stars in the App Store. So, a 20 billion base sounds conservative for FY '15. 20 billion recurring edits equate to 200 million in revenues, and if you take the conversion rate up to 2%, it becomes 400 million in revenues. It's important to remember that these numbers that I calculated do include revenues from the SDK segment of the business; just an FYI to remind you of my attempt to keep these calculations conservative. My guess is that this is what is truly driving top-line growth at Adobe, which is why management has kept details of this under the radar.
Honorable Mentions: Neolane for $600 million; Behance for $111 million.
I see nothing wrong with acquisitive growth during a recession/bust, but any company that is serially acquiring companies during a boom is likely overpaying, particularly in tech. This destroys shareholder value in the near term and poses the risk of a goodwill write-down in the future.
Numbers Don't Add Up
In the FY 2015 10-K, management said:
As of November 27, 2015, we had unbilled deferred revenue backlog of approximately $2.89 billion of which approximately 40% to 50% is not reasonably expected to be billed during fiscal 2016. As of November 28, 2014, we had unbilled deferred revenue backlog of approximately $2.19 billion, which has been updated to include $433 million of individual annual subscriptions which were not captured in the prior year due to current year enhancements to our management reporting system.
How does a company that recorded $4.1 billion in revenues in 2014 miss $433 million of unbilled deferred revenues? $433 million was over 10% of FY 2014's total revenues.
Issues With Serial Acquisitions
Under "Note 2 Acquisitions" in the FY '15 10-K, management discusses recent acquisitions. We see mentions of Fotolia, Neolane, and Behance. Avairy is not mentioned, and 2014 acquisitions are written off as "immaterial". If Adobe did pay $29.8 million for Aviary, then it is indeed immaterial, but management also does not separate the financials of the acquisitions from the organic business.
My guess is that Aviary is the growth driver behind the scene. The more important question, however, is - does it or will it make money? While the conversion rates I mentioned above of 1% and 2% seem realistic to me, it is unlikely to provide any reasonable profits for Adobe. But to be more optimistic, let's assume 3% of the photos that flow through Aviary attach a fancy $0.99 filter or option to them, this would mean that 97% of the other photos are free loading and Aviary still has to cover those costs. Also, this app has virtually no barriers to entry; there are multiple apps in the App Store with the same features and ratings as Aviary and other photo-editing SDKs. Low margin(s) is a reasonable expectation; Aviary is likely to provide revenue growth, but minimal profits, if any, in the long run. Apps that depend on internal purchases will require loads of traffic and hopes of higher conversion rates to be profitable. While I expect Adobe to able to stretch its synergistic resources over some of these companies, cutting expenses in the process, the benefits of the cuts will recur forever, but there will be no growth in those benefits.
Management has also refused to discuss subscriber numbers, yet it effortlessly forecasts annualized recurring revenue (ARR) growth of 20% through 2018. Oddly, the strategy for "annualized recurring revenue" generation according to management is subscriber growth and conversion to the Creative Cloud. This implies that revenue growth does not necessarily imply subscriber growth.
Management also says:
Net income of $629.6 million increased by $361.2 million, or 135%, during fiscal 2015 from $268.4 million in fiscal 2014 primarily due to revenue growth.
That's not necessarily true. During Q3 and Q4 of FY 2015, operating margins rose to 20% and 22% from 7% and 12% while gross margins contracted and stayed flat. The profit margin increase was driven by a reduction in SG&A and R&D as a percent of revenues. Adobe can only stretch the SG&A over multiple products, the benefits of that will recur forever, but will not grow. As a tech company in a rapidly changing industry, it also cannot cut R&D forever. So while I expect management to push up those operating and net margins in Q1 and Q2 of 2016 indicating profit growth, the more important number to watch is the gross margin. If this does not move up in Q1 and Q2, then we are likely to see minimal to no profit growth in Q3 2016 even though revenues will likely keep growing. These acquisitions are likely masking Adobe's true profit potential. My hunch is that Wall Street will start asking serious questions after Q3.

Adobe sales FY 2015 (Source: 10-K)
Product revenues declined by $497 million, but subscription revenues increased by $1,147.9. Of the $1,147 in subscription revenue growth, $100 million can be attributed to Fotolia, $400 million (depending on what conversion rate that is used) can be attributed to Aviary. Let's also conservatively assume that only 2/3, or $330 million, of the $497 Product revenues were converted to Subscription. The real subscription growth would be $319 or $519 ($1,149 - $100 - $400 (or $200) - $330 = $319 or $519), a growth rate of 25% or 15.3%. If we take out the Aviary and Fotolia revenues ($4,795 - $500 = $4,295), total organic revenue growth comes out to a paltry 3.5% ($4,295/$4,147 - 1). This does not bode well for a company trading at 70x earnings. Adobe also made another purchase in July 2015, Mixamo, for another "undisclosed sum".
Unaligned Shareholder Interests
Executive compensation (Source: DEF-14A)
Per the proxy, executive compensation is based on the following:

ARR for Digital Media and Net Bookings for Adobe Marketing Cloud are basically revenue growth metrics. Customer advocacy is vaguely defined in the proxy as:
Customer Advocacy result is based on quantitative and qualitative analysis of the company's improvement of the customer experience by achievement of customer advocacy objectives. (Source: DEF-14A)
No clear metrics are provided. Individual goal(s) includes the following:

CFO Matt Garrett is tasked with driving profitability, which implies cost cutting. That is precisely what we saw in Q3 and Q4 of FY 2015. Employee count rose by 11% while revenues grew by 20%, increasing operating margins while gross margins stayed fixed. This implies synergistic advantages being implemented. There are no other profitability metrics. Operational efficiency and even the "drive profitability" are also not quantitatively defined, but the executives are clearly being paid for hitting their targets. What are these targets? (ex. operating or gross margins to X percent, operating profits to X... etc...) and how can shareholders confirm that they are being hit? Stock-based compensation also accounted for a staggering 8 and 7 percent of total revenues in FY 2014 and 2015. This is dilutive and very common place amongst tech companies, and the weight of this dilution is never truly felt while the stock price remains inflated.
Stock Is Expensive At 48x Free Cash Flow
Adobe trades at an enterprise value of $43 billion with earnings of $630 million in 2015. The EV/earnings ratio sits at 68. If we assume that:
Earnings approximate FCF (after deducting the dilutive "stock-based compensation").
30% operating margins (optimistic, because FY '15 operating margin was 18.8%) and profit margins jump to 25% next year and remain there terminally (this is optimistic as they were 13% in FY '15).
Tax rate of 29.55% (Average of tax rate from 1996 to 2012. I averaged through 2012, because the new business strategy went into motion in 2013).
Assuming the above, and using 2015 revenues of $4.7 billion as base with a 10% discount rate and a 2% terminal growth rate, Adobe would have to compound its revenue and earnings growth at 16% over the next 10 years to justify its current valuation. Wall Street will soon realize that organic growth within the company is almost non-existent, and that the growth is being driven primarily by unprofitable acquisitions.
Short Strategy
The number to watch for Q1 and Q2 is the gross margin. If these margins do not move up substantially or they stay flat while operating and profit margins expand, then the net income for Q3 is likely to stay flat or decline. Adobe's 20-year SG&A/revenues percent average is 43.5%, SG&A/revenues fell to 44.7% and 44% from 55% and 51% in Q3 and Q4 of FY 15. The 20-year R&D as a percent of revenues is 19.2%, R&D for the third and fourth quarter fell to 18% and 16.9% from 21.1% and 20% for FY '15. ADBE can only marginally squeeze SG&A to increase profitability in Q3 and Q4 of 2016, but the R&D has been exhausted. For as long as we are seeing only operating margin expansion, the company will remain a short. If this does not materialize in 2016, then it should in 2017 since there will certainly be no more room for expense cuts. That is why I'm shorting this over two years.
As I mentioned earlier, I bought the January 2018 $50 (strike) put options for $2.41 on the 24th. This makes up 1.1% of my portfolio.
Note: I don't have access to a Bloomberg terminal or Capital IQ, it makes retrieving information about some of these acquisitions that much more difficult. If you do have access to more information than I have laid out here, please let me know, and I will gladly update my write-up.
Additional disclosure: I posted this article about a week and a half ago on my website, so any dates in this article refer to that period.
Disclosure: I am/we are short ADBE.
I wrote this article myself, and it expresses my own opinions. I am not receiving compensation for it. I have no business relationship with any company whose stock is mentioned in this article.