Airbus (OTCPK:EADSY) (OTCPK:EADSF) and Boeing (NYSE: BA) have built big backlogs for their single aisle aircraft families. The chart illustrates the extent of these orders. I selected 2000-2015 as an example period. The strong demand for new aircraft was driven by the rising oil price.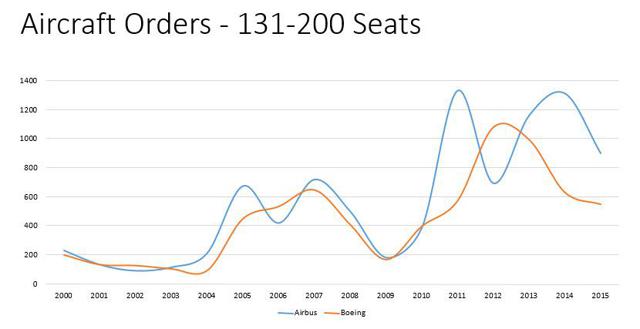 Typically, fuel costs have been about 40% of an airline's input costs. When oil was moving to over $100 per barrel, airlines could not wait to get the next generation aircraft promising 15% better fuel burn.
Oil prices have collapsed and new suppliers are coming on stream, like Iran. Oil prices are unlikely to rise anytime soon.
So how big are the backlogs at Airbus and Boeing? The chart below provides a guide to the volatile nature of aircraft production. While aircraft makers try to build their production backlog, they try to keep production as steady as possible.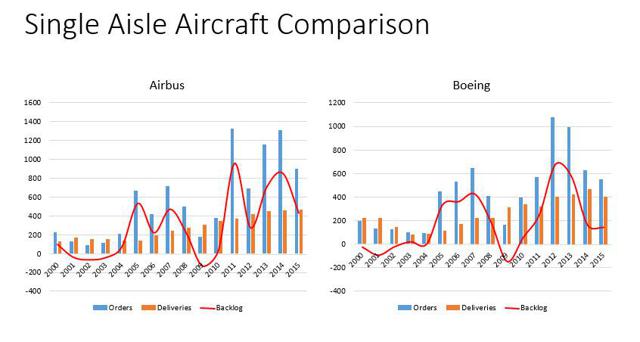 As the charts demonstrate, backlogs vary considerably. Keeping production steady means riding out the bad times by eating into the backlog. Estimates are that Airbus and Boeing now have backlogs of about seven years' production. The charts do not show this as they start in 2000.
However, both firms plan to increase production rates. They believe customers want the new generation of aircraft sooner rather than later.
However, I would contend the primary driver for these new aircraft, high fuel costs, has dissipated. I do not foresee a significant fuel price rise before 2018. Airlines and lessors with orders for the Airbus A320neo or Boeing 737MAX are likely to defer deliveries.
Current aircraft with relatively high fuel burn are profitable to fly still. If the new aircraft were attractive at 15% better fuel burn, their value proposition disappears as fuel prices drop over 15%. Jet A prices are down way more than 15%.
Consequently, I foresee planned production rate increases might be delayed. Airbus and Boeing could also see delivery deferrals. Since these aircraft are "bread and butter" programs for both firms, there could be financial impacts to consider.
Disclosure: I/we have no positions in any stocks mentioned, and no plans to initiate any positions within the next 72 hours.
I wrote this article myself, and it expresses my own opinions. I am not receiving compensation for it (other than from Seeking Alpha). I have no business relationship with any company whose stock is mentioned in this article.
Editor's Note: This article discusses one or more securities that do not trade on a major U.S. exchange. Please be aware of the risks associated with these stocks.