More than halfway through earnings, it's time to start figuring out how data center related companies performed on their report day this quarter.
Here is a short summary of post earnings action: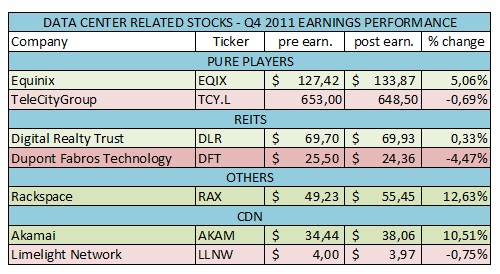 At first sight, there are a couple of very positive double-digit performances, within a mixed picture. Getting into more details, the landscape appears probably more on the positive side.
All the bellwethers for each category we follow delivered solid numbers, and enjoyed a solid run after earnings, in some cases, like Equinix (NASDAQ:EQIX), on top of a very strong performance into earnings.
Let's go through a quick analysis of each company's performance.
Equinix delivered solid numbers, which beat, excluding FX headwinds, both consensus and company's guidance for revenues and adjusted EBITDA. The stock has already exceeded a 30% gain since the start of the year.
TeleCity Group reported a strong performance for 2011, and confirmed its intention to start paying a dividend, in 2012, with a pay out a ratio of about 20% of adjusted EPS. While the stock was basically flat on earnings, it gained more than 4% the following day, as if investors had needed some more time to digest all numbers.
Digital Realty (NYSE:DLR) was basically flat after announcing revenues that slightly missed consensus, but a better than expected Q4 FFO of $1.03.
DuPont Fabros Technology (NYSE:DFT) is the only company that really had a negative performance (-4.47%) after earnings, mainly as it issued what was perceived as weak guidance for 2012.
Rackspace (NYSE:RAX) had a very good quarter, and its stock gained the most among the companies under our radar screen. After earnings, the company also announced the acquisition of privately-held Sharepoint911, so adding the SharePoint platform to its cloud computing offering.
Akamai (NASDAQ:AKAM), the leader in CDN offering, also delivered numbers that beat expectation, and issued stronger than expected guidance for 2012 revenues. Similar to Rackspace, the company also announced a new acquisition, targeted at completing its offering. Akamai took over Blaze Software Inc., a provider of frontend optimization technology. The acquisition is expected to complement Akamai's site acceleration solutions with a technology designed to optimize the speed at which a web page is rendered, regardless of the end user device.
Limelight Network (NASDAQ:LLNW) lost almost 1% after announcing numbers that beat consensus, but also delivered a 7% Y/Y growth that is not particularly impressive, at least in this group of companies.
Within the next couple of weeks we also expect to hear from CoreSite (NYSE:COR), InterNap (NASDAQ:INAP), Interxion (NYSE:INXN) and 21ViaNet (NASDAQ:VNET). We believe most of these companies will deliver numbers either in line or higher than expectations, as the data center related sector confirms solid growth into 2012.
While some analysts are starting expressing concerns about some of the companies in the sector, like in the case of Rackspace, which was downgraded by Cowen on valuation basis, we believe investors looking for growth stories may still pick among some of these data center related names looking to outperform the market in 2012.
Disclosure: I am long EQIX.