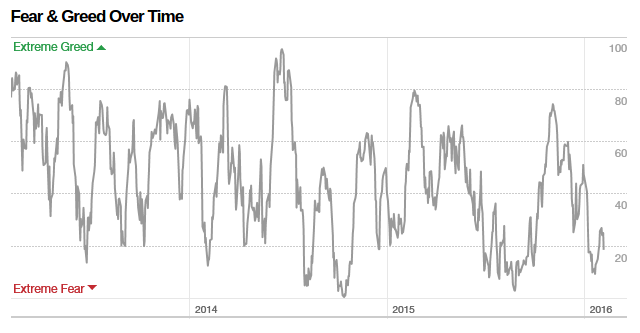 With the latest fear and greed index readings, the markets appear to be slipping back into extreme fear territory. This may be related to a tepid January employment report from Friday morning in which only 151,000 jobs were added for non-farm payrolls vs 188,000 expected. Additionally, the prior month numbers were revised down to 262,000 from 292,000.
Additional weak spots in the economic picture were reported this week with factory orders declining 2.9% and the market expected a 2.6% decline. The ISM services index also came in below expectation with a reading of 53.5 versus the expectation of 55.0. Initial claims came in weaker-than-expected at 285,000 vs expectations of 275,000.
On a brighter note, personal income rose 0.3% in December vs expectations of 0.2%. And with Fridays jobs report, hourly earnings rose 0.5% versus 0.3% expected. So wage growth appears to be picking up.
The fear and greed index measures 7 different factors for investor emotions and trading. Those are stock price momentum, stock price strength, stock price breadth, put and call options, junk bond demand, market volatility, and safe haven demand.
Stock Price Momentum is pointing towards extreme fear. This is a measure of overall market sentiment and simply a calculation of the S&P 500 index price vs. the 125 day moving average. Right now, the S&P 500 is 6.21% below the 125 day moving average. For the past few years, this has typically been the opposite. An investor could also look at the 20 day moving average, 50 day moving average, and 200 day moving average of the S&P 500 SPDR (NYSEARCA:SPY) ETF to get a similar picture. Right now, this index ETF is trading below all of those moving averages.
Stock Price Strength is showing extreme fear. This is the number of stocks in the market hitting 52-week highs and lows on the NYSE. When more stocks are hitting 52-week lows than stocks are hitting 52-week highs this indicates fear. Currently we are in the extreme fear category for this indicator. One could also look at things like the relative strength index for an S&P 500 SPDR to see a similar statistic. At the moment, we are seeing oversold conditions in these index ETFs as well.
Stock Price Breadth is showing fear. This is the volume of stock shares trading on the rise versus those that are declining. Over the last month approximately 4.31% more of each day's volume has been in declining stocks versus advancing stocks. This figure is important to determine whether a rally is broad-based, that is many stocks participate, or if a few stocks are driving the market up or down.
Put and Call Options are showing fear. This is the Put/Call ratio, which compares the trading volume of bullish call options relative to the trading volume of bearish put options. In the last five trading days, volume in call options has exceeded volume in put options by 19%. Usually this percentage is higher. Some investors look to this ratio as a contrarian indicator as well. When investors get too bullish on stocks they tend to buy calls. The inverse is also true that when investors get too bearish, they tend to buy more put options.
Junk Bond Demand is showing extreme fear. This is the spread between yields on investment grade bonds and junk bonds. Investors in junk bonds are accepting 2.68% more in additional healed over safe for investment grade bonds. The spread is low but it is sharply higher than recent levels and suggest that people are becoming more risk averse. Junk bonds tend to act more like stocks than bonds due to the creditworthiness of the issues. There has been recent talk of a credit crisis in the junk bond market.
Market Volatility is neutral, but headed up. This is the Volatility Index, which can be traded through several ETNs, including iPath S&P 500 VIX (NYSEARCA:VXX). The current volatility index is about 23.38. In August, the VIX spiked above 40, which indicated a severe amount of volatility in the market. On January 20th , the VIX hit 32, which indicates the highest level of volatility for 2016 thus far. The current reading is neutral and indicates that market risks appear fairly low.
Safe Haven Demand is showing fear. This is the difference in returns for stocks vs. Treasuries. As you might expect, investors tend to buy Treasury bonds when they are feeling fearful. These bonds carry the full faith and credit of the United States government. When they are feeling greedy, they tend to sell these bonds and then buy stocks. This may also be a contrarian indicator. Currently, bonds are out-performing stocks by 5.98% for the last 20 trading days.
Market Outlook
There's an investing cliche about being fearful when others are greedy and greedy when others are fearful. Most of the time, we repeat this mantra as our holdings fall in value. Wise investors may actually add to positions. As stated previously, this may be a good time to buy some stocks, especially stocks trading below book value, or fair market value. However, be cautious as a contrarian and average-into positions over a period of time.
Disclosure: I/we have no positions in any stocks mentioned, and no plans to initiate any positions within the next 72 hours.
I wrote this article myself, and it expresses my own opinions. I am not receiving compensation for it (other than from Seeking Alpha). I have no business relationship with any company whose stock is mentioned in this article.