Lannett Company, Inc. (NYSEMKT:LCI) may be deeply undervalued due to overall market conditions but is poised for a resurgence. The company develops manufactures and distributes generic prescription pharmaceutical products. It markets products primarily to wholesalers, retail drug chains, distributors, and government agencies.

In comparison to many stocks within the generic drug sector, the stock may be a bargain based upon key value metrics.
Revenue Growth
The company has a strong track record of growing revenue, even during periods of recession. This is also reflected in a strong performance of growing earnings.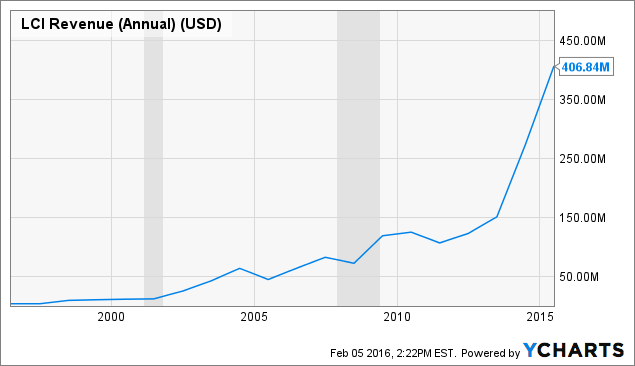 LCI Revenue (Annual) data by YCharts
Recent News
On February 3rd, the company reported a second-quarter profit of $13.5 million, or $0.36 per share. Earnings adjusted for one-time items were $0.95 per share, and the company narrowly missed revenue forecasts by posting $127.1 million in revenue for the period.
The company also recently announced cost savings and restructuring actions related to the acquisition of Kremers Urban Pharmaceuticals (KU). These include closing the acquired company's corporate offices, an immediate workforce reduction of 10%, and total reduction of approximately 20% over the next 3 years. That plan is expected to save approximately $40 million of cost in the 12 months following the close of the acquisition.
For fiscal 2016, the company expects sales in the range of $585 million to $595 million with gross margin as a percentage of net sales of approximately 62% to 63%.
Insider Targets
In September, two directors and officers directly purchased a nominal amount of shares at prices above $54 per share. This may be an indication of where management thinks the price of the stock should be. However, it should be noted that a far greater number of shares were disposed of at prices above and below that level from options incentive exercises.
Valuation

With a trailing price-to-earnings ratio of about 6.7, the stock looks cheap. Further, the forward price-to-earnings ratio of 6.68 gives additional support for the value thesis. A price-to-earnings ratio is simply the stock price divided by earnings. With a forward looking price-to-earnings ratio, you are using estimate of next year's earnings. A low price-to-earnings ratio corresponds to a higher earnings yield. The higher the earnings yield, the faster the payback. In comparison, a stock like Mylan (NASDAQ:MYL) sells at a price-to-earnings ratio of 29.
The PEG ratio of 0.64 is well below the market average. The PEG ratio is simply the price-to-earnings ratio divided by the expected growth rate of the company's earnings. Lower PEG ratios indicate that you're paying less to get earnings growth. When you pair this ratio with a low P/E ratio, it means the company is likely growing and investors are not paying for that growth.
And the price-to-sales ratio of 2.26 beats the generic drug industry standard of 3.51. In comparison, a stock like Allergan (NYSE:AGN) trades with a price-to-sales ratio of 5.48.
Technicals

The stock now trades near a two-year low at $26. The 52-week high on the stock is $72.44 and the 52-week low is $22.75. At this price, the stock has fallen 64% from the recent high and the stock is about 14% off of its close. The stock currently trades below the 20-day moving average (DMA) at $31.64, the 50 DMA at $36.24, and 200 DMA at $48.58. From a technical perspective, the stock has been through all support levels.
The stock is currently trading near two-year lows.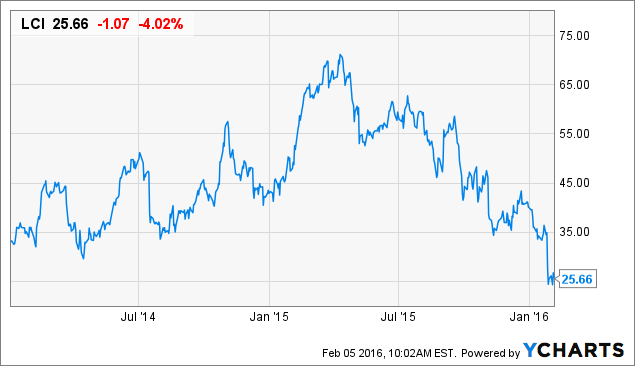 LCI data by YCharts
Target Price
Using a PEG ratio of 1.0 to fairly value the stock, the fair value should be about $42 per share. This is slightly above a 10x forward multiple on earnings and it is also 56.25% above the current price. In this market environment, it is best for investors to show caution when taking positions in any stock. The best strategy may be to average into a position over time to lower your basis and avoid volatility.
Disclosure: I/we have no positions in any stocks mentioned, and no plans to initiate any positions within the next 72 hours.
I wrote this article myself, and it expresses my own opinions. I am not receiving compensation for it (other than from Seeking Alpha). I have no business relationship with any company whose stock is mentioned in this article.