Even though Apple (NASDAQ:AAPL) has launched the iPhone 5c and 5s, 6 and 6 Plus, 6s and 6s Plus, Apple Watch, new iPads and Macs and services such as Apple Pay, the company has been able to maintain what I call its adjusted gross margins between 40.1% and 42.7% since the December 2013 quarter or ten consecutive quarters.
One of the analyses I perform on Apple's finances every quarter is to adjust the company's reported gross margin for its warranty accruals and one-time impacts. Apple's warranty charges have ranged from 0.9% to 3.7% of total revenue since fiscal 2007. I believe it is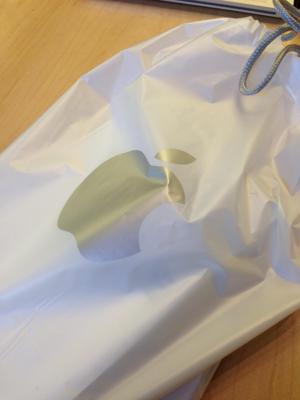 worthwhile to analyze the changes in them as it provides insight into what are the "true" costs of Apple's products and how gross margins may change.
Warranty accruals have a negative impact on gross margins and can "mask" the company's actual gross margins for its products. I have developed a Google Doc that has Apple's gross margins and warranty accruals from fiscal 2007 to 2015 on an annual basis and quarterly starting in fiscal 2010 available via this link.
Investor concerns about Apple's gross margins seem to ignore the results
Besides a huge spike in gross margins in fiscal 2012 when reported gross margins peaked at 47.4% in the March 2012 quarter (48.6% on an adjusted basis) and 45.3% for the year, Apple's adjusted gross margins on a yearly basis since fiscal 2009 have ranged from 40.5% to 42.2%. Considering the number of enhanced and new products it has introduced along with various services, Apple has done a very good job of maintaining its gross margins at a high level.
The company has been able to stay true to its focus on its premium pricing strategy and not succumbing to calls for it to launch lower-priced products. To address concerns that it won't be able to make use of mid-tier priced iPhones, it has made older generation iPhones available at lower prices, but overall has been able to maintain its margin profile.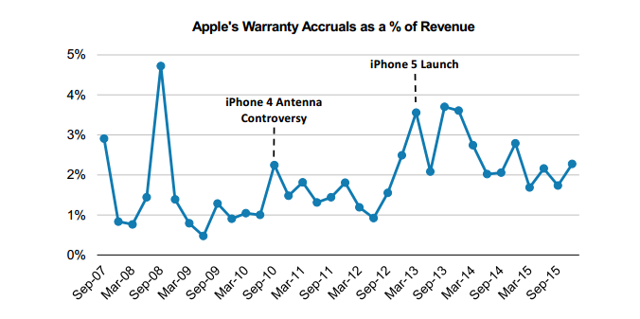 Source: Apple company data, Morgan Stanley research
December's quarter was helped by a $548 million IP payment
Apple received a $548 million payment from a patent infringement lawsuit during the quarter. This was accounted for as revenue with no corresponding cost of goods so it was pure profit. When the company's revenue is decreased by the $548 million, gross margins decline by 44 basis points or 0.44%. This would make its reported gross margin 39.7% (still within its guidance range of 39.0% to 40.0%) and 42.0% when its 2.3% of warranty accruals are added back.
What does this mean for investors?
Apple investors (and probably non-Apple investors) fall into one of two camps. The first is that non-investors believe competition will eventually catch up with Apple and margins will decline. Since this is what has happened to pretty much every other consumer oriented product company, Apple will eventually capitulate and bring out lower priced products.
The second camp believes that Apple will stay true to its heritage, which is supported when you look at the numbers for the past seven years. It has been able to maintain them even with various new products and services and will continue to do so.
Disclosure: I am/we are long AAPL.
I wrote this article myself, and it expresses my own opinions. I am not receiving compensation for it (other than from Seeking Alpha). I have no business relationship with any company whose stock is mentioned in this article.
Additional disclosure: Sand Hill Insights and Chuck Jones are not registered investment advisors or a broker/dealer. Readers are advised that the material contained herein should be used solely for informational purposes. Sand Hill Insights/Chuck Jones does not purport to tell or suggest which investment securities readers should buy or sell. Readers should conduct their own research and due diligence and obtain professional advice before making investment decision. Sand Hill Insights/Chuck Jones will not be liable for any loss or damage caused by information obtained in our materials. Readers are solely responsible for their own investment decisions.