| | |
| --- | --- |
| Current Price: $44.89 (1/21/2015) | Market Capitalization: $8.81 Billion |
| Enterprise Value: $19.37 Billion | TTM EV/EBITDA: 17.43 |
| Price Target: $15 (~66% downside) | Time Frame: 6 - 24 months |
Note: The enterprise value figure includes $9.34 Billion of non-recourse loans. The real debt attributable to CarMax is circa $1.2 Billion
CarMax (NYSE:KMX) is the largest used car retailer in the United States. CarMax market offering entails 1-10 year old used cars. CarMax operates under two segments:
CarMax Sales Operations (CSO) segment sells used vehicles, purchases used vehicles from customers and other sources, sells related products and services, and arranges financing options for customers, all for fixed, no-haggle prices.
CarMax Auto Finance (CAF) provides financing solely to customers of CarMax. Basically, it acts as the middle man between the bank and the borrower and collects the spread between what the bank charges it and what it charges the borrower. While CarMax holds these loans on their balance sheet, the loans are non-recourse with regards to CAF.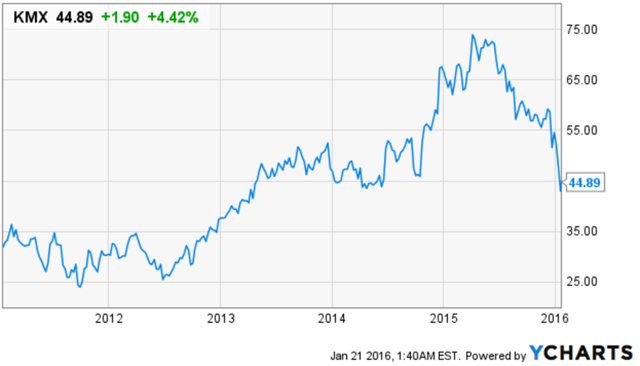 (Chart 1) CarMax 5-Year Price Chart
The stock has declined over the past few months due to slowing sales and declining same-store sales. The sharp decline on the Chart 1 in late 2015 and early 2016 can be attributed to the massive sell-off global markets have experienced as a result of the high-yield bonds associated with low oil prices as well as the fears of a slowing Chinese economy.
Investors are not fully pricing the imminent headwinds CarMax faces, and I believe the stock price is going to trend lower.
Catalysts for a lower stock price
The auto industry is cyclical; once the economy turns, so will CarMax's business. The signs of this end-cycle is becoming more apparent by the quarter:
Rising loan delinquency rates and dropping recovery rates
Delinquent loans, according to CarMax, those are 31 days past due. Delinquency rate is the dollar amount of delinquent loans as a percentage of total loans. Although CarMax originates and services these loans, they are not responsible for delinquent borrowers. The cars are repossessed and sold, the lender gets whatever is recovered; that is the recovery rate.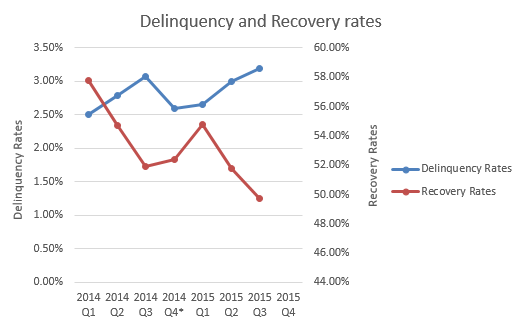 CarMax faces deflationary headwinds as a result of the strong dollar and the record auto sales. Recovery rates have fallen from 58% to 49% in just 1.75 years. A 49% recovery rate means that when the car is repossessed and sold, the lender only gets 49% of what the customer owes. A dropping recovery rate makes the industry less attractive to lenders. Delinquency rates have risen from 2.5% to 3.2%; more borrowers are defaulting. As we await Q4 numbers, my guess is that the trend will continue. 2015 Auto sales, although debt driven, came in at 17.5 million highest since the peak of the dot-com bubble of 2000. This bodes poorly for CarMax since the 2015 cars and the close third 2014 16.5 million cars will eventually turn into used cars, aiding the deflationary pricing pressures and tumbling recovery rates.
Piling Inventories
Inventory turnover has been falling. This highlights the coming margin compression as management is yet to get rid of the excess inventory it has compiled over the past 2 years.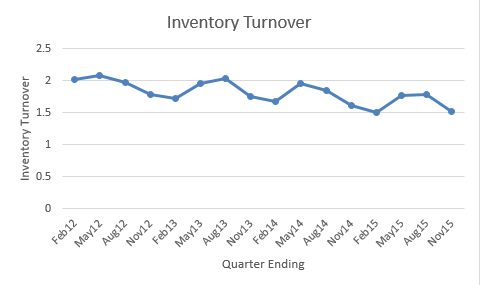 CarMax Inventory Turnover
Rising Rates and Decreasing supply of Auto Loans
CarMax's business is wholly dependent on external financing. So as more of these loans default, more lenders will slowly pull away from the market, starting with the subprime borrowers. This will both push up auto loan interest rates and also decrease the size of CarMax's potential target market. It is also important to note that this is with ZIRP in place.
Short Strategy
January 2017 $25 and the January 2018 $30 put options.
Disclosure: I am/we are short KMX.
I wrote this article myself, and it expresses my own opinions. I am not receiving compensation for it. I have no business relationship with any company whose stock is mentioned in this article.
Additional disclosure: Note: I wrote and posted this article on my website two weeks ago. Any dates in the article refer to that period. http://www.mazivalue.com/tag/kmx/