On December 17th we told you to buy gold on the rate hike. We think that the hike in the Fed Funds Rate marks the beginning of a massive bear market in bonds that will be accompanied by a bull market in gold (NYSEARCA:GLD). We've seen the Effective Fed Funds Rate (EFFR) rise more than 4-fold - from 0.07% in January 2014 to 0.34% as of January 1st of this year. Short term Treasury rates - a proxy for low-risk interest rates - have risen as well.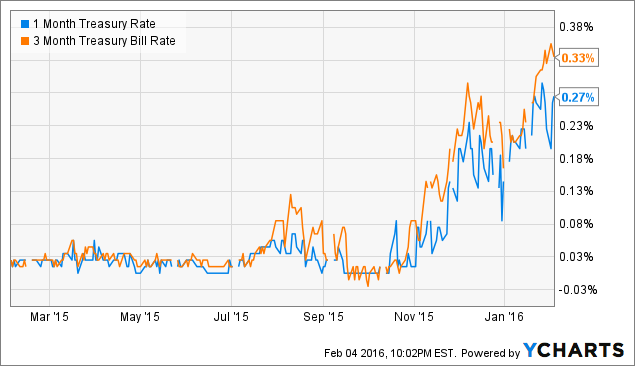 The EFFR effectively bottomed at the beginning of 2014, and while gold didn't bottom then it began to bottom at that time. Gold, for instance, only fell another $140/oz. from its ~$1,180/oz. low. Many gold miners bottomed either in the summer of 2013 or at the beginning of 2014. Gold bottomed in terms of most foreign currencies at the end of 2013. The EFFR rose slightly, although we have only begun to see meaningful movements over the last couple of months. Prior to the December 16th Fed Decision we only saw moves of a couple of basis points, yet already we've seen a 22 basis point rise from the beginning of November to the beginning of January. So we're more confident now that rates have almost certainly bottomed after declining for 35 years.
We are likely going to now see a secular rate-hike cycle, and it could last decades.
Gold performs well during rate hike cycles. Rates rose during the 1960s through the 1970s, peaking in 1981.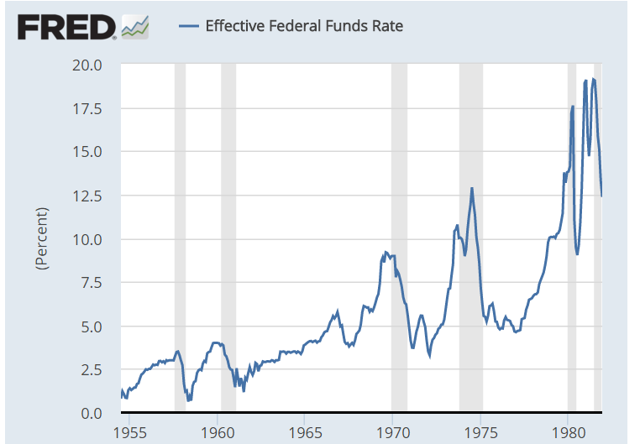 Gold effectively re-rated from its artificial peg price of $35/oz. (e.g. Bretton Woods, the London Gold Pool, the pressures put on South Africa to sell into the London market to keep prices subdued, etc. (see our "Is the Gold Market Manipulated Part 1")) to about 10-times higher (from trough-to-peak it rose considerably higher but that was a short-lived peak). Prior to 1971 gold was not allowed to rise as the $35/oz. gold price was the backbone of the Bretton Woods system, which was set up as the new global currency regime as the Allied Powers realized that they would win WW2 back in the early 1940s. Those familiar with the history know that the gold price would have begun to rise far earlier than 1971, although an effort on the part of global central bankers was undertaken in order to keep the $35/oz. peg (aka the London Gold Pool). The 10-fold rerate in gold happened very rapidly in the 1970s because the gold price had been suppressed for so long, although it is evident that this rerate was accompanied by a rising EFFR.
Similarly, today we expect a long-term, sustained rerate in the price of gold that roughly corresponds with rising rates - not a $100/oz. trade, which is why we're not taking credit for the recent move and why we think gold can still go lower before it goes higher. Remember we said we'd expect a bottom within 8 months of the initial rise in the EFFR, and that the risk/reward was compelling, especially since it is difficult for long-term investors to time the bottom within a few months when we are expecting a long-term upswing in the gold price.
The risk/reward remains compelling: we are anticipating a rerate in the gold price that will take it to several thousand dollars per ounce, and not just a quick trade to $1,200/oz. Of course this also means that we're not ruling out a lower low in the gold market, and reason that we're willing to take a chance and buy gold now despite the fact that it can fall to, say, $900/oz. in the next couple of months. Of course many pundits - especially among the "gold bugs" - believe in the recent ~$100/oz. move, and we're seeing more mainstream interest in the yellow metal and in related miners (see the strong breakouts, for instance, in popular gold miners such as Barrick Gold (NYSE:ABX) and Newmont Mining (NYSE:NEM)).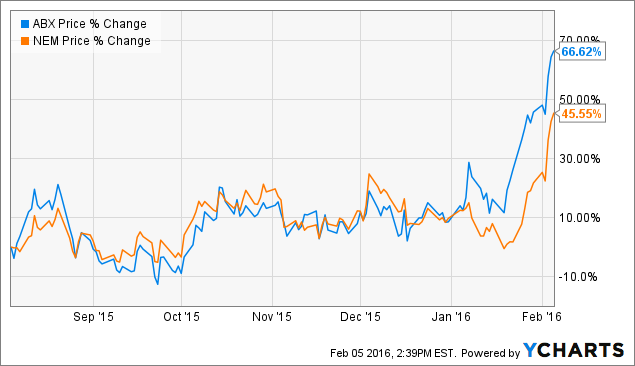 ABX data by YCharts
As money comes out of USD-denominated bonds the market is saying that future dollars aren't worth as much as they used to be. This is extremely bullish for gold, since gold is an "anti-Dollar" trade (although not in the way most people think, which is in DXY-terms).
Meanwhile, the current valuation of future Dollars remains elevated, as is evidenced by the fact that the EFFR is ~5% of its historical average since gold was de-pegged in 1971, and this is an unprecedented extreme. We should take note of this when we consider the value proposition of gold, or the anti-Dollar trade: despite the fact that gold trades 4X higher than it did when it bottomed at the turn of the century, it is arguably cheaper today, especially considering the monetary creation we've seen. The intuition from this observation is that gold is poised for an especially strong bull market, even from this "elevated" level.
But this hardly means that gold has reached its nominal bottom yet. A glance at a long-term gold chart shows that the downtrend is still intact.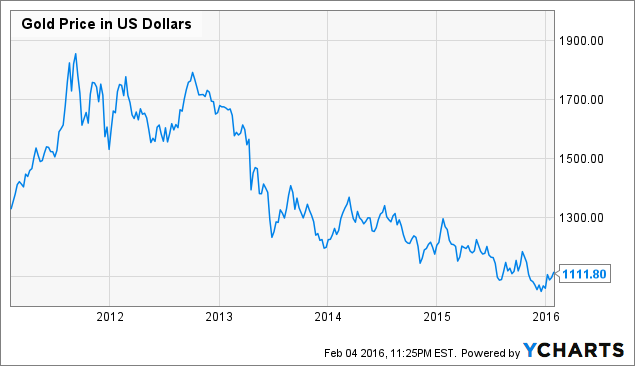 A sustained long-term rising rate environment will foster a gold bull market, but the correlations are hardly perfect. We therefore think that the gold price could test its recent low, or even break $1,000/oz. as the last psychological barrier that's reached before people simply give up. While we question correlations between the gold price and the DXY or the gold price and the CPI, they can drive the market over short intervals. However, all of this is just market noise, and while we won't pretend to be able to predict the next $100/oz. move in gold, we are fairly confident in the next $500/oz., $1,000/oz. or even the next $5,000/oz. as the gold rerate will almost certainly send prices to several thousands of Dollars per ounce as this coiled spring unravels.
The Bottom Line
Things are certainly looking up for the gold bulls, and while we're not certain that we've seen a bottom, we're confident that we're close, and it is possible that we have seen one. But don't let the day-to-day noise fool you into taking profits or into trying to time the market by trying to pick up gold a few dollars cheaper than it is today. While gold can continue to struggle - as it has for nearly 5-years now - it can also rise rapidly, leaving so-called savvy market-timers without positions. Now is the time to think "big picture."
Disclosure: I/we have no positions in any stocks mentioned, and no plans to initiate any positions within the next 72 hours.
I wrote this article myself, and it expresses my own opinions. I am not receiving compensation for it (other than from Seeking Alpha). I have no business relationship with any company whose stock is mentioned in this article.