Cal-Maine Foods (NASDAQ:CALM) is a $2 Billion/year company that specializes in producing and distributing high quality eggs. The company advertises that its eggs are produced in a "culture of sustainability" to insure consistently high quality eggs for the consumer.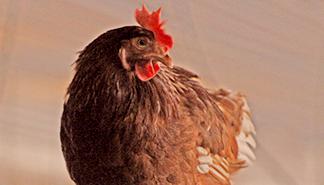 The stock has a low 12 month trailing p/E of 6.8 and a "juicy" high yield of over 5%.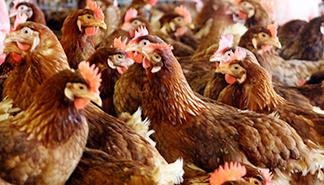 One of the characteristics of the eggs that are produced by this company is a higher level of nutritional quality in the product due to the higher quality all-vegetable feed given to the livestock. Cal-Maine advertises that its eggs naturally have vitamin D, lower cholesterol and higher protein levels as well as better taste than the eggs from its competitors. Having recently switched to buying these eggs, one immediately notices that every egg in a carton is perfectly clean and stamped with "EB" on the top.
So, why did I invest in this company? Well, I subscribe to the investment strategy of long term Magellan director, Peter Lynch, who looked for opportunities in companies that he saw in his daily life. I see EB eggs in practically every store; they are the largest egg producer in the USA. They control every aspect of getting eggs to the consumer, starting with the feed produced for their chickens. breeding and hatching of chicks, egg production, packaging and distribution. With multiple plants located throughout the country, they have limited exposure to the risks associated with any agriculture commodity since they control every aspect of the whole process. With each production location isolated and protected from exposure to chicken illness, and with multiple feed growing locations in different parts of the country the risk from pandemics and bad weather is limited. During the past avian flu outbreak they were able to continue steady increases in egg production without a setback.
Fundamentals (05-2015 data)
Market Capitalization 2.35B
Total Assets 929M
Current Liabilities 132M
Long Term Liabilities (incl. LT Debt) 224M
Shareholder Equity 704 M
Net Sales 1576M
EBITDA 276M
Debt to EBITDA 0.18:1
Net Income 161M
EPS 3.35
p/e (FY) 14.5
Net Profit Margin 10.3%
ROE 24.86%
5 year annual growth 11.61%
5 year dividend growth 21.17%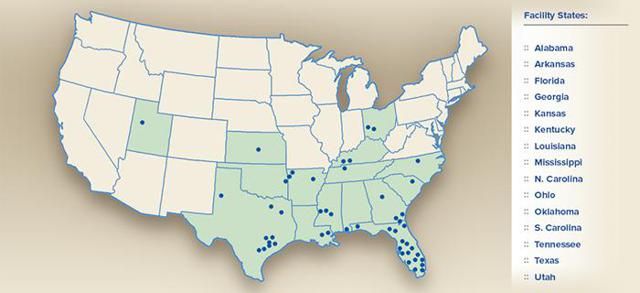 Cal-Maine Production Facilities in USA
source: Cal-Maine Foods
Currently the stock is trading at $48; a 52-week range is $34-63. With a price to cash flow of 6.07:1 (industry average is over 30:1!), a trailing p/e under 7, a price-to-book of 3.02:1, and 5 year earnings growth of 18.59% vs. industry 7:1, it looked like a good investment to me. In addition, Fidelity's equity summary score is a very bullish 9.6, although I usually take that with a grain of salt, since I have found that it isn't always a good predictor, it better reflects current-past analysts opinion. Also, the estimates for earnings for the next two quarters are lower than the current quarter.
Net cash flow is 195M, working capital is 377M and outstanding shares of 48,5M indicate the company can cover the $3.35 dividend easily. My concern centers around the next two quarters of estimated income being lower than the current quarter; I don't know how that will affect the dividend, The Adams family owns 31% of the stock, other insiders bring that figure close to 40% and public float is 60% or 28 million shares.
A number of analysts have given a buy rating. Two I particularly like are EvaDimension that gives a proprietary score of 94 to the whole market and 96 to the industry. The other analyst I like is McLean Capital Management that indicates a "conservative" risk analysis and a "buy" rating for CALM (which is not given freely in their case) and the bottom line that I follow closely : "the company shows a positive trend to creating shareholder value". (Both these analysts are available to Fidelity brokerage customers)
I hold a 1.5% position of CALM in my portfolio. This article is not a buy recommendation, as always complete your own due diligence. I welcome your opinions both positive and negative - I find they are as valuable on Seeking Alpha as the articles themselves.
P.S. A pet peeve of this author (who raised chickens as a child) is the commonly held belief that brown shelled eggs are better than white. There is no difference in the egg's quality between shell color, it is the breed of chicken and its coloration that determines this. The feed, health and growing conditions of the chicken are what matters. I particularly like the "free range" eggs that have become available lately and are sold by Cal-Maine as part of their whole line.
Disclosure: I am/we are long CALM.
I wrote this article myself, and it expresses my own opinions. I am not receiving compensation for it (other than from Seeking Alpha). I have no business relationship with any company whose stock is mentioned in this article.