When you weigh yourself at a doctor's office, you expect the scale to be zeroed out before stepping onto it. This way, you know your weight relative to the weight that the scale was registering prior to getting on. I'm sure we have all had a scenario where a scale was showing a weight of plus or minus a few pounds before getting on. What you likely did in those scenarios with subtract that number from the result and wait to get your true weight. The point is that calibration matters, and it is the same for the stock market.
In a bull market, the stock market is automatically geared and calibrated to go higher, frequently ignoring macroeconomic data and individual bad news from equities. You could throw a dart at a handful of stocks and the likely scenario is that you're going to be able to make money going long in a bull market. A bear market is just the opposite. Stocks are calibrated to move lower, and despite good data, stocks are generally going to move downward unless they are getting individual news that forces them to move higher.
Many people think we are in a bear market. For example, Facebook (NASDAQ:FB) and Google (NASDAQ:GOOG) just both reported fantastic earnings with great expectations and guidance, and both stocks have sold off over the last two days. Google has gone from an after-hours high of over $830 after earnings were announced to barely trading at the $700 level yesterday. Facebook ran up as high as $114, but spent most of the day yesterday giving those gains back while the broader indices posted green days. This could leave some to quickly draw the conclusion that we are in a bear market.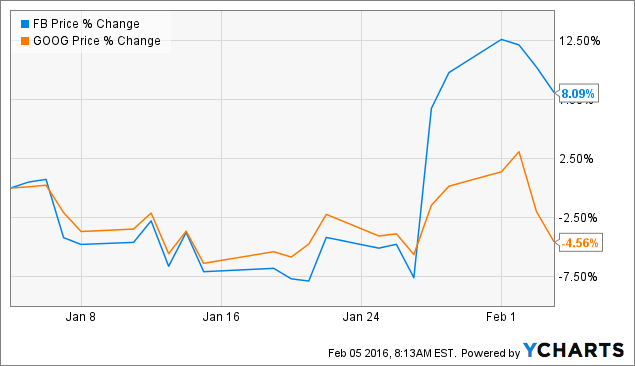 We disagree, and we think we are actually in a stock picker's market right now, that will see the Dow range-bound between 15,000 and 18,000 for the rest of the year.
While it feels like the market isn't able to take any good news and run with it, what we think we are really seeing is just more of a focus on valuation. When traditional companies with "normal" valuations report positive earnings and good news, they have room to move higher in this market. Subsequently, if you are a high valuation stock like Facebook, or even Google (which is still slightly higher than peers like Apple), you're probably going to be subject to some skepticism from the market.
If the geopolitical picture winds up getting worse, and China and Europe wind up getting worse from here, there may be a real chance of the US slipping into a bear market. But we also think what we are seeing is a result of interest rates rising and the market having a little bit of a healthy correction (mixed with some of the other more specific areas of concern, like high yield and oil debt). Whereas the scales were tipped in favor of the bulls for the last eight years, we think they have moved to a neutral position now, but we're not quite at a bearish calibration just yet.
What this means is that we are trying to own some stocks that are diversified across a number of sectors that we consider to be the best and offer the most risk reward in their sectors.
In tech, for instance, both Apple (NASDAQ:AAPL) and Google are appealing to us at these prices. Apple obviously has the much lower valuation, but Google is obviously the more aggressively growing company. We think this spot here with Apple under $100 and Google nearing $700 is a very attractive entry point, as we think we could see Apple in three digits and Google and four digits by the end of 2016. With continued mergers and acquisitions in semi-conductors, we also continue to keep one eye on Micron (NASDAQ:MU), the stock that we have followed for the better part of the last year. We continue to think the valuations are reasonable enough for the company to potentially be acquired here.
We are also starting to look at putting on some long exposure to oil. We had commented in several other articles that oil below $30 was going to be a spot where we were going to start to scale into positions, and that is what we have done. We have taken a look at a basket of oil stocks, but surprisingly have ignored some of the larger ones that are often talked about because of the great balance sheets. We're not in BP, nor are we in ExxonMobil (NYSE:XOM). We are not interested in buying an oil company trading at a 30X multiple with oil at around $30, because we think the upside will be limited once oil finally does turn around. So we look for companies that have manageable or serviceable debt, that we think can not only outlast the low prices, but can provide a very handsome return if prices were to rise. We have bought shares of Navios Maritime (NYSE:NAP) and Encana (NYSE:ECA) on recent weakness.
In healthcare, we like Gilead (NASDAQ:GILD). It is a low multiple stock that just trounced expectations that the entire market hates right now. Everyone has been vying for the company to make an acquisition in order to continue to further their future prospects, but the company is doing its own thing and looks to just be investing in itself. Merck's new hepatitis drug is definitely a concern that we will watch the effects of closely, but we think Gilead's seasoned management team with a high degree of reputability will find the right solution for the company to help build shareholder value from the stages with the company trading at such a very cheap multiple.
In retail, it is no secret that we like Macy's (NYSE:M). Despite the lackluster results yesterday from Kohl's (NYSE:KSS), we think Macy's, supported by its more than $10 billion in real estate is the best-of-breed in the retail sector at its current 12X multiple with a couple of very reputable active shareholders in place.
Finally, we are still bullish on the US automakers. While we have always preferred Ford (NYSE:F) over General Motors (NYSE:GM), both companies are cheap enough and have been beaten down enough that we think them to be attractive yielders that can sustain their dividends moving forward from here. Both of the automakers are pricing in a catastrophic end to the auto market boom, which we believe could have them shoot higher if things are not as dark as many are making them out to be.
So we think it's a stock pickers market, and that's what we're going to continue to do; pick stocks.
It is our continued effort to try and locate companies that individually, aside from the market will perform well. We think this is the strategy to be using in today's market, coupled with hedging yourself and making sure you do have a few commodity hedges, currency hedges, and shorts on. In the comments, we would love to hear your ideas for what the best in-sector values are in today's stock picker's market. With a focus on the very long term, what would you own in the space of technology, retail, oil and gas, pharma, and industrials?
Disclosure: I am/we are long ECA, NAP, M, GM, GOOG.
I wrote this article myself, and it expresses my own opinions. I am not receiving compensation for it (other than from Seeking Alpha). I have no business relationship with any company whose stock is mentioned in this article.