In 2010 no one would have believed BP (NYSE:BP) had a way to benefit from the Gulf of Mexico oil spill fiasco, and yet when looking at the steps forced upon the company because of liabilities associated with the oil spill, it has in fact allowed it to weather the storm to a degree it couldn't have if it had continued on with business as usual.
In order to meet its obligations related to the accident, it started slashing spending years ago while getting leaner by selling off assets in order to increase its cash holdings. Obviously it still has to deal with the existing market conditions and the fundamentals of the business, but as a result of the steps it's already taken, it has lowered the degree of adaptation it would otherwise have had to of taken to weather the oil price war.
Nonetheless, it is still uncertain how much the company will have to pay out in relationship to the Gulf spill, and there are still steps it has to take in order to further cut costs connected to the current competitive environment.
Since its free cash flow has been under extreme pressure for some time, it's almost certain it'll have to eventually go further into debt if it wants to retain its dividend.
For now it appears the company is willing to let its credit rating suffer to some degree in order to protect its dividend. If the price of oil remains low for a longer period of time than is now believed by BP, it's questionable as to it being able to continue on with the dividend as it is by the use of debt financing.
Offsetting a portion of the disastrous upstream performance was its refining earnings, which came in at a record of $7.5 billion for the quarter, even after its overall worst earnings performance in about 30 years.
source: StockCharts.com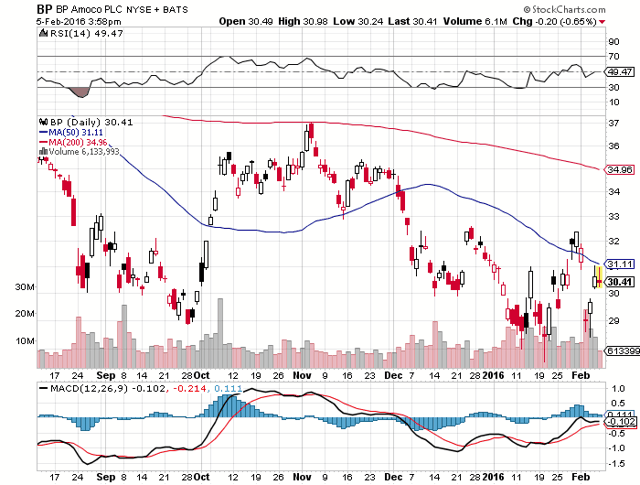 Divestment and downsizing
A key reason for the company being able to maintain its dividend has been its downsizing and divestment of assets. Since 2010 it has sold off $75 million in assets, including the $10 billion in 2014 and 2015.
In 2016 BP says it is looking at divesting of an additional $3 billion to $5 billion in assets, and in 2017 starting to slow down to an average of $2 billion to $3 billion per year.
The original purpose of the divestments weren't to primarily protect its dividend but to boost its flexibility in regard to the uncertain obligations it would have to pay out in regard to the Deepwater Horizon disaster. That has now extended to managing the company in the low price oil environment; including trying to keep its dividend in place as it now is in the near term.
BP is operating under the assumption it'll be able to rebalance its financial framework by 2017. In order for that to happen the price of oil will have to climb to $60 per barrel. At that time the company believes operating cash flow will be able to pay for capital expenditures and retain its dividend.
This implies to me it's willing to take on more debt in 2016 to defend the dividend in hopes oil prices will find support and reverse direction by 2017.
If the price of oil takes longer to rebound than expected, which I believe is the most likely scenario, BP could also cut capital expenditures. Free cash flow won't do it.
Free cash flow
BP's free cash flow has been all over the map since the Gulf disaster, coming in at $2.69 billion in 2011, and in 2015 plunging to $317.45 million; that was significantly down from the $6.2 billion in free cash flow generated in 2014. In 2012 it was negative $1.73 billion, and in 2013, negative $2.19 billion.
There will be no help there to support the dividend, which reinforces the thesis and strong probability debt will be used to maintain the dividend in 2016. I don't believe it will be able to take on more debt in 2017 in relationship to the dividend, especially if the price of oil remains below the break even level of about $60 per barrel BP needs.
Investors should be able to count on the dividend remaining where it is in 2016, as CEO Bob Dudley said in an interview with Bloomberg Television that he wasn't "nervous" in boosting leverage to protect BP's dividend.
That may be true, but the problem with taking on more debt is the strong probability of a credit downgrade, which will increase the cost of capital. Because it's an integrated company, it can better weather a downgrade, but under the oil price pressures of the industry, the added costs could make a big difference in performance, specifically if it struggles with exchange rate risk.
How it appears it'll work out is we should see debt increased in the near term, followed by reduction in capital expenditures if the price of oil remains low for longer than expected, and finally, it will probably cut its dividend if those measures don't work.
From the comments of BP officials, it appears it'll wait until the latter part of 2016 or early 2017 before taking that step if they are forced to. The metric to watch is how close the price of oil will be to $60 per barrel. If the price continues to be under pressure by the beginning of the third quarter, I think the company would have to move up the time frame mentioned above.
Ratings outlook
Even as the company is now, its rating is under more pressure, as Standard & Poor's put BP on negative outlook, and Moody's already had it on review.
S&P said this about the oil and gas industry in general:
We now believe many major oil and gas companies' current and prospective core debt coverage metrics are likely to remain below our rating guidelines for two or three years as the industry adjusts to lower prices.
This isn't the optimistic outlook some in the industry are trying to portray, including BP. It points to BP having to go the debt route if it wants to remain competitive with its dividend with its peers.
With all of the major producers saying defending their dividend is their top priority, the one caving in first will look to be the weakest by the market. That would of course also have a significant impact on the share price and market cap of the company reducing their dividend first.
That's the key reason BP doesn't mind adding to its debt load to protect its dividend, even though its rating would take a hit and the cost of capital increase. All the major oil companies are relying on the price of oil rising in the second half of 2016 in order to keep from having to make that tough decision. BP appears to be the most vulnerable of the major oil companies, although as mentioned, it has the advantage of already being in contraction mode before the oil price war launched.
Oil price outlook
By BP's own words, $60 per barrel is the benchmark it's working from. Anything close to that in the second half of 2016, for a prolonged period of time, could keep it from having to take drastic measures.
But I see nothing that will support the price of oil anytime soon. There will be no agreement to cut supply between major producers, and even if there was, it wouldn't be enough to make a big difference in the price.
Oil demand for 2016 has also been downwardly revised, which makes it even harder to find support since Iran is already adding a lot more oil to the export market, and Iraq has stated it not only is going to keep production at high levels, but is going to increase it this year.
If any price support were to be found, there are approximately 4,000 drilled but uncompleted shale wells in the U.S. ready to be brought very quickly into production, which would limit the upside of oil prices. That doesn't include oil producers from other regions that would also increase supply if they are able to do so profitably.
Conclusion
The only catalyst having a chance of changing the outlook for the price of oil in 2016 and further out is if there is a re-balancing of supply and demand. With the global economy slowing down and China and emerging markets cutting oil demand in response to slowing economic growth, there is nowhere else to look to for price support.
Almost all that is said is the price of oil at these levels isn't sustainable. Yet the spigots remain open and no company or company that counts is willing to lower supply and lose market share.
For those reasons I believe BP will have to tap the credit market to protect its dividend, and if the price of oil remains low for longer, it'll have to cut capital expenditures as the next measure. It's doubtful it'll divest of assets beyond what it's already planning. It could, but then it could be devastating its future.
If all that fails and free cash flow remains under pressure, all that is left would be to cut the dividend. That could happen sooner than expected if the price of oil fails to come close to the $60 per barrel mark.
Disclosure: I/we have no positions in any stocks mentioned, and no plans to initiate any positions within the next 72 hours.
I wrote this article myself, and it expresses my own opinions. I am not receiving compensation for it (other than from Seeking Alpha). I have no business relationship with any company whose stock is mentioned in this article.