Summary
It does look as though the risks of a headline Non-Farm payroll miss that we mentioned last week became a reality after all. However, the damage done to the Greenback all happened before the number was released with the EUR in particular causing a lot of pain to shorts following 'deadly Dudley's' comments, something we did not expect ourselves.
Not all of the employment report was bad though, with the participation rate ticking up and unemployment rate heading below the 5% level for the first time since the 2008 financial crisis. Wages and work hours were also higher which are the positives that we see in the numbers.
Next week brings a fairly light economic calendar and as such we expect to see some of the USD selling get retraced early next week, with Yellen's testimony on Wednesday likely the main catalyst for any big moves in the later half of the week. Whilst the headline number missed in this report, there is a very real possibility that this could be a one off miss, and the trend of strong employment growth could continue into the future. We will be watching the Jobless data closely regarding this.
Finally, one of our best ideas for 2016, the USDCAD is working out well with the pair moving down almost 1000 pips from its high and breaking the crucial 1.4000 support. More below in our trading strategy section.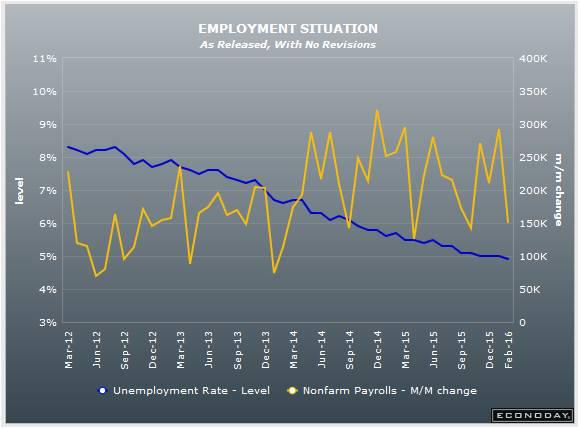 Source: Bloomberg.com
Key economic data and events for the coming week for the pairs we cover:
Sunday, 07 Feb. 2016
2350 GMT - Japanese Adjusted Current Account
2350 GMT - Japanese Bank Lending
2350 GMT - Japanese Current Account n.s.a. (Dec.)
Monday, 08 Feb. 2016:
0030 GMT - ANZ Job numbers (Jan.)
0130 GMT - Japanese Cash Earnings & Overtime Pay
0500 GMT - Japanese Economy Watchers Current Index (Jan.)
0930 GMT - EU Sentix Investor Confidence (Feb.)
1315 GMT - Canadian Housing Starts (Jan.)
1330 GMT - Canadian Building Permits (Dec.)
1500 GMT - Fed Labor Market Conditions Index
2350 GMT - Japanese M2 Money Stock
Tuesday, 09 Feb. 2016:
0000 GMT - Australian HIA New Home Sales (Dec.)
0030 GMT - Australian NAB Business Confidence Numbers (Jan.)
0700 GMT - German Trade Balance Numbers (Dec.)
0700 GMT - German Industrial Production (Dec.)
1100 GMT - US NFIB Small Business Optimism (Jan.)
1355 GMT - US Redbook Numbers
1500 GMT - US JOLTs Job Openings (Dec.)
1500 GMT - US Wholesale Inventories (Dec.)
2135 GMT - US API Weekly Crude Oil Stock
2350 GMT - Japanese CGPI (Jan.)
Wednesday, 10 Feb. 2016:
**1500 GMT - Fed Yellen testifies on the semiannual monetary policy report before the House financial services committee in Washington.
1900 GMT - US Federal Budget Balance (Jan.)
Thursday, 11 Feb. 2016:
0001 GMT - UK RICS House Price Balance (Jan.)
1330 GMT - Canadian New Housing Price Index (Dec.)
**2230 GMT - RBA Governor Stevens Testifies
Friday, 12 Feb. 2016:
0030 GMT - Australian Home Loans (Dec.)
0030 GMT - Australian Invest Housing Finance (Dec.)
0700 GMT - German CPI (Jan.)
0700 GMT - German HICP (Jan.)
0700 GMT - German GDP (Q4)
1000 GMT - Eurozone GDP (Q4)
1000 GMT - Eurozone Industrial Production (Dec.)
1330 GMT - US Core Retail Sales (Jan.)
1330 GMT - US Export Price Index (Jan.)
1330 GMT - US Import Price Index (Jan.)
1330 GMT - US Retail Sales Numbers (Jan.)
1455 GMT - US Michigan 5 year Inflation Expectations (Feb.)
1455 GMT - US Michigan Consumer Sentiment (Feb.)
1455 GMT - US Michigan Consumer Expectations (Feb.)
1455 GMT - US Michigan Current Conditions (Feb.)
1455 GMT - US Michigan Inflation Expectations (Feb.)
1500 GMT - US Business Inventories (Dec.)
Trading and Technical Strategy for the week ahead:
EUR/USD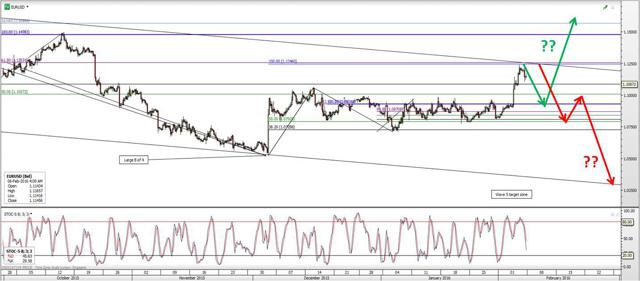 The EUR broke through the key 1.1100 level in the last week unexpectedly, and as such we now have account for the possibility of our bullish scenario 3 playing out (Green Path) with a potential test of the 1.1775 level. However, there is one more alternative scenario assuming the ECB surprises with a massive easing package which is denoted by the red path. The 1.0940 level will likely be key in determining which of the paths is playing out, so do watch out for this level.
As we mentioned on our site on Thursday, the 1.1250 would be the likely interim top level before the EUR comes off into next week. Whilst US Dollar weakness is still very much on the cards at this juncture, we think next week should bring some EUR selling and we should see the EUR move lower to the 1.10s and possibly even to our 1.0940 by the end of the week in our opinion. If you are caught short the EUR and did not cut your position at 1.1090/1100 as we mentioned, then use this opportunity of EUR weakness to seriously consider exiting those shorts or hedge them.
Medium- to long-term trading strategy (1-6 months):
With the Fed in a rate hike cycle timing, now in some doubt given the tepid US data over the last few weeks, the possibility is very real that we could be headed for a period of USD weakness in the coming weeks and months unless other Central Banks like the ECB ease further. Any disappointment on that front could lead to a much higher EUR into March.
As such, if anyone is looking to play on the short side to play ECB expectations, use any pullbacks as close to 1.1200/1.1250 to short the EUR. Look for profit taking opportunities between 100-200pips away from your entry with a stop loss at 1.1260. Due to the uncertainty with the larger EUR picture now, we think it is prudent to move all trading strategies to shorter term setups in our opinion.
Short-term trading strategy (Intraday, 1-3 days):
Given our move from a longer term strategy to one in the shorter term, our strategies across the medium and short term are the same.
USD/JPY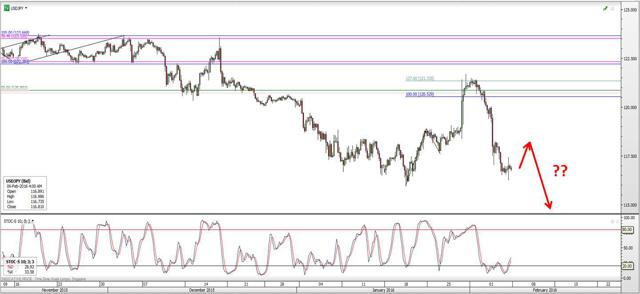 The USDJPY came off much more aggressively than we expected following deadly Dudley's comments and we were taken by surprise how quickly the 118.80 support was sliced through.
Given that the pair is oversold in the short term for now, we expect some USDJPY buying into next week with the pair possibly testing the 118.30/118.80 level. From there, we expect the USDJPY weakness to continue as we think the BOJ is likely done for some time with regards to easing further.
Medium- to long-term trading strategy (1-6 months):
Despite the move down in the USDJPY our medium term strategy remains unchanged:
The move up last week was corrective as expected with the pair falling fast following Dudley's comments. Nonetheless, we prefer to wait on the sidelines before taking a longer term position given the risks to the downside and upside for the pair at present from current levels. Our bearish scenario could see the pair move to the 114 level and lower if the downside scenario plays out where it would be a little more interesting to consider a long position in the pair. On the short side, we prefer to keep all strategies short term given the volatility in the pair.
Short-term trading strategy (Intraday, 1-3 days):
"Short term traders can look to fade the current rally at current levels looking for downside of about 100-150pips in the pair. Any move above 122.30 would invalidate the downside move so short trades regardless of time frame should be stopped out above 122.30."
Our short term strategy from last week (above) would have paid off handsomely if you had forgotten to place your take profit order following Dudley's comments. If you were lucky enough to be on the short side, do consider locking in profits early next week as a pullback in the pair is expected in our opinion. The 118.80 would be a good level to re-establish the short positions with a stop at 120. We would be looking for a break of 116 the next time round the USDJPY comes off, with any hint of dovishness from Yellen at next week's testimony likely being the catalyst for the move.
AUD/USD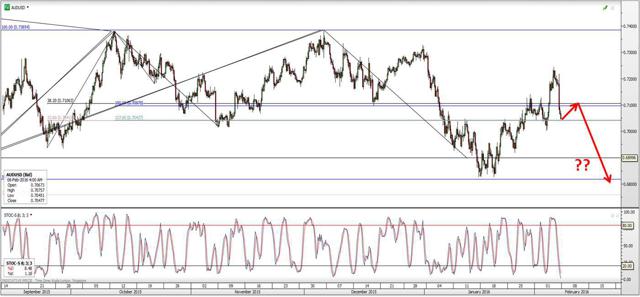 The AUD rallied to the 0.7240 inverse head and shoulders target after the USD was sold off across the board. Whilst the possibility for an extension to 0.7330 is possible it remains unlikely in our view.
We expect some reprieve for the AUD in terms of selling pressure though we do not expect the pair to go beyond 0.7200. Our bias continues to remain to the downside with the pair likely to see the 0.66-0.6800 levels in the not too distant future.
Medium- to long-term trading strategy (1-6 months):
The medium and long term bias remains to the downside for this pair. As such, we would use any pullback close to the 0.7200 level for this pair to enter a short position. Our stop would be placed at 0.7400. Our downside target in this scenario would be the 0.66-0.68 level as mentioned above. We think a dovish RBA governor Stevens would likely be the catalyst for the next leg down in the AUD.
Short-term trading strategy (Intraday, 1-3 days):
Short term traders can consider a short bias into next week selling close the 0.7200 level and taking back the position close to the 0.7000 figure to the downside.
USD/CAD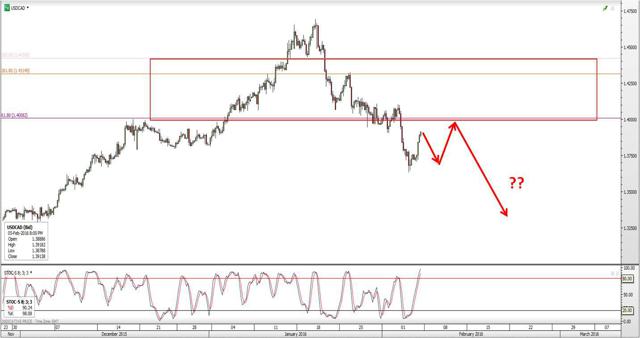 The USDCAD finally broke the 1.4000 level as we were expecting last week. One of our best ideas for 2016, continues to play out beautifully with the pair off almost 1000pips from its high.
As oil begins to find its footing in our opinion, and as the Fed begins to question their rate hike projections, we think more downside will be seen in the pair, with our first objective at 1.3000 to be seen in the not too distant future.
With the exception of the employment report last week, Canadian trade data and manufacturing are showing signs of a turnaround likely due to the weak Canadian dollar, which should be bullish for the CAD in the coming weeks.
Medium- to long-term trading strategy (1-6 months):
Unfortunately, the USDCAD failed to give us the larger retracement we were hoping for to add to our shorts. We covered half our longer term short position from 1.4420 & 1.4586 at 1.3710. We will be looking for a retracement toward 1.4000 to re-establish this half of our short position. Our stop loss would be placed at 1.4100 for our entire short position with the 1.30 plus levels expected to be seen in the coming weeks or months.
Short-term trading strategy (Intraday, 1-3 days):
Short term traders can look this week to play the 1.3800-1.4000 range with a bias on the long side. Any long position taken should be stopped out if 1.3750 is broken.
WTI OIL (USO)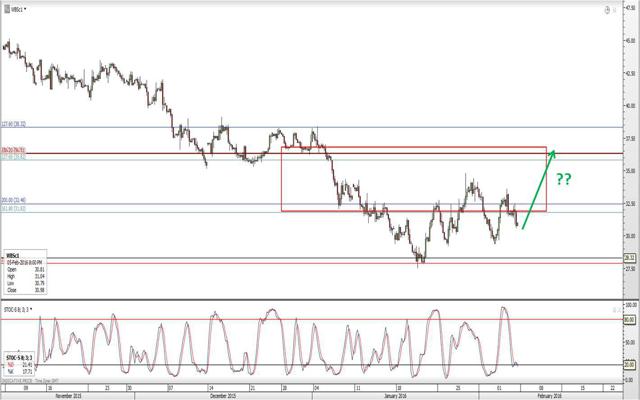 *Note on our price chart:
Before we dive into the WTI technical analysis, we have decided to use the WTI continuous futures price as a chart instead of the original spot price posted in our article. This price will match the nearest dated WTI Crude futures contract which will switch automatically once the contract settles moving on to track the next nearest dated futures contract. We will also be only analyzing the technical aspect of the WTI price, given the fundamental aspect of WTI oil is well covered by many subject matter experts in the energy commodities section. At this time, the nearest dated futures contract being tracked by the above price chart is the March 2016 contract.
WTI oil continues to try to find its footing with crude in dangerous technical territory until the $38.30 is broken to the upside. We expect the $36.50 level to finally be seen this coming week after all the false starts in the commodity.
Medium- to long-term trading strategy (1-6 months):
No change to our strategy from last week, with long positions being looked for around the $30 mark looking for a move to at least the $36.50 to $38.30 levels. Our stop loss on these long positions would be around the $28.30 level.
Short-term trading strategy (Intraday, 1-3 days):
Our short term strategy is pretty much the same as our long term one with a long bias for oil with positions taken closer to the $30 mark with exits looked for around the $33 mark.
Thank you for your time, and we hope that you have enjoyed this weekly strategy piece. We look forward to your constructive feedback.
RISK DISCLOSURE:
HIGH RISK WARNING: Foreign exchange, Futures and ETF trading, carries a high level of risk that may not be suitable for all investors. Leverage creates additional risk and loss exposure. Before you decide to trade any instrument, carefully consider your investment objectives, experience level, and risk tolerance. You could lose some or all of your initial investment; do not invest money that you cannot afford to lose. Educate yourself on the risks associated with trading, and seek advice from an independent financial or tax advisor if you have any questions.
ADVISORY WARNING: THEMARKETJOURNAL provides references and links to selected blogs and other sources of economic and market information as an educational or informational service to its clients and prospects and does not endorse the opinions or recommendations of the blogs or other sources of information. Clients and prospects are advised to carefully consider the opinions and analysis offered in the blogs or other information sources in the context of the client or prospect's individual analysis and decision making. None of the blogs or other sources of information is to be considered as constituting a track record. Past performance is no guarantee of future results and THEMARKETJOURNAL specifically advises clients and prospects to carefully review all claims and representations made by advisors, bloggers, money managers and system vendors before investing any funds or opening an account with any brokerages or dealers. Any news, opinions, research, data, or other information contained within this article and our website is provided as general market commentary and does not constitute investment or trading advice.
THEMARKETJOURNAL expressly disclaims any liability for any lost principal or profits without limitation which may arise directly or indirectly from the use of or reliance on such information. As with all such advisory services, past results are never a guarantee of future results.
Disclosure: I/we have no positions in any stocks mentioned, and no plans to initiate any positions within the next 72 hours.
I wrote this article myself, and it expresses my own opinions. I am not receiving compensation for it (other than from Seeking Alpha). I have no business relationship with any company whose stock is mentioned in this article.