Close your eyes and take your self 50 years back. Given what we are talking about, investing, imagine you are a stock market enthusiast and want to learn more about the subject. Even better, imagine you are an expert and think Seeking Alpha is a publication you read often. Yes, 50 years ago there was not as much sophistication as there are in computers now a days and also related products as of today. So those years ago if you wanted to invest it was most probable thru a full service broker and your choices were stocks, bonds, and mutual funds. Once we acknowledge this we understand why the titans meaning Buffett and Icahn besides other investors as of today prefer these types of investing vehicles. Clearly those were their options and that is what they got used to. Now, coming back to the present besides stocks, bonds, and mutual funds we also have options, ETFs, leveraged instruments, and much more exotic instruments. Though it might be confusing and overwhelming to decide on an investment, it is also an opportunity.
Being clear on our opportunities there is a big debate on choosing between active or passive management. Though studies have shown most managers fail to beat their benchmark, I like to leave that topic open and unresolved because there are many factors to consider. Some of these factors are benchmark to be compared to, investing time horizon, entry and exit points, and tax considerations without limiting my self to other topics to be considered.
Source: CNN Money
Now, if there is something important in life and in investing is to keep things simple and to understand what your are getting into. When it comes to investing choosing ones time horizon and risk tolerance are vital. Once those are decided it all comes down to implementing that strategy. In this example we will stick to the young adult that has a high risk tolerance and decides to invest 100% of his capital (with the exception of the emergency fund) in the stock market. That individual decided to invest passively in a fund that replicates the S&P 500. In this case that choice would be the SPDR S&P 500 Trust ETF (NYSEARCA:SPY), an ETF that tracks said index.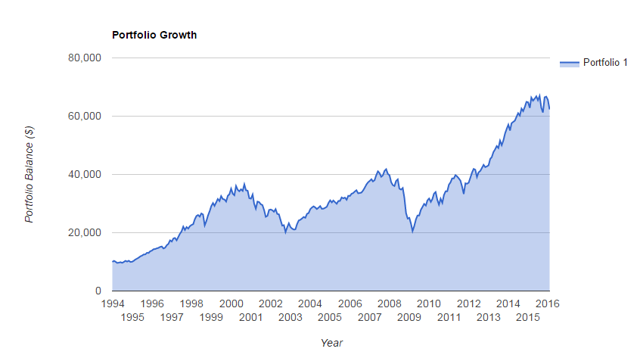 As seen on the graph, $10,000 invested in this ETF starting in 1994 and reinvesting dividends would have grown to over $60,000 in 15 years. Certainly, this is a great return but lets get thoughtful and look for a way to beat this performance utilizing similar ETFs.
Experiment
We are going to produce a higher return and decide to test this ETF against a basket of sector ETFs (funds that represent each sector of the economy). From the same family of funds as SPY, we utilize the following ETFs:
Source: Sector SPDR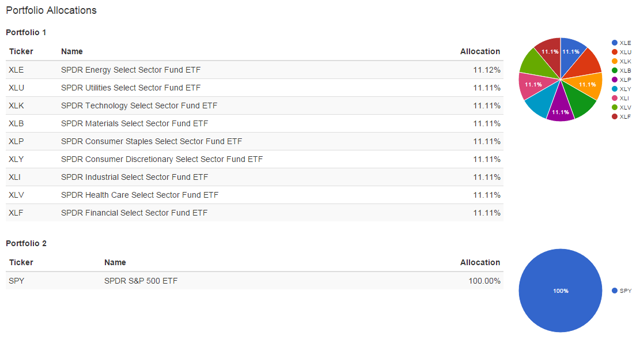 These funds are going to be equally weighted and rebalanced annually. Even though each sector of the economy is of different economic size by equally weighting we remove all biases and by rebalancing we seek regression to the mean of each ETF. This means that sectors that outperform will eventually underperform as they attract capital and entrepreneurs.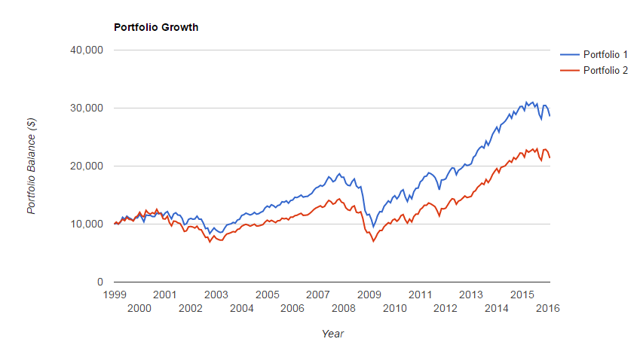 The blue line in this example is the equally weighted sector fund while the red line is SPY. It can be seen how this strategy has produced alpha from 1999 to 2015. Now, is this strategy riskier?

During drawdowns and its worst year the strategy suffered less losses.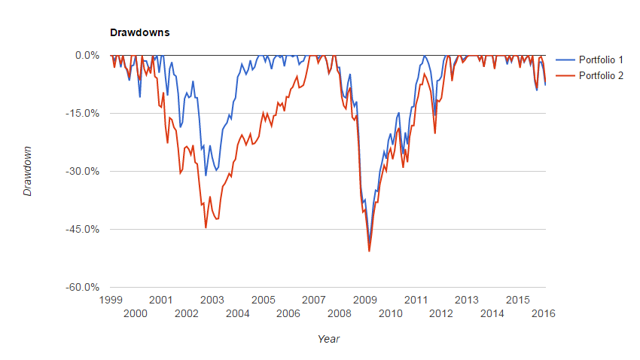 During the period tested two big market drops occurred. on both occasion, the strategy suffered less drawdown.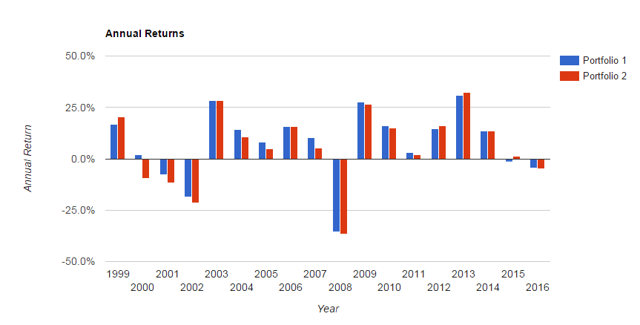 The blue lines, show how during market periods of decline the fund mostly suffered less.
What is the S&P 500 current weight per sector? It turns out there is no sector that takes most the index's weight but there are sectors that take very little weight in the index.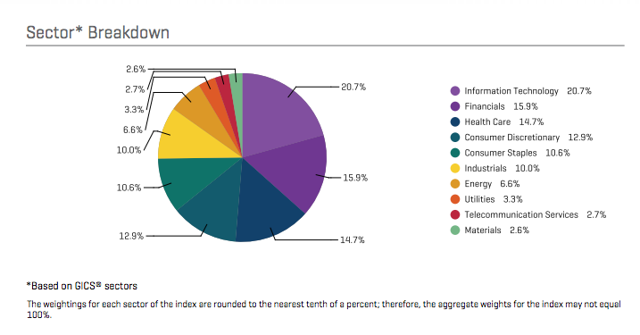 Source: S&P Indices
By equaling weights we invest more in out of favor and/or smaller sectors.
There is an ETF that mimics S&P 500 equally weighted, the Guggenheim S&P Equal Weight ETF (NYSEARCA:RSP). This ETF has performed well since inception and it's important to put it to the test with our equally weighted sector fund.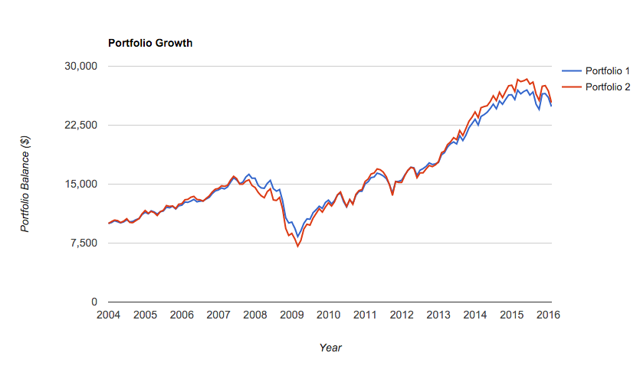 It can be seen that RSP has performed slightly better that out equally weighted sector fund. However, drawdowns are clearly larger in times of distress.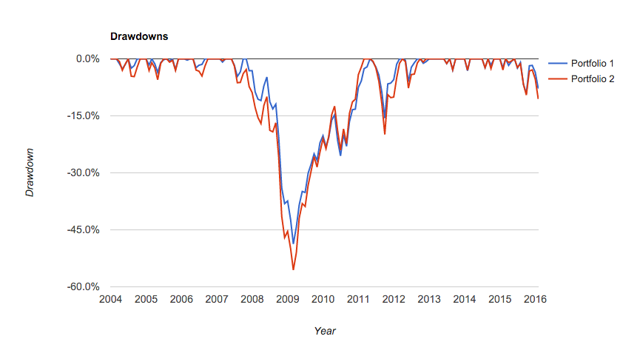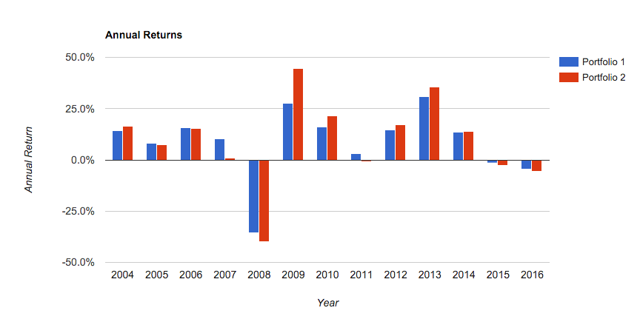 On an absolute basis RSP performed better than the equally weighted sector fund but on a risk adjusted basis not.
All graphs and tests were produced in Portfolio Visualizer.
It is clear that simple ideas like this one based on equal balance and rebalancing demonstrate strategies that produce results. Since investors seek to increase returns, money goes to where capital is being created. Many times, this leads to the creation of a bubble generating underperformance. Also, by equaling weights all biases are removed.
Additional Disclaimer: This post is solely my opinion and data and information contained is not intended to be investment or tax advice. A reference to a particular investment or any observation provided in is not a recommendation to buy, sell, or hold or to make any other investment decision. If you seek advice or counseling regarding your finances or investments, please consult a professional. Investing is risky and adequate precaution should always be taken. We don't take any responsibility for your investment or other action nor we have any liability for the accuracy of the information provided. We make no representation about the suitability of the information contained herein. Past performance is not indicative of future results.
Disclosure: I/we have no positions in any stocks mentioned, and no plans to initiate any positions within the next 72 hours.
I wrote this article myself, and it expresses my own opinions. I am not receiving compensation for it (other than from Seeking Alpha). I have no business relationship with any company whose stock is mentioned in this article.