On February 2, 2016, Pfizer (NYSE:PFE) reported better-than-expected Q4 2015 earnings results. The company reported adjusted EPS of $0.53, which slightly beat the consensus estimate of $0.52/share. For comparison purposes, the company reported EPS of $0.54 for the same quarter in the prior year.
PFE shares are down ~3% since reporting the Q4 2015 results, and this brings the YTD performance to (9)%. On a YTD basis, PFE shares have underperformed the market, as the S&P 500 is down only 5% in the new year.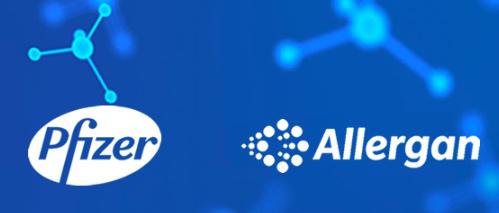 In January 2016, I purchased shares of this company for the R.I.P. portfolio, as I consider Pfizer a defensive company (this is important at the moment with the broader market sell-off) that has several long-term catalysts in place that have the potential to propel the share price higher in the years ahead.
Top-Line Growth (or Lack Thereof)
Pfizer finished 2015 with strong top-line revenue growth for Q4 2015, as the company reported quarterly revenue of $14.0b (7% YoY increase). Additionally, the quarterly revenue beat analyst estimates by $480m.
One factor that contributed to the quarterly revenue growth was the Hospira acquisition that was completed on September 3, 2015. The Q4 2015 results included three full months of Hospira operations, which accounted for ~$1.18b, or 8%, of the total quarterly revenue.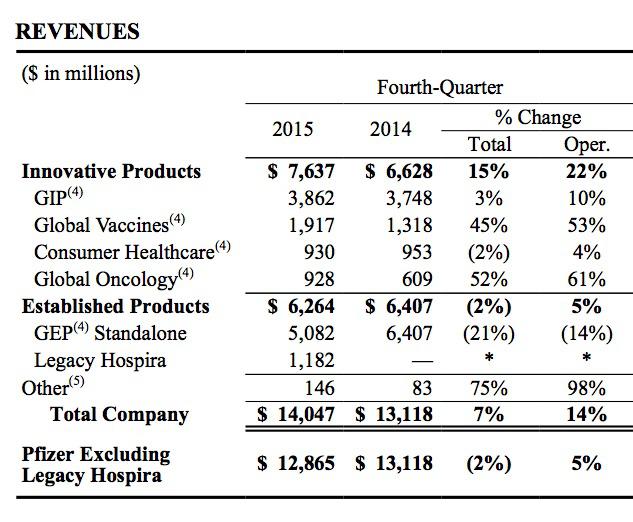 (Source: Q4 and Full-Year 2015 Performance Report)
Pfizer's full-year 2015 top-line results did not paint the same rosy picture.
| | | | | | |
| --- | --- | --- | --- | --- | --- |
| ($ in millions) | Q4'15 | Q3'15 | Q2'15 | Q1'15 | Q4'14 |
| Innovative Products | $7,637 | $6,752 | $6,630 | $5,738 | $6,628 |
| % chg | 13% | 2% | 16% | -13% | |
| | | | | | |
| Established Products | $6,264 | $5,219 | $5,090 | $5,014 | $6,407 |
| % chg | 20% | 3% | 2% | -22% | |
| | | | | | |
| Other | $146 | $116 | $133 | $112 | $83 |
| | | | | | |
| Total Company | $14,047 | $12,087 | $11,853 | $10,864 | $13,118 |
| | | | |
| --- | --- | --- | --- |
| | 2016* | 2015 | 2014 |
| Full-Year Revenue | $50,000 | $48,851 | $49,605 |
| % chg | 2% | -2% | |
*This is the midpoint of the estimated 2016 revenue that was provided with management's guidance. This estimate includes the anticipated unfavorable foreign exchange ("FX") impact, but it does not include results for the anticipated merger with Allergan plc (NYSE:AGN).
(Sources: Earnings Performance Reports for Q4'15, Q3'15, Q2'15, and Q1'15)
As shown, full-year 2015 revenue was down 2% YoY. Pfizer struggled to grow its top-line in 2015, but this was largely a result of the FX headwind. For 2015, Pfizer reported an unfavorable FX impact of $3.8b, or 8% of total revenue. In my opinion, this is a significant impact for a factor that is a short-to-medium-term headwind.
Going forward, Pfizer guided for 2016 revenues to be in the range of $49.0b to $51.0b, which would translate into a 2% YoY increase if the midpoint is achieved. The company is again expecting an unfavorable FX impact for the current year. For 2016, Pfizer is estimating for FX to negatively impact revenue by $1.5b ($2.3b if you include the Venezuela estimate).
The FX impacts are important to consider and monitor, especially as companies continue to grow their operations internationally, but as long-term investors we must remember that these types of impacts are less volatile over the longer-term. As such, the FX impacts will at some point be a benefit to revenues (and earnings).
For the time being Pfizer, and the other multinational companies, will simply have to contend with the unfavorable FX impacts. In my opinion, this is creating an opportunity for long-term investors to accumulate shares in a growing global healthcare company that is being pulled down by concerns related to a short-to-medium-term operational risk.
Allergan Update
The most important long-term catalyst is the proposed merger with Allergan. This merger would create an entity that would be the largest drug company, by sales, in the world. Many analysts are not looking past the headlines (i.e. tax inversion benefits), but at the end of the day this merger will greatly impact both the top and bottom-line in many different ways.
During the Q4 2015 conference call, Mr. Ian Read, Chairman and CEO of Pfizer, highlighted some of the benefits of the Pfizer-Allergan merger:
"Upon the close of the transaction, the combined company will be an influential player in the industry with a competitive product portfolio with several leadership positions, robust pipeline, compelling capital structure, and financial position, and aligned cultures that are based on ownership and entrepreneurial spirit creating shareholder value and meeting patients' needs. This combination is about investing in our business. It's about accelerating our existing strategy, while preserving our options as putting the company into an innovative business and an established business. If we determine that is the best way to unlock the most value for our shareholders."
The newly formed company would have estimated annual revenues of ~$60b, which would greatly alleviate the investor concern over the lack of top-line revenue growth. Furthermore, Pfizer-Allergan already announced operational cost synergies in the range of $2b over the first three years, and management fully anticipates for the merger to be finalized in the second half of 2016.
Returning Capital Shareholders --Dividends and Buybacks
Another important long-term catalyst is the shareholder-friendly decisions that Pfizer has made in the recent past, and the strong likelihood that the company will continue to stay committed to returning capital to shareholders in the future. For example, Pfizer returned ~$13.1b to shareholders in the form of dividends and share buybacks in 2015. In addition, Pfizer recently increased the quarterly dividend by 7% (from $0.28/share to $0.30/share).
Valuation
Based on trailing earnings [ttm], Pfizer is richly valued when compared to Johnson & Johnson (NYSE:JNJ) and Merck & Co. (NYSE:MRK).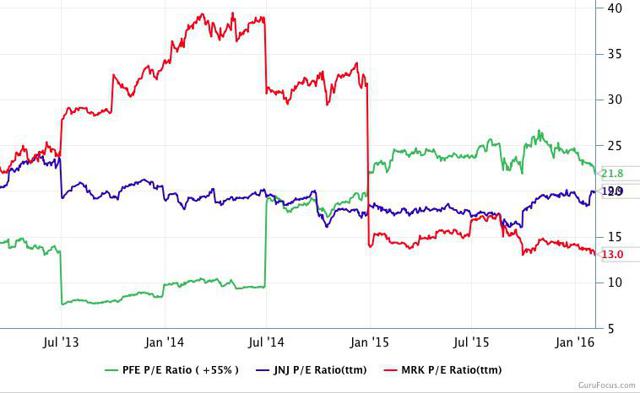 (Source: Gurufocus.com)
However, Pfizer is attractively valued based on estimated 2016 earnings. The company guided for 2016 adjusted EPS to be in the range of $2.20 to $2.30. Based on this guidance, PFE is currently valued at 13x estimated 2016 EPS (based on the midpoint). This valuation compares favorably to peers, as JNJ and MRK are trading at 15.4x and 13.3x estimated 2016 earnings, respectively.
Bottom Line
The Q4 2015 results were nothing to write home about, but there were some nice takeaways. The company is fully committed to finalizing the Allergan merger, and management is still expecting for the deal to be completed later this year. With the merger, Pfizer will be in a position to greatly improve its pipeline while also having the opportunity to positively impact the bottom-line by reaping the benefits of the cost synergies.
Until the merger is completed, investors are being paid (~4.1% yield) to patiently wait out the storm-- the broader market sell-off and unfavorable FX impacts. I will be digging deeper into the Q4 and full-year 2015 results, so please let me know if there is anything that you would like for me to cover in greater detail.
If you found this article to be informative and would like to hear more about this company or any other company that I analyze, please consider hitting the "Follow" button above.
Disclaimer: This article is not a recommendation to buy or sell any stock mentioned. These are only my personal opinions. Every investor must do his/her own due diligence before making any investment decision.
Disclosure: I am/we are long PFE, JNJ.
I wrote this article myself, and it expresses my own opinions. I am not receiving compensation for it (other than from Seeking Alpha). I have no business relationship with any company whose stock is mentioned in this article.