As many readers know, I am not a fan of mortgage REITs, as I often witness many investors chasing "fool's gold", being hypnotized by the chase for yield. As Frank J Williams recounts:
... they stare so long at glistening fortune that their minds are brought under subjection to one of nature's strongest passions - greed. They will listen to any tip, however wild are ridiculous, and impulsively act on any suggestion.
On such tip was a recent article by Seeking Alpha author Nikita Smeshko, CFA, entitled "Love Them Or Hate Them, Mortgage REITs Deliver", and I felt a rebuttal was necessary. Please note that I am not "attacking", "calling out", or impugning Mr. Smeshko, but offering a counterpoint - the other side of the trade, if you will.
In his article, Nikita stated:
While mREITs are a volatile investment, that volatility is not strongly correlated with either stocks or bonds. mREIT volatility comes from changes in mortgage spreads as well as from changes in the shape of the yield curve. Both of those factors are only partially correlated to either stock or bond returns.
Given the way these companies manage/hedge their balance sheets - using swaps, Eurodollar forwards, swaptions, MSRs and, other deep fried bomb ingredients - they are subject to rates generally (falling rates > increasing prepayments, rising rates > falling prepayments), supply of the underlying mortgages, defaults/delinquencies in the credit portion, financing (which is then further subject to bank regulation and political winds of change), and liquidity.
These can be the same influences on the bond market - keep in mind that mortgages used to represent a significant portion of the bond indices that many managers use as benchmarks.
Further down the page, Nikita states:
I'm refraining from using a mortgage REIT Index because I cannot find an index that does not have considerable exposure to REITs that have a large amount of credit exposure.
Then he writes:
mREITs are also only loosely correlated with each other due to the variety of assets that exist in the mortgage market and the varying investment strategies of each mREIT. The direction of each segment of the mortgage market is extremely difficult to accurately forecast with any reasonable level of consistency, while the portfolios of these companies may change materially from quarter to quarter. This makes it difficult to select just one mREIT investment at a time. Instead, a basket approach to the sector makes more sense.
The problem I have with this statement isn't so much the accuracy - honestly, you better have a portfolio of the company to try to produce positive returns - but the way it contradicts his correlation thesis. Nikita looked at the correlation of predominately agency mREITs (three "old-timers") to various other assets and then proceeded to advise investors to have a basket containing the various segments.
Further, he states:
Annaly Capital (NYSE:NLY) is currently trading at a 23% discount to their underlying book value. The company invests primarily in generic fixed rate mortgage pools and is moderately active in trading their underlying assets. The company has a strong operating history.
Recall that NLY has been diversifying into credit-based instruments as well as tangible real estate. Further, the driving force behind the majority of those returns (Mike Farrell, who died in October 2012) is no longer with the company, and his successor (and co-founder), Wellington Denahan, stepped down (from CEO, but remains chairman of the board and executive chairman) in July 2015. Yes, the firm is more than these two people, but they were the ones who founded, grew and drove Annaly.
One way to quickly assess the value mortgage REITs have on a portfolio is to assess the return they offer versus various alternatives. In order to do this, I have selected ten mortgage REITs that have been around for 10 or more years (there are only ten in existence that I am aware of). I will call these the "Old-Timer mREITs," as they have not just been created recently and have a longer return series.
I will first measure the total return of the Old-Timers versus the S&P 500, and all those with returns above the S&P 500 will have their returns colored green, while those with returns below the S&P 500 will have their returns colored red.

Wow, that is a lot of red on the board. You will note that there are three that have outperformed over ten years, and of these, only Annaly has outperformed in more than one subsequent measurement period.
Next, let's compare the "Old-Timers" to the equity REIT market as measured by the VNQ:

Again, there is a lot of red on the screen (almost makes me want to use the title - mREITs make me see red, but I will resist), as mortgage REITs have generally underperformed equity REITs.
Next, let's look at the mortgage REIT returns versus the Vanguard REIT Index ETF (NYSEARCA:VNQ) and the S&P 500 index. Note that all of the mortgage REITs come from the mREIT list at the end of the article. The returns aren't labeled due to space constraints, but I think the return charts help show what mortgage REITs "deliver" (VNQ in green, S&P in red).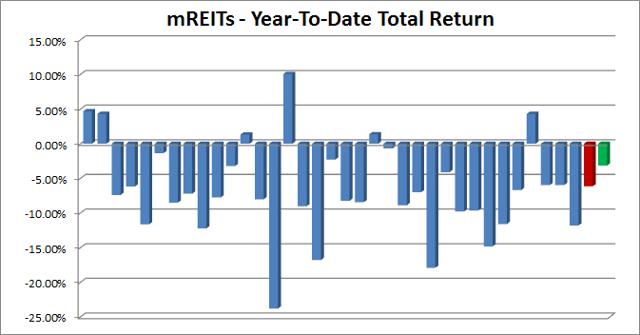 So far, the delivery shouldn't be signed for.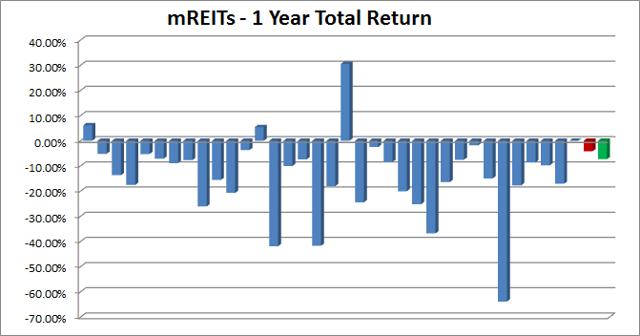 The 1-year returns are no better.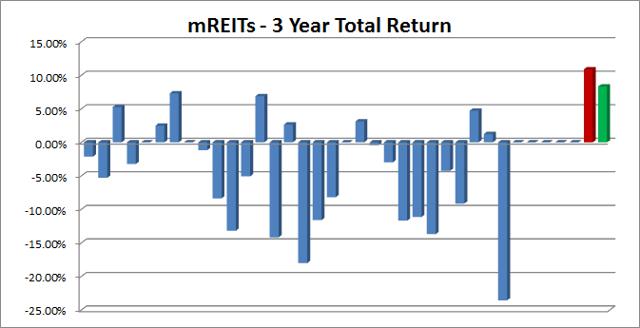 Ditto the 3-year returns.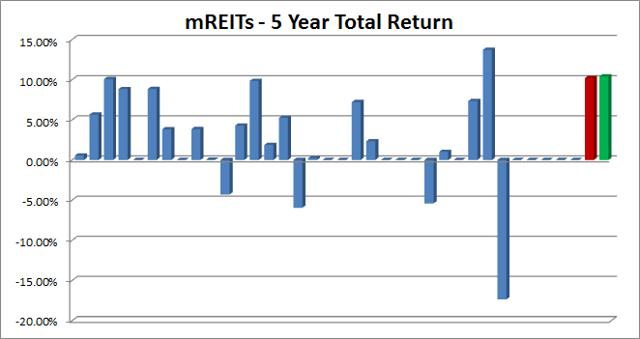 For those mREITs that have been around for five years, the delivery hasn't been "all that".
Okay, so far not impressed, are you?
Maybe we should look at mREITs versus other "standard fare" asset classes such as high yield bonds (NYSEARCA:JNK), emerging market bonds (NYSEARCA:EMB), the Barclay's aggregate, or bond market (NYSEARCA:AGG), the MSCI EAFE (NYSEARCA:EFA) and, of course, the S&P 500 (NYSEARCA:SPY):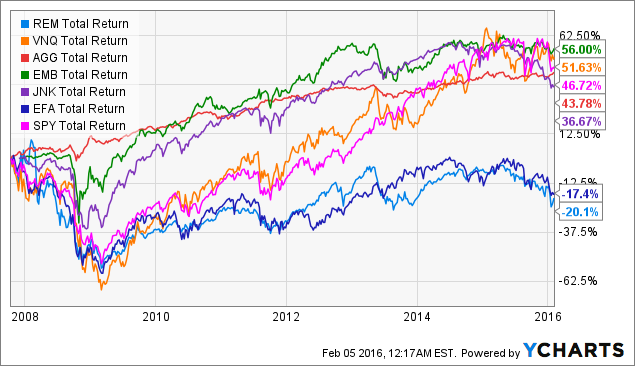 The only asset class that fared almost as badly as mREITs over the last five years is international stocks (MSCI EAFE).
I am sure many might say they can do better than buying a mortgage REIT index, and their selections will be superior to a passive index. Perhaps this is true. In order to determine this, we will next look at the mREIT list (at the end of the article) and carve it into quartiles.
Quartiles were created for all the return periods that have at least a group of mREITs to measure (the 1-, 3- and 5-year returns). The reason for this is that I wanted to see what returns would look like if investors were fortunate enough to own the top quartile for each time period.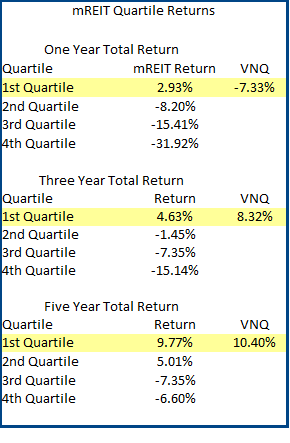 Only in one time period did the top quartile of mREITs outperform the passive Vanguard REIT Index ETF. Two considerations from this:
I am sure the amount of time required to follow and select the top quartiles just to underperform could be better spent doing something else.
If you don't select the top quartile, the hole can get significantly deeper.
Contrary to my expectations, the "grandaddy" of the mortgage REITs (Annaly) was not a recurring top-quartile performer. The members of the quartiles during the timer periods are:

I anticipate that many people will say they don't look at their investments from a total return standpoint, as has been used here, but rather the income generated and the ability to increase the yield on cost. While I can understand the statement, I also know what it feels like to have my financial situation change and to have to raise funds from my portfolio.
It's funny how an unexpected change can help you appreciate the effect capital losses can have. Remember, those "paper losses" become real losses when you least want them to.
The bottom line is that mortgage REITs may look tempting, but facts are facts and figures are figures, and mortgage REITs just don't deliver.
The mortgage REITs looked at in the return charts are the following: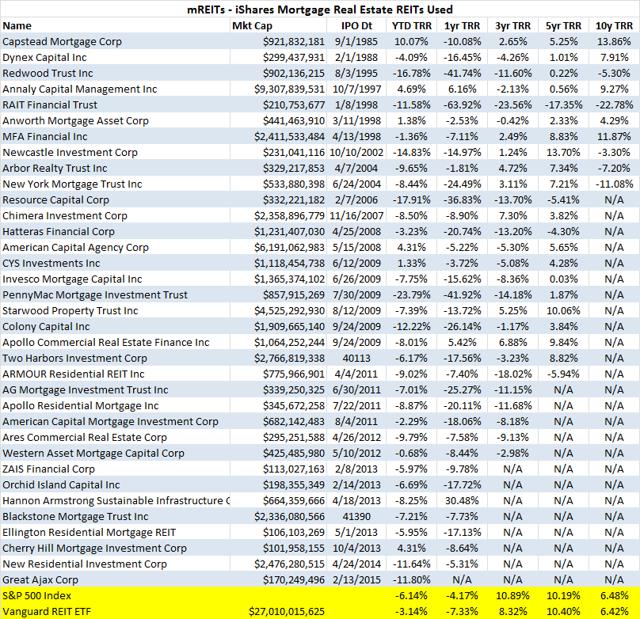 Author's Note: I'm a Wall Street writer, and that means that I am not always right with my predictions or recommendations. That also applies to my grammar. Please excuse any typos, and I assure you that I will do my best to correct any errors if they are overlooked.
Finally, this article is free, and my sole purpose for writing it is to assist with my research (I am the editor of a newsletter, Forbes Real Estate Investor), while also providing a forum for second-level thinking. If you have not followed me, please take 5 seconds and click my name above (top of the page).
The only guarantee that I will give you is that I will uncover each and every rock I can in an effort to find satisfactory investments that "upon thorough analysis promises safety of principal and satisfactory return. Operations not meeting these requirements are speculative." (Ben Graham)
Disclaimer: This article is intended to provide information to interested parties. As I have no knowledge of individual investor circumstances, goals, and/or portfolio concentration or diversification, readers are expected to complete their own due diligence before purchasing any stocks mentioned or recommended.
I wrote this article myself, and it expresses my own opinions. I am not receiving compensation for it (other than from Seeking Alpha). I have no business relationship with any company whose stock is mentioned in this article.
REITs mentioned: Capstead Mortgage Corporation (NYSE:CMO), Dynex Capital, Inc. (NYSE:DX), Redwood Trust Inc. (NYSE:RWT), RAIT Financial Trust (NYSE:RAS), Anworth Mortgage Asset Corp. (NYSE:ANH), MFA Financial, Inc. (NYSE:MFA), Newcastle Investment Corp. (NYSE:NCT), Arbor Realty Trust, Inc. (NYSE:ABR), and New York Mortgage Trust, Inc. (NASDAQ:NYMT).
Source: SNL Financial
Disclosure: I am/we are long O, DLR, VTR, HTA , STAG, GPT, ROIC, HCN, OHI, LXP, KIM, WPC, DOC, EXR, MYCC, BX, TCO, SKT, UBA, STWD, CONE, BRX, CLDT, HST, APTS, FPI, CORR, NHI, CCP, WSR, CTRE, WPG, KRG, SNR, LADR, HCN, HCP.
I wrote this article myself, and it expresses my own opinions. I am not receiving compensation for it (other than from Seeking Alpha). I have no business relationship with any company whose stock is mentioned in this article.