Shares of Linn Energy (NASDAQ:LINE) / LinnCo (NASDAQ:LNCO) dove more than 50% on February 5th after news broke the night before that the company is going to, "explore strategic alternatives to strengthen its balance sheet and maximize the value of the company". This item immediately sent a wave of fear through the company's investor base, signaling that there might be a good probability that the business may file for bankruptcy protection in the near term. In what follows, I will dig into this release and state, in my opinion, what it means for shareholders moving forward.
The news release looks terrible
Based on the news release made public by Linn, things don't look good. Generally speaking, when a business states that they are exploring, "strategic alternatives", it means they are either looking to sell the operation (whether in part or in whole) or they are looking to file for bankruptcy protection, essentially killing off shareholders in the process. Either way, this news item looks scary for anybody holding shares in the entity.
What is odd, however, is the fact that the announcement also added one other thing to it; management decided very recently to tap into the $919 million in spare capacity that Linn had available under its Linn Credit Facility. This means that the business's credit facility is now maxed out at $3.6 billion and that its Berry Credit Facility is maxed out as well, with total borrowings (including $250 million in restricted cash) of $900 million.
To many investors, this may make some sense, but it's perplexing to me. In general, it's very common for a company to draw down all the cash possible under a credit facility before going bankrupt since it bolsters the balance sheet, but the fact of the matter is that the company is taking that cash from the very same lenders that will be paid back first. In essence, this would create a scenario whereby Linn would be borrowing cash only to pay that cash right back upon a liquidation or reorganization so I don't know if this is being done for the purpose of making the reorganization more challenging so that Linn can have more leverage in negotiations or if it's for some other purpose.
One possible reason could be that Linn isn't planning any sort of bankruptcy but is, instead, working on something else. Besides acquisitions or asset purchases (both of which would probably be inappropriate in the current environment and given the fact that the business's credit facility will likely be cut further in April), management could be planning for a large-scale debt buyback. At current prices, management could easily buy back 100% of the company's Senior Notes and it could pay off (though at a premium) some Second Lien Notes.
Logically, this does make sense but this approach would assume that Linn is thinking that its credit facility redetermination come April would not be an issue, something that is unlikely to be true unless it can negotiate better terms with its credit facility lenders. The other situation could be that something fraudulent is transpiring, but that isn't within the realm of analysis given the information we currently have on hand.
This doesn't make sense
According to management, Linn should have generated cash flow in the fourth quarter of last year totaling around $149 million. On top of that, with current hedging in place, Linn's cash flow during 2016, with oil at $30.89 per barrel and natural gas at $2.063 per Mcf (both being the most recent prices as of the time of this writing), should come out to roughly $435.37 million. In the table below, you can see what the cash flow trend for Linn should be like for each of the next four years should oil and natural gas prices remain unchanged.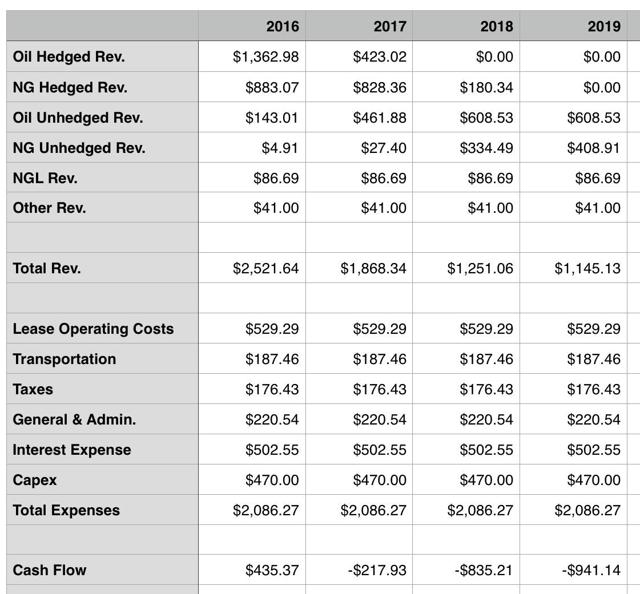 $ in Millions
Certainly, this is a lot of cash flow for 2016, but Linn also has other benefits. Through Quantum, the company could have the ability to sell some of its properties, receiving up to $1 billion in the process, cut capex entirely, saving $470 million for at least one year, and it benefits from the fact that its next credit facility redetermination doesn't take place until April of this year. All of these items makes the announcement today seem particularly odd. Unless the company's credit facility lenders had requested a special redetermination (there has been no news of this yet) and/or unless there has been something that has materially impacted cash flow (fraud, a cash-based asset impairment, etc...), there seems to be no reason why Linn has made this step now.
Takeaway
To be perfectly honest, I've never been more perplexed than I am today. Linn's cash flow situation right now (for 2016 at least) seems very positive and it's unlikely that a cut to its credit facility would happen in April that would be so large that it would push the company into bankruptcy (October would be far more likely if prices remain unchanged). This suggests that something irregular is happening and it could be either good or bad (but is probably more likely to be a net negative).
As a value investor, I value certainty. I do not like the prospect of owning shares in a business where I cannot peer into the future with relative certainty over the next several months. Fundamentally, I believe that Linn could be working on something that could be accretive to shareholders down the road, but I have no clarity here whatsoever. For this reason, I've decided to sell my stake until more news does come out and I've allocated that capital, plus 5% of my holdings from both Chicago Bridge & Iron (NYSE:CBI) and Trinity Industries (NYSE:TRN) (my two big, safe holdings) into Memorial Production Partners (NASDAQ:MEMP), a move that I alluded might be in the works in the recent past.
Moving forward, I intend to monitor Linn very closely to see what transpires and I will certainly buy back in if management does come up with something positive for shareholders, or I may end up buying the Senior Notes. In terms of risk, these two classes of security are essentially en par with one another, but with the bonds trading for as little as $0.016 on the dollar right now, the risk/reward payoff has switched into their favor in a very large way. Either way, I cannot fathom holding shares right now until some sense of direction is restored. This may mean that I miss out on some explosive upside if management does have something fun in the works, but it also means the preservation of capital if they end up filing for bankruptcy. As an investor, my game is playing chess, not flipping the coin with a total win or loss outcome so nothing besides waiting on the sidelines makes sense at this moment.
Disclosure: I am/we are long BBEP, AREX, MEMP, CBI, TRN.
I wrote this article myself, and it expresses my own opinions. I am not receiving compensation for it (other than from Seeking Alpha). I have no business relationship with any company whose stock is mentioned in this article.
Editor's Note: This article covers one or more stocks trading at less than $1 per share and/or with less than a $100 million market cap. Please be aware of the risks associated with these stocks.