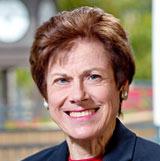 Lynn Reaser is chief economist of the Fermanian Business & Economics Institute in San Diego and past president of the National Association for Business Economics. Previously she was chief economist of Bank of America's Investment Strategies Group.
Harlan Levy: What are the implications of the jobs report for the U.S. economy?
Lynn Reaser: The U.S. economy is continuing to grow. Over the past three months, job growth has averaged about 230,000 per month. The drop in the unemployment rate to 4.9% and year-over-year 2.5% rise in wages indicate the tightening in labor markets that is underway.
H.L.: What are the key factors for the U.S. economy and how strong or weak they are?
L.R.: The drop in oil prices has strongly and adversely affected industries and regions tied to energy production. The negative effects of lower oil prices may have been the first to dominate. The year ahead may see more of the positive impacts on consumer spending.
The dollar's surge has hurt exporters and firms competing against imports. This has damaged many manufacturing firms, especially larger ones, substantially. Consumers and firms dependent on overseas suppliers have benefited from lower import costs and lower costs for domestically made products priced to be competitive.
H.L.: What could go right with the economy?
L.R.: Job growth could continue to be sizable while workers receive larger raises. This would boost consumer spending. The dollar could level off and oil prices could firm, alleviating some of the pain experienced by key economic segments. Business confidence could improve, leading to more investment. Housing and nonresidential construction could see further gains.
H.L.: Is the consumer in good shape, from what you see in retail sales and the consumer confidence data?
L.R.: While retail sales have recently been on the weak side, car sales, online shopping, and restaurant visits have been strong. Consumers have boosted their savings and improved their balance sheets. The continued drop in the unemployment rate is particularly good news for households.
H.L.: What's your outlook on manufacturing?
L.R.: It is likely to remain under pressure because of the dollar's strength. Some firming in overseas markets may help along with further gains in consumer spending and the ending of the inventory correction that has been taking place in recent months.
H.L.: How strong is housing?
L.R.: Housing is strong, as evidenced by the rise in prices, now equal to about 5% nationally. Job gains and low interest rates should encourage more sales and more building in 2016.
H.L.: How much are the Federal Reserve's plans - as you perceive them - causing problems?
L.R.: Markets are concerned about the prospect of rising interest rates, but the Fed needs to return interest rates eventually to more normal levels. This will be essential to prohibit undue risk taking as investors stretch for yield and the possible buildup of bubbles in various asset classes.
H.L.: What do you think GDP will be this quarter, this year, and beyond?
L.R.: We expect real GDP growth to be close to 2.0% this quarter but about 2.5% for the year as a whole. Over the next few years, growth is likely to average between about 2.0% and 2.5%.
H.L.: What's happening with oil prices, and how much are they influencing the U.S. and the global economies?
L.R.: Oil prices are beginning to modestly firm in the low $30s as expectations grow that cutbacks in oil exploration and drilling, especially in the U.S., will lead to a slowing in production.
H.L.: How much are oil prices affecting stocks?
L.R.: Oil prices have developed into a major factor driving stock prices up and down. Only expectations about the Fed's next move and interest rate path over the coming year are more important.
H.L.: Do you think the bull market is intact, in light of shrinking 2016 EPS estimates?
L.R.: Yes. The market is experiencing a major correction, but the underlying strength of the U.S. economy suggests neither a recession nor a bear market.
H.L.: What sectors of the market look strongest now and which weakest?
L.R.: Manufacturing and financial services are now the weakest. The strongest involve housing and consumer discretionary spending.
H.L.: Is Europe's recession worsening?
L.R.: No. The European Central Bank is acting as a backstop while the Euro's decline is helping the region to be more competitive in export markets.
H.L.: Is concern over China exaggerated?
L.R.: To a sizable degree. China is still likely to achieve real GDP growth of close to 6.5% this year. The government can be expected to deploy monetary and fiscal stimulus aggressively and delay longer term reforms to prevent a major slowdown.
H.L.: How worried are you that terrorists will significantly ramp up cyber warfare against our financial system to cause massive disruptions in the markets and so much uncertainty that stocks and the economy will seriously suffer?
L.R.: This risk cannot be ruled out, but many of the major banks have made major investments in security systems. Cyber threats are a risk to all parts of the U.S. economy and could be extremely disruptive anywhere.
Disclosure: I/we have no positions in any stocks mentioned, and no plans to initiate any positions within the next 72 hours.
I wrote this article myself, and it expresses my own opinions. I am not receiving compensation for it (other than from Seeking Alpha). I have no business relationship with any company whose stock is mentioned in this article.