The phrase "flight to quality" has been thrown around a lot over the last month, and rightfully so, as the broader market has sold off over the first month of the new year. To start 2016, the S&P 500 is down ~7% and many of the companies that I follow are down almost double that figure.
AT&T's (NYSE:T) share price, on the other hand, is heading in the opposite direction. Shares of AT&T are up ~7% YTD, and are up ~15% over the last two years. Moreover, AT&T is one of the first companies that comes to mind when I think of a defensive company. The reported Q4 2015 results provided further proof that AT&T is not only a company that investors can park money in to wait out the current storm, but that it is also a company in a position to create a great deal of shareholder value over the next few years.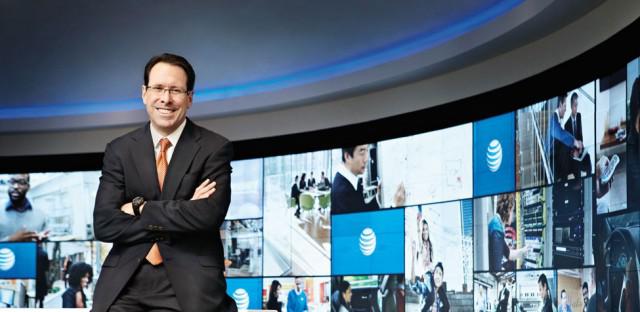 Q4 2015 Results
On January 26, 2016, AT&T provided Q4 and full-year 2015 results, and reported EPS of $0.63, which was inline with the consensus estimate. For full-year 2015, the adjusted EPS came in at $2.71 (6% YoY increase) on consolidated revenues of $146.8b (11% YoY increase).
More importantly, full-year 2015 free cash flow was $15.9b compared to the $9.9b reported for 2014 ($6b, or 60% increase). I will discuss the company's free cash flow metrics later in this article, but I wanted to first highlight this impressive feat.
The company saw significant benefits from the DirecTV operations, and the inclusion of these operations was a major contributor to the improving metrics mentioned above. Remember, this is only a few months after AT&T received the final approval for the acquisition. In short order, it is apparent that the DirecTV acquisition has created multiple levers that management will be able to pull over the next few years to create a tremendous amount of shareholder value.
Free Cash Flow ("FCF") Analysis
Based on the analysis completed in this article, I came to the conclusion that AT&T has made significant progress towards ensuring that the current dividend, which was recently raised, was sustainable. Let's now take a deeper dive into AT&T's FCF metrics for full-year 2015.
Twelve Months Ended December 31, 2014 and 2015
Free Cash Flow Analysis
2014
% of Net Cash
2015
Period Chg (%)
% of Net Cash
Net cash provided by operating activities
$31,338
100%
$35,880
14%
100%
Less: Construction and capital expenditures
(21,433)
68%
(20,015)
(7)%
56%
Free Cash Flow
9,905
32%
15,865
60%
44%
Dividends paid
(9,552)
(10,200)
7%
Free Cash Flow After Dividends
$353
$5,665
1505%
FCF Dividend Payout Ratio
96%
64%
(33)%
(Source: Data obtained from Reconciliation of Free Cash Flows supplemental report, and table created by WG Investment Research)
Highlights from the table:
The net cash provided by operating activities increased 14% YoY --the DirecTV acquisition was a major contributor to this increase.
The company reduce capex by 7% YoY, and the capex as a percentage of net cash provided by operating activities came in at 56% for 2015 (down from 68% for 2014).
The FCF dividend payout ratio improved by 33% YoY, as the company reported an impressive ratio of 64% for 2015
For 2015, AT&T improved almost every FCF metric when compared to the previous year. In my opinion, the question of whether or not the dividend is sustainable is a concern of the past, and now the focus should be on how AT&T plans to invest for the future.
The Changing Pay-TV Landscape
There is a lot to like about AT&T's long-term prospects, especially as it relates to the changing pay-TV landscape. The pay-TV market, and AT&T, is entering into a period of transition and this is creating real opportunities for companies to significantly grow their businesses.
During the Q4 2015 conference call, Mr. John J. Stephens, AT&T Chief Financial Officer, highlighted the significance of the changing landscape and how AT&T is approaching the change:
"It's still early but we see a lot more opportunity to use video to drive sales and lower churn for all of our services. Our new unlimited wireless data for combined wireless and TV customers has been very popular since we introduced it two weeks ago. We've already had more than 0.5 million wireless subscribers sign up for the unlimited data plan and TV net adds are going strong as well, and we expect to launch a variety of new video entertainment packages this year.
These offers definitely add some sizzle to our bundling offers but the real impact is to build a strong relationship with our customer base. Our goal is that TV Everywhere experience with broad viewer choice both inside and outside of home that is simple and easy for our customers to use. AT&T is already a leading provider of online video.
Our DIRECTV app already allows live video streaming of more than 100 different networks and by the end of the first quarter we expect to have nearly all the top 25 cable networks. We've already seen about a 50% increase in the number of customers using the DTV app since the second quarter of the year. We are driving an OTT capability with our video services, one that provides great choices at a fair price and that's [indiscernible] is also a win-win for the content providers in our integrated offerings."
We are still in the early innings of the transition to an unbundled world, but AT&T is making the necessary investments to stay relevant in today's environment, while also planning for the company's future state.
There is no way to quantify how this transition will impact AT&T's operations (either positively or negatively), but from a long-term investors perspective it is encouraging to hear more details related management's commitment to making these type of investments early in the process.
Risks
The two main risks to my AT&T investment thesis is a changing regulatory environment (i.e. over regulated industry) and the company over extending itself by taking on too much debt. In my opinion, both are not yet significant risks. For the regulatory concern, this is the long-term risk that the government will continue to increase regulations in a manner that would make AT&T's business unprofitable.
AT&T has taken on a significant amount of debt (see more about the topic in the article linked above), including assuming DirecTV's debt, but management is fully aware of risks associated with the increasing debt balance. Furthermore, management has stressed the importance of attacking the debt balance in the near-term in order to maintain its investment grade debt rating.
Bottom Line
AT&T is a core holding in my R.I.P. portfolio, and it is a position that I plan to hold for the next 10-30 years (unless the business environment drastically changes). The company reported stellar Q4 and full-year 2015 results, and the future looks even brighter.
The DirecTV acquisition is already paying dividends, and there is a clear path to creating additional shareholder value over the next three-to-five years. As such, investors looking to get defensive in today's market need to look no further than AT&T.
If you found this article to be informative and would like to hear more about this company or any other company that I analyze, please consider hitting the "Follow" button above.
Disclaimer: This article is not a recommendation to buy or sell any stock mentioned. These are only my personal opinions. Every investor must do his/her own due diligence before making any investment decision.
Disclosure: I am/we are long T.
I wrote this article myself, and it expresses my own opinions. I am not receiving compensation for it (other than from Seeking Alpha). I have no business relationship with any company whose stock is mentioned in this article.