As a long-term income investor, I constantly preach the importance of studying a company's willingness to pay its dividend by studying the stock's dividend history and growth rate trends through multiple-year economic conditions. Equally important is studying the most recent trends in the company's cash flows so as to get a clear picture of its ability to sustain the dividend. You must have both. But there is a third view the income investor must take: How well will this stock and its industry do in the years ahead due to external factors outside of management's control? This is a hard concept to wrap my arms around, as it is more qualitative and subjective than measurable. Call it market dominance, low obsolescence risk, industry growth potential, a wide moat - it is a band of comfort the income investor has around the stock that the company and its industry has a low-risk future. One of the potential threats to this band of comfort is regulatory change that can dramatically change the business model... for the worse. This is currently happening with many of the FAM stocks.
Using Yahoo's Industry Browser, I count about 24 US-based FAM stocks with current yields greater than 3.5%, and about 17 with current yields greater than 5%. Six of these are on the CCC lists. At first glance, this might seem a good place to start the selection process for adding income to one's household income stock portfolio.
Waddell and Reed Financial Inc. (NYSE:WDR)
Rather than looking at a group of these FAM stocks, I think it might be easier if I choose one as an example. WDR has been paying a dividend since 1998, with the following dividend history: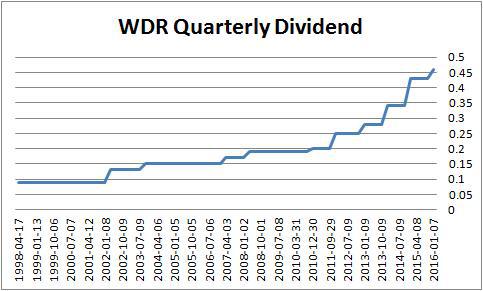 And the following year-to-year dividend growth rates: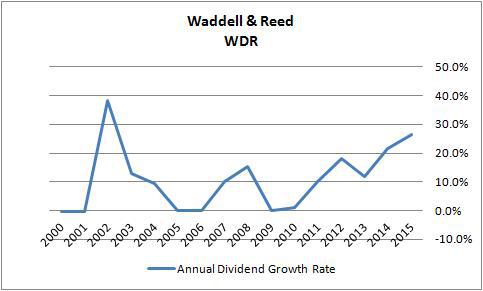 This dividend growth is impressive: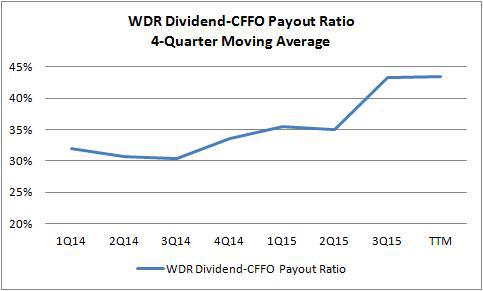 This rolling 4-quarter dividend-to-CFFO payout ratio over the past 10 quarters has been acceptable for a financial C-Corporation, but it has been rising steadily over the past 2 quarters. This is not a showstopper, but it would warrant quarterly tracking if I held WDR.
A current yield of 8.3%, the aforementioned dividend history, the trend in dividend growth, along with what is still a decent dividend-to-CFFO payout ratio all seem to make adding WDR to your income portfolio a no-brainer. But like the men-kings receiving the rings of Sauron, you would be deceived.
The Dodd-Frank Act of 2010
This act directed the Securities and Exchange Commission (the SEC) to develop a uniform fiduciary standard for Registered Investment Advisors (RIAs) and Stock Brokers/Securities Dealers providing advice on retail taxable accounts, but more importantly, directed the Department of Labor (or the DOL) to employ its existing fiduciary standard to Stock Brokers and Securities Dealers who are compensated, directly or indirectly, for investment advice to retirement plans, including IRAs, their owners or beneficiaries. In April 2015, the second release of the proposed rule was made available for comment (the first release was in 2010, but shortly thereafter rescinded by the DOL). Following months of public hearings and the gathering of testimony, mostly from the broker-dealer industry in opposition to the strict DOL Fiduciary Standards, the DOL forwarded the proposal and their findings to the Office of Management and Budget for economic assessment. It is expected that the DOL will release the final rule in May 2016, after which Congress will have 60 days to pass amendments, including repealing the rule. It is estimated that if the final rule is not repealed or substantially amended, it will become law by September of this year.
The Fiduciary Standard
There are multiple definitions of a fiduciary, but generally, it is defined as one who acts first in the best interest of the client who has hired them. Applying this standard to a large group of what are essentially commissioned salesmen who hold themselves as "Financial Advisors" is unprecedented. The standard operating procedure for broker-dealers is to recommend to their clients high commissioned products such as annuities (of all types), mutual funds with loads (of all kinds) and typically very high expense ratios that often carry revenue sharing agreements with the mutual fund originator, unlisted REITs and BDCs, Unit Investment Trusts and products that offer the seller a sharing of future revenues they generate. All of these products share in common very high costs and an inherent conflict of interest to recommend to the client those products with the highest commission or longest "trails" of long-term fees paid from the client's holdings to the broker-dealer. The DOL found that these products were typically marketed to those approaching retirement who are the least sophisticated investors, marketing primarily to consumer ignorance and the anxiety of being responsible for their own life savings. The DOL estimates that over a 10-year period, between $40B and $44B is paid by unknowing IRA holders in excess of charges and fees paid by those who did not seek the services of the broker-dealer. This is an extremely lucrative industry.
Prohibited Transactions
One who delivers investment services under the DOL-defined fiduciary standard is prohibited from imposing any charges, directly or indirectly, in excess of those specified and agreed upon between the retirement plan holder and the investment advisor before investment advisory services are provided. This does not necessarily eliminate loads or fees collected on investment products; it only requires that if they exist, they must be part of a fully disclosed agreement, including an itemization of the actual charges. Any additional charges, whether paid in currency or anything of monetary value, would be deemed a prohibited transaction, which means the advisor could be named personally in a civil lawsuit, and may be individually responsible to repay losses to the retirement account holder.
The Final Rule
The final rule will not be published until May, so we don't know exactly what standard the DOL will submit. Needless to say, this has created a firestorm in the broker-dealer community. Millions have been expensed to lobby against this proposed rule. As one who testified before the committee said, "This proposal will upset a business model that has always been rooted in conflicted advice'. And from another witness, "The DNA of product salesmanship is multi-generational and as deeply implanted as a tick on your arm in the Texas sun."
The Likely Outcome
Three bills have been submitted from the US House of Representatives to slow or modify or eliminate the fiduciary proposal, none of which has been successful. And Congress' attempt to repeal or modify the final rule during the upcoming review period would likely not get through the Senate. And even if it did, it would almost certainly be vetoed by the president. In response to this, a number of broker-dealer networks have been sold, broken up or simply dissolved. The larger B-D networks, including Ameriprise Financial (NYSE:AMP) and LPL Financial (NASDAQ:LPLA), have already begun plans for restructuring their business model to be compliant with the fiduciary standard.
So, What About A FAM Stock Like WDR?
Broker-dealers vary by how much of their revenue comes from a contractual charge of a percent of assets under management (fee-based) and product commissions and revenue sharing agreements with third parties. The higher the percent of revenue that comes from contractual client relationships, the less will be the impact of the fiduciary rule. But those FAM stocks that derive a high percentage of their revenue from commissions or third-party payment will experience the greatest negative financial impact. Per WDR's 2014 shareholder report (p.32), underwriting and distribution fees based on commissions received on investment product transactions represent 42% of company revenue. Morningstar estimates a loss of $30 million in revenue from the loss of the ongoing 12b-1 fee from just one of its major mutual funds. I don't know how much of this revenue comes from IRAs/retirement plans, but you can be sure much of it does. If revenues declined by 25% and all other financials remained unchanged, the dividend-to-CFFO payout ratio would jump to nearly 60%, which would be very high for a financial C-Corporation, and so, would most likely result in a dividend cut.
Conclusion
I count over 700 FAM stocks listed on the Yahoo Industry Browser. According to the April 2015 "Fiduciary Investment Advice" research paper provided by the DOL, at the end of 2014 there was $15.9 trillion held in IRAs, with another $2.5 trillion expected to be rolled over from employer retirement plans over the next 5 years. Under current DOL rules, any "advice" on these dollars that is "one-time" will not be covered under current fiduciary standards and subject only to the broad and general rules of security suitability. It is further estimated that 12-24% of the value of retirement savings will be lost to unnecessary financial product expenses over a 30-year period. Under current rules, providing investment management services is clearly lucrative. But like the mid-stream pipeline MLPs that sprang up and rushed to put their pipelines in place during the late 1990s and over the next 10 years, I sense that the easy money has been made. Providing DOL-compliant investment advice under a fiduciary standard is a lot of work.
Before I retired from the industry as a Registered Investment Advisor working under a fiduciary standard, we would spend hours analyzing a balanced portfolio allocation, complete with assumptions, calculations and probability statistics, rebalancing plans and quarterly follow-up meetings with the client, for a few thousand dollars in AUM fees per year. Meanwhile, a commissioned product would fetch the seller $10,000 for 2 hours' work, which consisted primarily of checking blocks to show the product was not unsuitable for the client. Whatever the final rule, unless its promulgation can be delayed into the next administration that proves hostile to it, the existing FAM industry will be in for a substantial change in how it does business with clients' retirement assets.
The real takeaway from this discussion is that dividend history, dividend growth rate change and cash flow analysis, although important for thorough income stock analysis, are not enough in evaluating a potential dividend-paying stock. Considering the company, its industry and those threats that can disrupt its future operations, must also be part of the stock analysis.
Disclosure: I/we have no positions in any stocks mentioned, and no plans to initiate any positions within the next 72 hours.
I wrote this article myself, and it expresses my own opinions. I am not receiving compensation for it (other than from Seeking Alpha). I have no business relationship with any company whose stock is mentioned in this article.