The twenty-second edition of:
Resource Sector Digest
(vol.22 - February 8, 2016)
an offering that is brought to you by Itinerant and The Investment Doctor.
As always, this edition of our newsletter will:
set the scene,
highlight actionable ideas,
comment on news releases,
and link to relevant articles.
As always, here is a cordial invitation to join Itinerant Musings for exclusive access to actionable research on mining and energy stocks. Some examples are sprinkled throughout this newsletter for good measure.
And before we forget, you can read the three most recent editions here, here, and here in case you missed them!
Setting The Scene
Surprisingly enough, after several weeks and months in a very weak gold price (NYSEARCA:GLD) environment, the sector seems to have burst to life again, with the gold price breaking out to 4-month highs. This obviously had a very positive impact on the mining sector as well.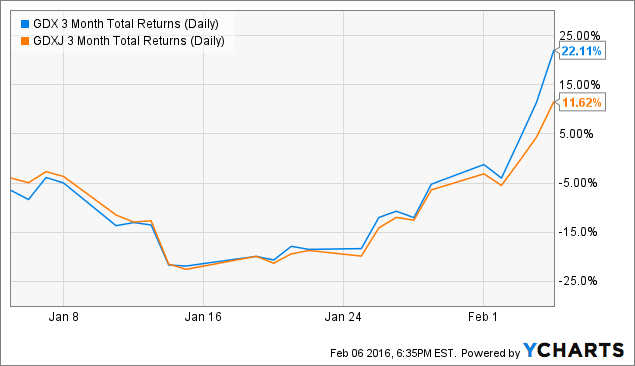 GDX 3 Month Total Returns (Daily) data by YCharts
Both the index of the senior gold producers (NYSEARCA:GDX) and the junior gold producers (NYSEARCA:GDXJ) posted substantial gains, fueled by the excellent performance of the companies that are part of these ETFs.
Indeed, even the large-caps are joining the party. How else would you explain the strength of the share price of both Newmont Mining (NYSE:NEM) and Barrick Gold (NYSE:ABX)?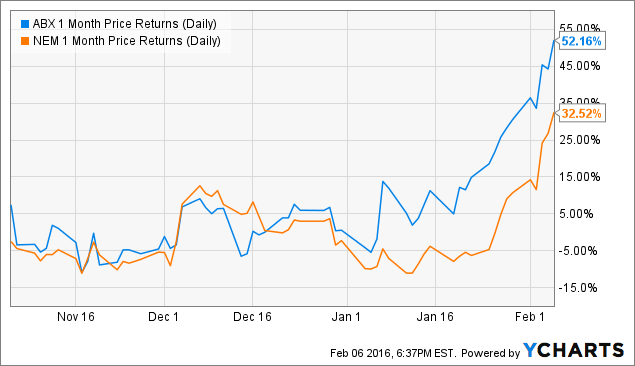 ABX 1 Month Price Returns (Daily) data by YCharts
Those are indeed very respectable returns (yes, sorry, that's indeed an understatement), but fortunately, for commodity-focused investors, the joy wasn't just limited to the gold mining companies, as the base metal plays also picked up some steam. Let's have a look at Teck Resources (NYSE:TCK), Freeport-McMoRan (NYSE:FCX) and Hudbay Minerals (NYSE:HBM):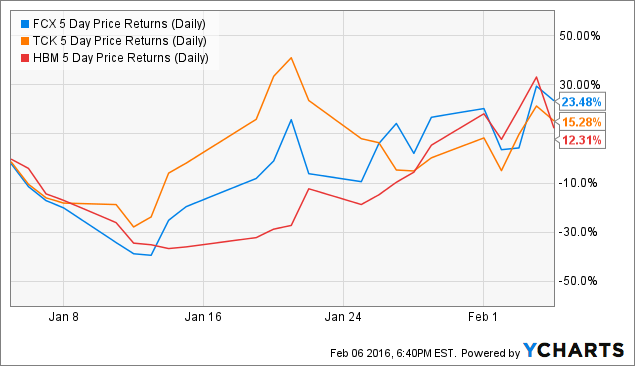 FCX 5 Day Price Returns (Daily) data by YCharts
Is this rally sustainable? If only we knew! But we're extremely pleased with the current optimism in the commodity markets and we're secretly hoping we have seen the bottom as our patience was wearing thin.
Actionable Ideas
Quite a few eyes were on the oil space last week, and we'd like to highlight two potential actionable ideas in this sector.
Interestingly enough, Exxon Mobil (NYSE:XOM) remains one of the favorites of the Seeking Alpha community members, as Alpha Investor outlined some reasons why an investor should keep their long positions. On the other hand, Jonathan Weber is seeing some downside risk for Exxon Mobil, and it's very interesting to compare both opinions with each other!
Linn Energy (NASDAQ:LINE) crashed after announcing it was pursuing strategic alternatives, which basically means the company is on the verge of being 'toast'. Albert Alfonso definitely thinks that's what's happening as he's calling 'the end of the line' for Linn Energy. The implications for LinnCo (NASDAQ:LNCO) remain unknown for now, but it's definitely not looking good at all.
News Releases
As could be expected, the past week wasn't really busy in terms of noteworthy news as half of the commodity sector seems to have started an early hibernation, hopefully to emerge stronger in 2016!
Orca Gold (OTCPK:CANWF) has released an exploration update on its Block 4 project in Sudan, where the company has a total resource estimate of 2.2 million ounces of gold at an average grade of in excess of 1.8 g/t. According to the company, mining the ounces through an open pit now seems pretty likely considering 79% of the resources are located within 150 meters from surface. A great project, but too bad it's located in Sudan.
Gold Standard Ventures (NYSEMKT:GSV) has attracted senior producer Goldcorp (NYSE:GG) as one of its main investors after Goldcorp acquired 16.1 million shares at a premium compared to the market price. This does lift Gold Standard's cash balance to in excess of US$20M, allowing the company to continue its exploration efforts.
Taseko Mines (NYSEMKT:TGB) has reduced the financial pressure on its balance sheet by accepting a US$70M funding package from Red Kite, structured as a secured credit facility. This refinancing will help Taseko to repay an existing loan to Red Kite which is due in May of this year, but the price is quite high as Taseko also entered into a call option agreement whereby Red Kite is entitled to purchase 16.5 million pounds of copper at a fixed price of US$2.04/lbs. Good news for Taseko, but not so good news for existing creditors as the Red Kite package is senior to all other debt.
Shareholders of McEwen Mining (NYSE:MUX) can sleep well again, as the company has regained its compliance status and will remain listed on the New York Stock Exchange. This was a prestige-move, as CEO McEwen wanted to avoid a delisting and fought against it with all possible means.
Arizona Mining (OTC:WLDVF) has released an updated resource estimate on the Taylor zinc-lead-silver deposit in Arizona. The current resource estimate contains almost 40 million tonnes of ore at an average grade of 11% Zinc equivalent. It's interesting to see how the company is now pitching the project to be a zinc project whereas it has always been presented as a silver project in the past.
Fission Uranium's (OTCQX:FCUUF) Triple R uranium project just keeps on giving as the company's wildcat hole that was drilled 400 feet west of R600W has encountered a 2-meter zone of in excess of 10,000 cps radioactivity, and this could be important for the development of the project as a whole. The total strike length at Triple R is now almost 2.5 kilometers, and the project is shaping up to be massive.
Newmarket Gold (OTCQX:NMKTF) announced its flagship mine, the Fosterville gold mine in Victoria, Australia, has poured its 1 millionth ounce of gold. That's quite an accomplishment as the mine now has produced more gold than the total amount that was contained in the initial reserve estimate where the feasibility study was based on.
Royal Nickel (OTCQX:RNKLF) has confirmed it has engaged in two 'transformative' acquisitions. In a first step, the company will acquire a 67% interest in Salt Lake Mining, which operates a gold-copper mine in Australia. Royal Nickel is issuing 32.5M new shares and will also pay a cash amount that will be less than US$2M. In a separate transaction, Royal Nickel will acquire all outstanding shares of VMS Ventures (OTC:VMSTF) which produces copper in a joint venture with Hudbay Minerals (which is supporting the transaction).
First Quantum Minerals (OTCPK:FQVLF) said it has produced 120,000 tonnes of copper in the fourth quarter of 2015, as well as in excess of 10,000 tonnes of nickel. The gold, platinum and palladium production also increased (slightly) whilst the zinc production fell by approximately 25% compared to the same quarter last year. This was a good performance, and The Investment Doctor is looking forward to see an updated balance sheet. Should the copper price recover and move back up towards $2.5-2.75/lbs, First Quantum Minerals could be one of the big winners of the pack.
IAMgold (NYSE:IAG) has secured a new credit facility, allowing the company to borrow up to $250M in cash from a syndicate of lenders. This new credit facility will replace the expiring credit facility and increases the available liquidity on the company's balance sheet to almost $1B. Does IAMgold have an acquisition in mind? Only time will tell.
Corvus Gold (OTCQX:CORVF) provided the market with an updated exploration overview of the North Bullfrog property in Nevada. The company seems to be pretty psyched as the recent exploration results have unveiled an entirely new area that seems to be very promising, as Corvus has been hinting at finding more high-grade feeder veins on its property. More drilling will occur in 2016, and this could lead to an updated resource estimate on the property.
Royal Gold (NASDAQ:RGLD) has surprised the market with an excellent production and financial update of the second quarter of its financial year 2016. This gold streaming company posted no less than three new records (thanks to an excellent performance of the Mt Milligan mine of Thompson Creek Metals (NYSE:TC)) and generating in excess of $50M in operating cash flow in just one quarter is a pretty decent achievement. The Investment Doctor has had a closer look at Royal Gold's results here. This excellent performance puts the pressure on Franco Nevada (NYSE:FNV), Sandstorm Gold (NYSEMKT:SAND) and Silver Wheaton (NYSE:SLW) to perform as well as Royal Gold.
Primero Mining (NYSE:PPP) will have to start a fight against the Mexican tax administration, which wants to nullify a previously signed agreement with Primero Mining. This will be a very important fight, as the previous ruling allowed Primero Mining to use its effectively realized price (rather than the market price) to calculate its taxable income. Should the company no longer be allowed to do so, its annual tax bill will increase quite substantially.
Bad news for BHP Billiton (NYSE:BHP) as Standard & Poor's has reduced the company's credit rating from A+ to A. That's still pretty good, but this rating cut does show the pressure on the balance sheets of the huge mining companies is increasing. We wouldn't be surprised to see credit rating cuts at Rio Tinto (NYSE:RIO), Vale (NYSE:VALE) and Glencore (OTCPK:GLCNF) as well. In fact, S&P has already cut the Glencore credit rating to 'just above junk', and other rating agencies might chime in.
Australian copper producer OZ Minerals (OTCPK:OZMLF) plans to expand the Prominent Hill production capacity by adding a second decline to the mining asset. This would increase the UG peak production capacity to approximately 10,000 tonnes per day (+30%) at an additional capital expenditure of just $12M.
Lake Shore Gold (NYSEMKT:LSG) hasn't been wasting any time and briefly after having completed the acquisition of Temex Resources (OTCPK:TMXRF), it has already completed a first drill program on the Whitney project. This seems to have been quite successful as the company has encountered several higher-grade intercepts (such as 7.2 meters of 3.2 g/t and 8.5 meters of 2.24 g/t) close to the surface. A 30,000-meter drill program is ongoing, where after Lake Shore Gold will publish an updated resource estimate.
Continental Gold (OTCQX:CGOOF) had some project-related news for the market as the company has been able to use the long-hole mining strategy at the Yaragua vein system. This was part of a test to evaluate the effectiveness of using this technique at the Buritica gold project in Colombia. In excess of 2,000 tonnes of mineralized material have been delivered to the mill site for processing. Final results are expected to be released before the end of the current quarter.
Uranium Resources (NASDAQ:URRE) entered into an agreement with Aspire Capital whereby the latter will acquire 3.56 million new shares for a total consideration of $838,000. On top of that, Aspire has committed to provide up to $10M in additional cash to fund its activities.
We're looking forward to see the start of the financial results season in the mining sector, and let's hope this will confirm the miners have put in a bottom.
Disclosure: I am/we are long FQVLF, GLCNF, FCUUF, NEM.
I wrote this article myself, and it expresses my own opinions. I am not receiving compensation for it (other than from Seeking Alpha). I have no business relationship with any company whose stock is mentioned in this article.
Editor's Note: This article covers one or more stocks trading at less than $1 per share and/or with less than a $100 million market cap. Please be aware of the risks associated with these stocks.