Methanol producer Methanex (NASDAQ:MEOH) reported Q4 earnings late last month that nearly achieved the consensus EPS estimate despite missing solidly on revenue. Its share price set a new 3-year low in the wake of the report's release due to the negative outlook provided by management in the subsequent earnings call. The company, which produces methanol from natural gas for use in the fuels and chemicals markets, has seen its production margins fall sharply as petroleum prices have declined to a 7-year low.
In September, I summarized Methanex's worsening operating outlook before concluding that its share price at the time of $40 was likely to move lower in the short term; this followed a similar conclusion made when its share price was $53. My September target valuation of 8x the company's consensus FY 2016 EPS estimate has remained out of reach until very recently even as its share price plunged as low as $22.73 in the subsequent five months, however, since the consensus estimate moved sharply lower as well. This article reconsiders Methanex as a long investment opportunity in light of this share price and earnings estimate volatility.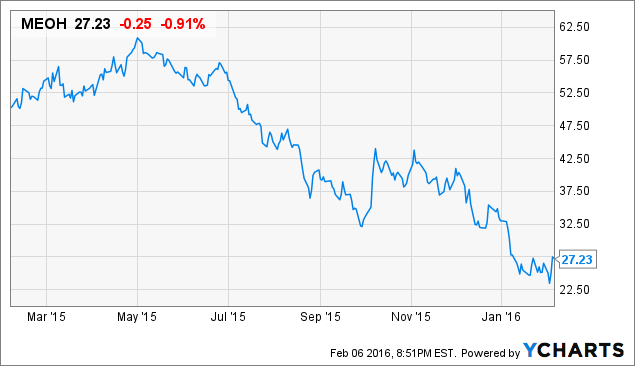 MEOH data by YCharts
Q4 earnings report
Methanex reported Q4 revenue of $484 million, down by 34% YoY and missing the analyst consensus estimate by $52 million. The company's total production volume increased by 10% compared to the previous year as its relocated Geismar facilities came back online. Supply disruptions and shutdowns caused its combined facilities to run at only 64% of capacity, however, down from 69% YoY. Methanex's sales volume of its own product also increased by 10% over the same period to 1.25 million metric tons. The revenue decline and miss in the face of rising production were attributable to a 29% decline to the company's average realized methanol price YoY to $277/metric ton. Methanol is largely used as a substitute for petroleum fuels and chemicals and its price closely tracks that of crude as a result. Crude prices approached multi-year lows by the end of 2015, bringing the methanol price down with it.
Methanex's cost of revenue declined by 15% YoY to $436 million as natural gas prices tracked petroleum prices lower, reducing its total feedstock cost. This was insufficient to offset methanol's price reduction, however, causing gross income to fall from $223 million in the previous year to $48 million in Q4. Adjusted EBITDA fared better, only declining from $150 million to $80 million over the same period. The low methanol price had a negative impact of $227 million on the adjusted EBITDA result, partially offset by $157 million due to lower cash costs.
Methanex reported Q4 net income of $10 million, down sharply from $133 million YoY. The previous year's result had included a $53 million mark-to-market share-based compensation benefit, however, skewing the comparison. Excluding this and similar impacts, the company reported adjusted net income of $15 million (this also excluded a $5 million compensation charge for the most recent quarter) compared to $80 million in the previous year. Adjusted EPS came in at $0.16, down from $0.85 YoY and slightly missing the consensus estimate by $0.02. This included the positive impact of the repurchase of 4 million shares over the course of the TTM period.
Management announced during its Q4 earnings call that it had decided to maintain its $0.275/share quarterly dividend, resulting in a 4% forward ratio. This decision was strongly influenced by the fact that the company reported a positive operating cash flow of $44 million that, despite being much lower than the YoY figure of $211 million, was still decent given the challenging operating conditions that prevailed during the quarter.
The decision to maintain the dividend was also impacted by the simultaneous decision to pause the company's current buyback authorization, under which it has 3 million shares remaining, until market conditions rebound. This will allow the company to make its dividend a priority for its current cash reserve. Overall, the company's balance sheet ended the quarter in decent shape with a cash reserve of $255 million and an unsecured and undrawn credit facility of $400 million. While management stated during the Q1 earnings call that the company requires a minimum cash reserve of $100 million to conduct its day-to-day operations, none of its long-term debt is due to mature before 2019, providing it with substantial breathing room.
Outlook
Methanex's production margins were hit hard during Q4 by two negative market conditions: oversupply during a time of weakening global demand and falling methanol prices. As I discussed in my previous articles on the company, its competitors have been bringing additional capacity online over the last several quarters in response to growing methanol demand in Asia and elsewhere. While the plans for the capacity additions were developed at a time when crude was trading near $100/bbl, they are now beginning production under a very different environment. Methanex's management stated during the earnings call that 2.3 million metric tons of new production entered the market during Q4. This new volume hit the market even as low crude prices and weak demand caused consumption to fall by around 6 million metric tons.
Methanol prices have continued to decline in 2016 to date as a result of this imbalance between supply and demand. Worse, high-cost producers in Asia have yet to reduce their production volumes in response to the low- to negative-margin operating environment. It is possible that this is due to an expected demand increase in the run-up to the Chinese New Year festivities, in which case, volumes will move lower in February. U.S. methanol prices have continued to follow crude prices lower this year, however, with a posted price of $249/metric ton at the time of writing compared to the Q4 average of $355/metric ton.
The consensus analyst estimates for Methanex's earnings in FY 2016 and FY 2017 have collapsed in response to the most recent price weakness. Over the last 90 days, the FY 2016 EPS estimate has been revised down from $3.17 to $1.36 while the FY 2017 estimate has fallen from $4.33 to $2.85. The former would be the company's worst adjusted EPS result since FY 2010, a year in which the methanol price averaged $372/metric ton. Methanex's management is taking conservative steps in response, preparing for an extended price downturn. In addition to likely pausing its share buybacks, the company is also reducing its FY 2016 maintenance capex to $50 million, plus $30 million needed to completely finish the Geismar II facility relocation.
A dividend reduction is not off the table under the right conditions, although management was very careful to state that these conditions would include the methanol price remaining below its January average for a "sustained" period of time. I agree that this is unlikely, if for no other reason than that crude prices below $30/bbl will not be feasible for most producers, even those accessing conventional reserves in the Middle East, for a lengthy period of time. OPEC members such as Venezuela are already struggling and, while Saudi Arabia has enough cash on hand to avoid economic catastrophe for a longer period of time, large cuts to its social services will be required at some point.
Expectations are growing that crude prices will rebound in 2016 as the global price war comes to a head. While the price is still expected to be under $50/bbl by the end of the year, this would still represent a 50% increase over current prices. More importantly, crude prices are expected to rise by more than natural gas prices between 2016 and 2017: the EIA is forecasting a 22% increase for the former but only a 17% increase for the latter. Methanex's profits are determined by the spread between the prices of natural gas and crude since its cash costs are based on the former and its cash receipts are based on the latter. Its share price experienced a large increase in 2012 and 2013 as crude prices remained high relative to natural gas prices (see figure), for example.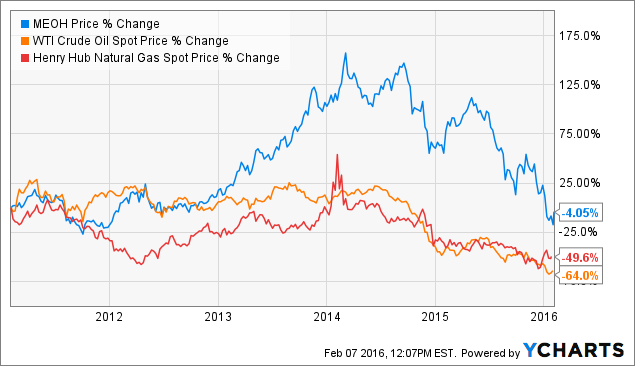 MEOH data by YCharts
While a return to the strong margins of those years shouldn't be expected, the market is currently pricing Methanex's share price as if crude prices are to remain at or below their current levels for the next two years. The company's forward FY 2016 P/E ratio fell below 10x last month and its forward FY 2017 ratio has fallen to 6.3x, a multi-year low (see figure). The FY 2017 ratio in particular seems especially low given that Methanex's capital requirements are secure until 2019.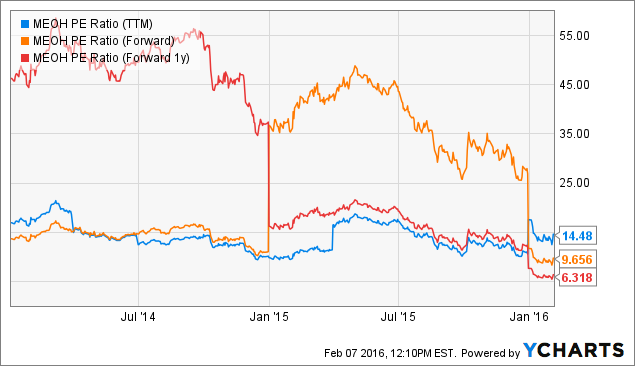 MEOH PE Ratio (TTM) data by YCharts
Further bolstering Methanex's outlook is the fact that the long-term outlook for methanol demand remains strong. China, for example, remains reliant on foreign suppliers for the vast majority of its petroleum demand, and methanol remains a cheap and comparatively eco-friendly alternative for both its fuel and non-fuel refined product needs. Furthermore, while the global economy does appear to be slowing, there are few signs that it will approach the severity of the 2008-2009 global economic crisis.
During that event, Methanex saw its share price drop into the single digits as global growth ground to a halt and crude prices plunged, only to stage a huge rebound between 2010 and 2012 as crude prices climbed relative to natural gas prices. While I don't expect a repeat of that kind of gain to occur, I do anticipate a recovery of methanol production margins in either 2016 or 2017 as crude prices and economic growth move higher.
Conclusion
The share price of methanol producer Methanex fell sharply in the second half of 2015 as crude prices broke through multi-year lows and new methanol production came online even as global demand weakened. The consensus analyst EPS estimates for 2016 and 2017 have tracked methanol prices lower but have been outpaced on the way down by the company's share price, which recently tested a 4-year low. The company's shares appear to be very undervalued at this time, trading at less than 7x its expected FY 2017 earnings.
Interestingly, analysts expect the company's earnings to begin to rebound in that same year as the global crude glut eases and demand begins to recover. Methanex has a diversified global production footprint, access to some of the world's cheapest feedstock, and a balance sheet that will not need to be recapitalized before 2019. After a year of waiting for an attractive price point, I now consider the company's shares to be undervalued, and I recommend initiating a long position at this time.
Disclosure: I am/we are long MEOH.
I wrote this article myself, and it expresses my own opinions. I am not receiving compensation for it (other than from Seeking Alpha). I have no business relationship with any company whose stock is mentioned in this article.