In December 2014, I wrote NXT-ID's Mobile Bio Wallet Sales Will Disappoint. At the time, NXT-ID (NASDAQ:NXTD) had a market cap of $57m. Today, it's about $21m.
Quite honestly, the destruction of wealth was as easy to predict as the failure of the Wocket itself. NXTD had zero experience launching a consumer electronic product, let alone one where it had to create an entirely new category around. The failure rate of companies attempting what NXTD is trying to do is probably a number between 99% and 100%.
So, my call on NXTD wasn't particularly impressive.
Given the failure rate of building an entirely new consumer electronic brand being so high, you can imagine how alarmed I was in 2014 reading bullish 'research analysts' estimating 40,000 Wockets would sell in 2015 and 120,000 more would sell in 2016. In revenue figures, that would equate to roughly $7.1m in revenue for 2015 and $21.5m in 2016 if sold for full asking price of $179 listed on Wocketwallet.com.
How did NXTD do trying to meet those estimates? Through nine months in 2015, NXTD had a mere $533,529 in sales. Even optimistic research groups will admit 4th quarter sales might push total sales over the $1m mark, but honestly, 4Q sales figures don't matter because NXTD is generating negative gross margins selling the Wocket at these prices.

Source: NXTD (10-Q p. 2)
Gross profit margins are negative (and will remain negative) for two reasons. First, NXTD sold $151,466 worth of Wockets to retailers who paid a wholesale price for the units. Additionally, the retail price had to be reduced in the direct to consumer model (because it wasn't selling at full price).
Here's what NXTD has to say about the two negative sales trends that developed in 2015:
We expect this trend to continue through the fourth quarter of 2015, but thereafter, we are anticipating positive gross margins resulting from higher average selling prices. (10-Q p. 19)
So all of a sudden consumers are going to pay more for the Wocket in 2016 despite balking at the price in 2015?
It's essentially a business strategy that defies very basic economic principles. Given that demand for the Wocket at the current price ($150-$170) is already low, raising the price will almost certainly lead to even lesser sales, not more.
So the Wocket didn't sell nearly as much as people estimated. Not only that, it wasn't even profitable to sell the device at the price NXTD was selling them for. But I expected all that, and even outlined in my 2014 article how going to retail is often the 'kiss of death' for consumer electronic companies, not the pot of gold at the end of the rainbow. If you've been holding NXTD's shares through the decline, buckle up your seat belts because the challenges only get more difficult from here. Quite honestly, launching the product was the easy part - all the company needed was your hard earned money to burn.
Now the hard part begins. I believe NXTD faces challenges in 2016 that will leave the company's shareholders in an even more dire position at the year's end than it stands today. The four biggest challenges I see for NXTD this year will be:
Inventory
Product/Company Changes
Operating Expenses
Lack of Management Focus
Inventory
While many shareholders and analysts were focused on potential sales of the Wocket in 2015, one of my primary concerns in 2014 was potential inventory levels if no one bought the Wocket. Even billion dollar companies have inventory challenges, and I was quite confident that NXTD was going to face inventory challenges.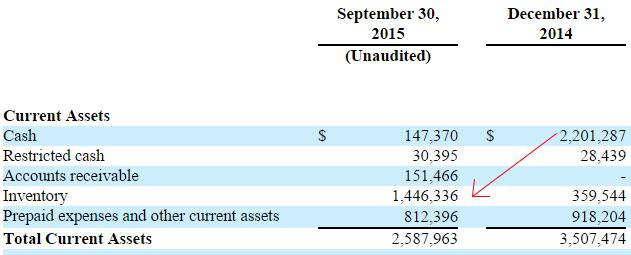 Source: NXTD (10-Q p. 1)
Notice that about $1m was extracted from the company's cash balance and dumped into inventory to make a device that appears to have small demand only if priced below manufacturing cost. Additionally, roughly $189,000 of the prepaid expenses is pre-payment to vendors for raw materials to manufacture the Wocket, so the true inventory expense is even higher. (10-Q p. 6)
I totally understand these are pre-holiday ramp-up type inventory methods NXTD is likely engaged in. However, closer examination of the inventory figures back in September aren't exactly reflective of a company ready to ship finished goods to the consumer given $1.3m of inventory was in raw materials and only $134,850 was finished goods. (10-Q p. 6) It's entirely possible the process of going from raw materials to finished product isn't particularly complicated or time consuming - however, it seems curious that 1 month prior to the 2015 holiday shopping season, NXTD was sitting on $1.3m in raw materials. Needless to say, I don't expect NXTD to surprise the investor community with impressive 4Q holiday sales later this month.
Even if NXTD were able to sell a large portion of devices during the holiday season, we know that gross margins will be negative because the company already said they would be. Also, it's not clear if existing raw materials can be used to manufacture the next generation Wocket (I'm not sure that's even a good idea)... or if NXTD will be forced to liquidate the remaining inventory onto the market at a considerable discount. Certainly, these are questions that should be posed to management by shareholders (and analysts) if inventory levels remain elevated when the company reports 4Q results.
Product/Company Changes
NXTD made a product change to the Wocket itself, and entered into a joint venture with WorldVentures to establish a product extension of the Wocket.
The product change was to add Near Field Communications, or NFC, to the Wocket, which essentially gives the Wocket ApplePay (NASDAQ:AAPL) like capabilities. According to the company, agreements with financial institutions and a software update will be required to activate NFC on Wockets shipped in 2016.
While the addition of NFC technology to the Wocket is welcomed and makes the device more competitive with existing technology, the change is an example of how NXTD will be playing a catch up role when it comes to technology. Additionally, product changes require precise inventory controls; something NXTD's management hasn't proven it's capable of.
The WorldVentures $2m deal is an interesting one, but it didn't come cheap for shareholders - as it was for 10,050,000 shares of NXTD, or 23.84% of the outstanding shares. I personally believe WorldVentures (90% owned by a man named Wayne T. Nugent) isn't necessarily making this investment strictly for NXTD to manufacture a "smart card" which both companies were fairly vague on details, even after adding more color to the terms of the deal. Instead, I feel WorldVentures has grander visions of possibly using NXTD as a way, one day, to provide liquidity for Mr. Nugent.
One way I could see this deal working is NXTD will recognize this $2m investment as revenue over the course of 2016. That, along with continued sales of the Wocket vs. comparable revenue figures that will look impressive in press release headlines, might be enough to drive enough investor demand to keep NXTD listed on the NASDAQ exchange. Eventually, NXTD and WorldVentures do enough business together that formally combining the companies makes more sense (in the eyes of the IRS), consequently, providing liquidity for Mr. Nugent, and possibly supplying WorldVentures with some operating losses it can use to avoid paying some taxes.
But keep in mind that's speculation, and I have zero evidence, other than my experience researching, investing in, and covering micro-cap penny stocks. I usually like to focus on reality, and the reality is the deal calls for $1.5m of the investment to be used to create a "smart card"... which to a company the size of NXTD isn't chump change. However, NXTD has never proven that it can generate positive cash flow from operations, and this deal is not likely to change that. And if I'm (even somewhat) right about the real reason behind WorldVentures getting involved, the deal likely won't be beneficial to common shareholders holding today.
Operating Expenses
Through 9 months in 2015, this is what NXTD's expense line looked like:
R&D: $2,246,421
Selling/Marketing: $2,284,253
G&A: $2,826,723
Sales: $533,529
To sum things up, NXTD spent a lot and got very little in return.
Prudent management would be able to reduce the R&D line, along with the Selling/Marketing in 2016 due to the product cycle and targeting on a narrower range of consumers (outlined below), respectively. The G&A expense line feels a little more baked in due to a $2.4m G&A expense in 2014 when the company had $0 in revenue. All things being equal, NXTD will need to increase sales considerably, or be forced to be in frantic fundraising mode again in 2016. Given the current marketing strategy, the latter is the most likely outcome.
Lack of Focus
For some reason it feels like management of NXTD is chasing a dream more than trying to build a great company. Nothing wrong with that, unless you're a shareholder. The reason why I say this is because at the bottom of most company press releases, NXTD often describes the Wocket as a wallet replacement.
First of all... who said there was anything wrong with the wallet??? An item used by humanity since the 14th century.
More importantly, a company which thinks it can change human behavior that has been ingrained since the 14th century without laser like focus is delusional. The reality is most people aren't looking to replace their wallet. It's not my wallets fault credit card data is being stolen. Not only that, (and more importantly) people aren't looking to replace their wallet with a piece of plastic that looks really painful if you sat on it.
The Wocket simply doesn't replace the traditional wallet because it's not better than a traditional wallet. While it might do some things well, the fact is it doesn't beat a traditional wallet head-to-head in every category. To get the public to change behavioral habits ingrained since the 14th century, your product must be 100% better than what it's replacing, otherwise consumers will balk - just like they have with the Wocket.
If NXTD's management were to convey that the company was going after a very specific market... maybe only those effected by recent credit card fraud, or women who have the luxury of carrying a purse to store the Wocket in, or positioning the Wocket as a wallet accessory, rather than a replacement; I honestly think more investors would take this company seriously. Instead, management of this company has been somewhat recklessly spending money on this absurd dream of replacing an item humans have carried on their body since the 14th century!
With that being the case, the #1 risk to current NXTD shareholders is CEO Gino Pereira. Mr. Pereira's is, without a doubt, an exceptional fundraiser. However, Mr. Pereira has got NXTD going in so many different directions he likely has no idea where this company will be in 12-18 months. Certainly without any confidence to be able to communicate that to shareholders. A company of this (small) size trying to create a brand and product line at the same time needs laser focus more than it needs money.
GoPro (NASDAQ:GPRO) started out marketing (and making products) primarily for extreme sport athletes who want to record themselves in action. Even as that market has exploded - it's still a sub-segment of a much larger video camera market. Even today GoPro isn't really trying market the GoPro as a camera replacement - it simply wants to create a camera that can stand up to extreme use. Instead of trying to replace everyone's wallet, NXTD should be trying to create the best wallet for a very specific group of individuals like GoPro did with its video cameras in its early days.
Consequently, the fact that NXTD's management consistently portrays the Wocket as a wallet replacement makes the claim appear delusional at best and deceitful at worst. Either way, the marketing of the Wocket hasn't worked for consumers or investors and it's time for a change. Instead, the company is still quoting broad market studies in press releases essentially indicating that if the Wocket can only achieve a small percentage of the market - we'll all be rich and wealthy. Quite honestly, "Sharks" on a popular TV show routinely laugh at entrepreneurs (who are often just starting out) if their go-to-market strategy is to simply capture a small sliver of a huge market; so it should come as to no surprise NXTD is a penny stock given that management has essentially conveyed a business strategy that draws laughter on national television.
It's clear NXTD's marketing strategy up until this point is what I would consider fairly basic and ineffective. Marketing tactics have included paying for numerous press/reviews/awards in magazines, conferences, and online (1, 2, 3, 4, 5). Getting celebrity Joey Fatone to endorse the product not only once in 2014, but again in 2015. Launching numerous TV campaigns (1, 2, 3, 4). Touring the Wocket Wagon, an armored vehicle on college campuses & other venues.
Add it all up and you get $535,000 in sales.
If NXTD had focused on a narrow group of customers, I'd argue it's likely NXTD could have gotten to $535,000 in sales without the marketing glitz, glamour and more importantly expense. I get the 'go big or go home attitude' but do that enough as an investor and you'll have no money left in your account. As a company, NXTD would be wise to refocus marketing efforts on a specific sub-segment of the market.
Valuation
I believe NXTD's stock today is worth $0. The company has offered up most of its intellectual property as collateral for interest payments on convertible notes... so only obligations will remain for common shareholders in the result of insolvency. Even a bullish investor would need to recognize the stock is overvalued today considering the price the valuation the company raised money at just a few weeks ago:

Source: S-3 Filed January 15, 2016
Conclusions
I believe the Wocket device itself will never generate positive free cash flows for investors in large part due to the existence of much larger competitors in the payment device landscape, and the inexperience of current management to execute in such a competitive market. Given that NXTD is a penny stock struggling to stay listed on the NASDAQ, the stock will be subject to "pump and dump" type tactics that investors should look to avoid at all costs.
Disclosure: I am/we are long AAPL.
I wrote this article myself, and it expresses my own opinions. I am not receiving compensation for it (other than from Seeking Alpha). I have no business relationship with any company whose stock is mentioned in this article.
Editor's Note: This article covers one or more stocks trading at less than $1 per share and/or with less than a $100 million market cap. Please be aware of the risks associated with these stocks.