With the start of a new year and the beginning of what will hopefully be a trend of rate hikes, I think it's time to revisit JPMorgan Chase (NYSE:JPM). The good news is that Q4 performance from a revenue perspective was great, beating both the previous quarter and last year, and it did it all in a flat-rate environment. The bad news is that litigation did not continue to go down after the lows in Q2 of last year. Instead, it spiked in Q3. What does this mean for the average investor? In this article, I'll discuss my theory as well as what action I would take as an investor. I'll also provide some context for JPM for those fighting some irrational fears of the banking industry.
JPM Q4 2015 Performance

This is a chart taken from the 2015 Q4 earnings announcement. Revenue in Q4 came in above both Q3 of 2015 and Q4 of 2014, by 1%. Non-interest expenses were also 7% lower compared to both periods, which is quite an achievement. Even with an 83% increase in the provision for credit losses over Q3, the bank was still able to post an 11% increase in EPS over last year, or $.13. ROE remained flat over last year at 11%.
So, this was a strong quarter even though it didn't beat the previous quarter. Had credit reserves remained flat, the story might be different, but alas, reserves were the "belle of the ball." According to the company press release, "the reserve increases in the current quarter reflected an increase in wholesale reserves of $185 million, driven by downgrades, including $124 million in the Oil & Gas portfolio and $35 million in Metals/Mining." It's important to remember that these losses have not yet occurred. This money is "set-aside" just in case the companies in the Oil & Gas portfolio or the Metals and Mining portfolio can't pay their bill. These are essentially write-offs, and while they're declining for the rest of the industry, they're growing for JPM.
JPM's Legal Woes
During the years ended December 2014, 2013, and 2012, JPM incurred $2.9 billion, $11.1 billion and $5.0 billion, respectively, in legal expenses. The company reported "several hundred" legal cases open in the annual report, far more than peers. Potential firm-wide litigation costs in excess of reserves were $5.5 billion at JPM, compared to $4.0 billion at Citigroup (NYSE:C) and $2.7 billion at Bank of America (NYSE:BAC) in 2014. So where are we today?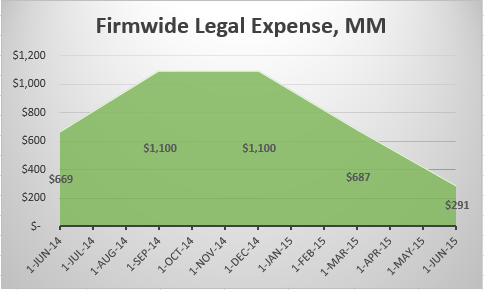 In Q2 of last year, much of the firm's improvement was due to a significant drop in legal expenses, as can be seen in the chart (Source: Author's calculations, data sourced from Q2 2015 earnings release financial supplement, notes, pg. 4). As I warned, this was an anomaly, not a new norm. In Q3, legal expenses spiked back up to $1,347 million. In Q4, legal expenses were $647 million. There's no reason to believe we'll ever see the lows of Q2 2015 again - it certainly wasn't the beginning of a new trend as many analysts believed.
The concern is that like Q2 of 2015, 2014 as a whole may be an anomaly for legal expenses. Legal expenses were lower in 2014 than they were in 2013, this is the trend across the industry; however, at the end of 2015, JPM reported legal expenses of $3 billion, slightly higher than 2014. In other words, while legal expenses continue to decline for large banks, at JPM, they continue to pose a threat to the bottom line.
Many of the cases from 2014 have yet to be resolved. Here's an excerpt from my previous article listing out the major legal themes plaguing the bank:
Mortgage-backed securities, repurchase litigation and related regulatory investigations.
CIO litigation - Class action relating to losses in synthetic credit portfolio.
Credit default swap investigations and litigation - regarding market entry and exchange-traded derivatives.
Monoline insurer litigation.
Foreign exchange investigations and litigation - Government sales are being investigated for criminal misconduct by DOG and a civil investigation by the Board of Governors of the Federal Reserve System.
General Motors (NYSE:GM) litigation - JPMorgan Chase was the admin agent on the $1.5 billion loan syndicate and is being sued for issues originating out of the firm's 2009 bankruptcy.
Underwriter actions.
Repurchase litigation.
Derivative actions.
Municipal derivatives litigation.
Proprietary products investigations and litigation.
Referral hiring practices - Associated with bribery charges under the Foreign Corrupt Practices Act (DOJ).
Sworn documents, debt sales and collection litigation.
Auto dealer regulatory matter - Statistical disparities in mark-ups charged to different races and ethnicities by auto dealers.
Custody assets investigation - UK custody administration.
Interchange litigation - The firm must pay 20% of $6.1 billion due in a settlement alleging Visa (NYSE:V) and MasterCard (NYSE:MA) conspired to set prices.
Investment management litigation - Allegedly involves JPMorgan Investment Management (JPMIM) inappropriately investing in certain securities.
Lehman Brothers bankruptcy proceedings.
LIBOR and other benchmark rate investigations.
Madoff litigation - Pertaining to Fairfield Sentry and Fairfield Sigma Limited feeder funds.
MF Global - Lawsuit alleges that MF Global and JPMorgan Securities did not disclose relevant investment documents.
Issuer litigation - Several class actions and individual purchaser actions.
There are still numerous lawsuits under each category.
All is not lost, however. If litigation is the firm's Achilles' heel, its claim to fame is the investment bank. The investment bank grew 10% due to record revenues of $2.2 billion. Compare that to Citigroup's investment banking group, which saw a 6% increase in Q4, or even Goldman's (NYSE:GS) preeminent investment banking group, which saw a 7% increase over last year.
Valuation
Where does this leave us from a valuation perspective? On one hand, legal woes continue to plague the bank; on the other, we're at the beginning of a rising interest rate environment; and JPM is growing some of its most profitable segments. Net/net, I'm still bullish on the stock, but to say the stock is going up from here is too simple. We need to have a quick discussion about value in an industry that has been plagued by irrational concerns of fear. First, let's look at the industry as a whole, then we'll compare against the force of nature called Wal-Mart (NYSE:WMT).
Legal expenses and regulatory fines have taken a lot of value from bank investors over the years, but this was an investment. Now those investments are paying off, and they don't make the industry riskier, quite the contrary. The chart below is from E-Trade. It compares sectors by two valuation metrics, P/E and P/B. Financials are still at the bottom.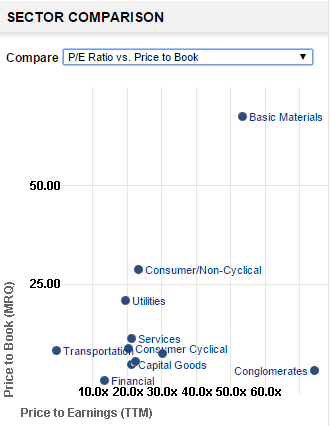 In general, the price of financial stocks is around 12x earnings, whereas most industries have a price that's around 20x earnings. Only Basic Materials and Conglomerates garner a premium on earnings in the market. Earnings are earnings though, right? The only reason a sector has a low P/E is because its earnings are deemed riskier.
Let's compare financials with another industry suffering from low P/E and P/B: transportation. While transportation is having a rough time due to low gasoline prices, especially railroads, the concern or fear is validated. The current level of earnings may be in jeopardy in the future. This is not the case within the banking industry. The industry is one of the most heavily watched, and audited. It also has the implicit backing of the Federal Reserve, which is paying banks .50% interest on the record $2.4 trillion sitting in excess reserves. This is only one of the tools being employed by the Federal Reserve to saturate banks with excess capital. Additionally, rates are going up, not down, and to top it off, we are entering a period of productive deflation. This is a great time to be a bank, not so good for retail and consumer goods. Banks are not risky, they're misunderstood.
Still, I understand the disconnect, but once put plainly in front of you, is it really that hard to see that banks are actually one of the safest industries within the financial sector, within the market as a whole? Not many industries have the full faith and backing of the Federal Reserve. Still, investors are wary. As a result, earnings and dividends have been deflated for the financial industry. They just aren't valued in the same way, which is odd because a dollar is a dollar. So where should banks be trading? Before answering that question, let's look at JPM compared against WMT.
JPM vs. WMT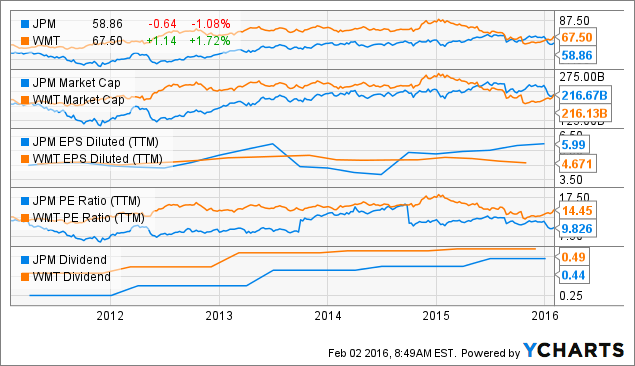 JPM data by YCharts
We're talking about two companies with the same market cap. Yes, dividends are slightly lower at JPM, but they are growing organically, not through debt, and the yield is higher. Finally, JPM makes $6.00 per share compared to WMT's $4.68. So you have two companies in two different industries, but they both have the same market cap. One makes 28% more in earnings per share and is backed by the Federal Reserve, but trades at a discount. In fact, the market has priced Wal-Mart's earnings with a relative price tag of 14.45 and JPM's earnings at 9.83. Same earnings, but WMT's earnings are worth more in the market.
This is the height of uncouth I know. How dare I compare two companies from two different industries, but it's time for us to have a bit of courage here because it provides some additional context for those of you with fear. JPM isn't the perfect bank stock despite its size and name. It's a lot like Wal-Mart in the sense that it's one of the largest in its category, but price deflation is a bad thing for retail so upcoming catalysts spell trouble for Wal-Mart. On the other hand, banks just got approved to charge borrowers more, so they're thrilled and looking forward to a great year of top line growth. In other words, JPM just had a price increase as WMT is having to deal with price decreases and yet the market still values Wal-Mart's earnings at a higher rate than JPMorgan.
So where should JPM be trading? Well, banks should be trading at around 20 P/E at least. There's even an argument that bank earnings are safer than consumer cyclical goods, software companies or biotech firms especially as we enter a period of growth for the sector due to rising rates. In this case, a P/E of 25 may be more appropriate.
At $6.00 per share, assuming a P/E of 20, JPM should be trading at ~$120 instead of just under $60. Eight ranked analysts offering 12-month price targets value the stock at $71.00, which implies a P/E of 12x. While some discount seems appropriate given the legal risk, this still seems low. The upside potential is clear, at least for the next 12 months.
Putting It All Together
Clearly, I'm concerned about litigation. This will put a drag on earnings for JPM compared to other large banks, but I would still buy JPMorgan Chase under $60 and hold it, like a piece of property. The stock is undervalued and is the classic long-term buy, but it takes some foresight to get there. This is a classic long-term investment. It will take time for the value to manifest, certainly more time than its peers, but in 10 years, JPMorgan will still be among the largest and most successful banks in the world.
Banks, along with the rest of the market, are having a hard start to 2016, but it is important to remember that some industries, i.e. transportation, had high P/Es prior to the correction. In other words, this wasn't a correction for banks, it was a devaluation, which means we're more likely to see a faster pullback.
Net-net, as rates rise, JPM's profitability will continue to grow, and faster even than Citigroup (the tortoise in the large bank family). However, due to a string of persistent legal issues, some of which are exclusive to JPMorgan Chase, earnings will not grow as fast as most other large banks.
Disclosure: I am/we are long JPM, BAC.
I wrote this article myself, and it expresses my own opinions. I am not receiving compensation for it. I have no business relationship with any company whose stock is mentioned in this article.