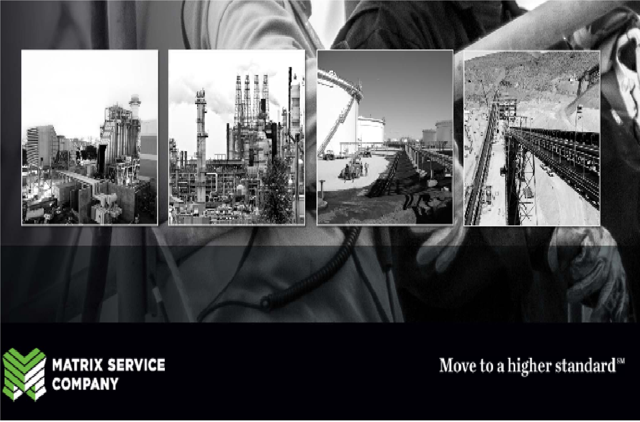 Matrix Service Company (NASDAQ:MTRX), an engineering, fabrication, construction and repair & maintenance services provider, reported fiscal 2016 second quarter results after market close on February 3rd. In the fiscal 2016 first quarter, Matrix had projected the second quarter would be "similar" to the first. In the 2016 fiscal first quarter, the company reported revenue of $319.3 million. Year over year, this was a 1% decline. In the fiscal 2015 second quarter, Matrix reported $342.9 million in revenue. So, taking Matrix at its word, reasonable revenue estimates for the fiscal 2016 second quarter could be either revenue similar to the fiscal 2016 first quarter of approximately $319.3 million or a revenue decline of 1% year over year for approximately $339.6 million. Yet, analysts expected $345.4 million, a year-over-year increase of 1% and a sequential increase of $26.1 million. In the second quarter, Matrix Service reported $323.5 million, a 1% increase sequentially but a 6% decrease year-over-year.
Although Matrix Service performed in line with its own guidance - a second quarter "similar" to the first - it missed analysts' average estimate on revenue. In the first quarter, the company experienced year-over-year revenue growth in three of its four reporting segments - Storage Solutions, Electrical Infrastructure, Oil, Gas and Chemical. A year-over-year decline, and a significant one (48%), occurred in its Industrial segment. However, in the fiscal 2016 second quarter, the growth percentages flipped. Matrix Service reported year-over-year declines in three segments - Oil, Gas and Chemical, Storage Solutions and Industrial. The Electrical Infrastructure segment is the only segment that saw a year-over-year increase but it was a staggering 56%.
The declines in the Storage Solutions and the Oil, Gas and Chemical segments were a result of slower project ramps rather than permanent reductions. The revenue is not lost but just pushed to future quarters. In the Electrical segment, as well, Matrix sees plenty of bidding opportunities. The Industrial segment continues to struggle, however. Project awards for all segments in the second quarter totaled $178 million. The backlog now sits at $1.12 billion.
Adjusted Guidance
Even though revenue opportunities were simply pushed to future quarters, Matrix elected to approach the remainder of fiscal 2016 conservatively. Its original revenue guidance for full-year 2016 was a range of $1.4 billion to $1.6 billion. Through the first six months of fiscal 2016 ending December 31, 2015, revenue totals $642.9 million. This equates to a run rate of $1.29 billion. Thus, the company's adjusted revenue guidance is a range of $1.3 billion to $1.4 billion.
It was more than a conservative business environment and a soft industrial market that impacted Matrix Services on the bottom line. The company had an unexpected client bankruptcy that increased expenses by $5.2 million. This equates to an EPS impact of approximately $0.19 per share. So, even though Matrix delivered year-over-year EPS growth of 67%, it missed analysts' average EPS estimate for the quarter. Matrix earned a diluted $0.20 per share but analysts expected $0.36. For the first half of fiscal 2016, the company has increased diluted EPS 65% year over year. The run rate for EPS is now $1.12. But, original guidance for the full year was a range of $1.45 to $1.75. Matrix Services, as it did when adjusting revenue, elected to decrease its full-year EPS guidance to a range of $1.30 to $1.50 per diluted share.
Is There Growth?
Matrix's first quarter production, typically, is the lowest of the four. So far, this has also been true for fiscal 2016. Historically, the company has delivered a growth rate of 20+% for EPS. In fiscal 2015, the adjusted for negative impact EPS was $1.30. If the company delivers at the low end of its current guidance, year-over-year EPS growth will be flat. Even at the high end of guidance, year-over-year growth is just 15%. In many cases, organic growth rates simply cannot sustain historical averages as the base numbers grow.
In the fiscal 2016 first quarter reporting, the company listed three items, which could impact full-year results:
a ramp of projects in its Electrical Infrastructure segment,

initiation of field work in the Dakota Access project in the Storage Solutions segment

strength of the turnaround calendar in the Storage Solutions segment.
In the 2015 fourth quarter earnings call, Matrix CEO, John Hewitt, also shared an acquisition was in the works.
"We would hope to execute something within this fiscal year."
Matrix hinted its next acquisition would likely be related to its Electrical Infrastructure segment.
"We are also actively pursuing acquisition opportunities in the space to add geographic diversity to our footprint and allow us to bring our expertise into new markets."
Status of Potential Impacts
Matrix Service's Electrical Infrastructure segment wins projects related to both the power generation and power delivery industries. In power generation, the shift from coal to natural gas is driving projects. Looking towards 2020, the power generation pipeline is purported to include 150 high-probability projects valued near $46 billion. The power delivery pipeline is purported to include infrastructure projects worth $85 billion through 2018. Matrix currently has exposure to $5.4 billion in projects covering both industries.
In the Storage Solutions segment, Matrix has bidding opportunities for another $5.3 billion in projects. The majority of the demand for Matrix's services comes from midstream and downstream energy companies. Matrix has not experienced weakness from this portion of the industry. As well, projects related to the LNG (liquefied natural gas) industry are ramping up. Matrix believes its "expertise with cryogenic storage tanks and terminals" and its "ability to provide full EPC services" gives it a competitive advantage.
In the Oil, Gas and Chemical segment, projects continue to be delayed and pushed out while refiners take advantage of lower oil prices. The work will, inevitably, have to be done and Matrix expects to find bottled-up demand in the future. As of the fiscal 2016 second quarter, the company has 23 mechanical or specialty turnarounds planned for the second half of fiscal 2016.
On the acquisition front, Matrix Service announced on February 1st it was purchasing Baillie Tank Equipment, headquartered in Sydney, Australia. Baillie provides geodesic domes, aluminum internal floating roofs and other storage tank engineering components. Baillie's customers span 85+ countries. Matrix does intend this acquisition to support international expansion but that is not its immediate priority. Its near-term focus is to facilitate the expansion of Baillie into North America. The product line should allow Matrix to provide high-quality tank products to its current and future customers via both installation services as well as maintenance and repair services.
The Baillie acquisition was actually a bit of a surprise. In the first quarter earnings call, Matrix had hinted the next acquisition would likely be tied to the Electrical Infrastructure segment.
"We are also actively pursuing acquisition opportunities in the space to add geographic diversity to our footprint and allow us to bring our expertise into new markets."
It is not as if the Baillie acquisition eliminates the possibility of expansion in the Electrical Infrastructure segment. There were numerous pointers to such activity in the second quarter earnings call.
"The electrical infrastructure segment of our business represents a key focus area for significant acquisitive growth."

"Finally, the current market environment combined with our financial strength also allows us to take advantage of larger acquisition opportunities to greater accelerate our strategic growth plan."

"We had $82 million of cash at the end of the year. That number had grown in the month of January and we're still above that level, even after funding the acquisition."
Clarifying The Second Half of Fiscal 2016
Matrix does not expect striking differences in the third quarter when compared to the first half of 2016.
"When you look at our third quarter, we are not expecting that to be any larger than the revenues we had in the first two quarters and the big increase will be in the fourth."
Therefore, it is safe to project third quarter revenue will not likely surpass $325 million. As mentioned, the fiscal 2016 first quarter revenue totaled $319.3 million while the second quarter totaled $323.5 million. Therefore, after nine months in fiscal 2016, it is not likely the company will have registered $1 billion in revenue. But if the fourth quarter paces at the same level, full-year revenue of $1.29 billion will easily near the low end of guidance at $1.3 billion. The question is how big the increase in the fourth quarter will be.
Matrix offered additional foresight about the fourth quarter.
"Yes, I think Storage is probably the biggest increase. I think you'll see the Oil, Gas and Chemical that will be the best quarter. And, I think it will also be the best quarter for Electrical."
Since it is obvious the company does not yet have results for the third quarter, the above information must be applied to the first two quarters. The following table details minimal projections for the fourth quarter.
| | | | |
| --- | --- | --- | --- |
| (amounts in thousands) | First Quarter Revenue | Second Quarter Revenue | Fourth Quarter Projection |
| Storage | $144,570.00 | $122,647.00 | $145,000.00 |
| Oil, Gas & Chemical | $68,959.00 | $63,472.00 | $69,000.00 |
| Electrical Infrastructure | $65,625.00 | $91,398.00 | $91,500.00 |
| Industrial | $41,335.00 | $48,390.00 | $40,000.00 |
Without growth, the fourth quarter minimum total for the four segments is $345.5 million bringing full-year revenue to $1.31 billion.
Valuation and Investability
Matrix Services does not pay a dividend. It does have a share repurchase authorization. But, with the opportunities for acquisition so prevalent, it is not likely the company will allocate capital for buyback activity.
At a $1.31 billion full-year revenue projection, Matrix would generate approximately $48 per share in revenue. The company set a new 52-week low on February 4th at $15.15. Thus, below $16, the P/S ratio falls below 0.33. Investing at such a low valuation would normally seem attractive.
However, after Matrix Service reported on February 3rd, numerous investigations were announced citing Matrix management "issued misleading information to investors." The trigger was the adjusted full-year guidance based on the unexpected client bankruptcy.
Matrix stated it found out about the client bankruptcy on Tuesday afternoon at 5:00 pm before it was to report on Wednesday after market close. The client was Ryckman Creek Resources. In August 2014, Ryckman Creek contracted Matrix Service to rebuild the Nitrogen Rejection Unit in Wyoming's Green River Basin. Matrix was originally to provide mechanical and construction services related to damage from an earlier fire. After finding significant issues, Matrix was subsequently contracted for a rebuild of the entire facility. In December 2015, Matrix announced successful completion of the project. On Tuesday, February 2nd, when Matrix Services was notified of the bankruptcy, it had received over 85% of the contracted obligation from Ryckman Creek. Matrix also stated it had received 100% of what was due for the fiscal 2016 second quarter. Matrix rushed to update second quarter results to comply with GAAP accounting standards.
"We spent, basically, the last 24 hours scrambling to prepare our Q2 results."
The company maintains the filing "caught us by surprise" even though it admits the client was on its watch list. If that is true, the next practical question is whether there are further risks with other clients. Matrix describes its most recent review:
"The predominant amount of our clients in the midstream space are what I'd call blue-chip midstream people that we do not have any credit risk that we're concerned about."

"If you take a look at our top 30 customers, 24 of those customers are public companies. So there's readily available information as to what their financial condition is. None of those customers are a concern for us. Of the six that are private, four of those are large, well-known, solid companies that we are not concerned about. One of them was the company that filed bankruptcy. And the other is one that, while it's not as well known, the way we had contracted with that customer, we have security that insulates us from any bankruptcy risk."
Analysts have not yet had time to adjust their full-year estimates. It is always possible adjustments will trigger further share price decline. However, using the company's midpoint of EPS guidance at $1.40, Matrix is already trading at a depressed multiple. Further decline would simply make an investment thesis more attractive - barring the risk of further bankruptcies, of course.
On the same day that Ryckman Creek filed for bankruptcy, bankruptcy attorneys in Texas forecast a 30% increase in filings for the state in 2016. The attorneys blamed low oil and gas prices as the primary factor. At the first Viewpoint Executive Energy Club in Houston on February 3rd, Midstream Business reported that Greg Haas, the director of integrated oil and gas from Stratas Advisors, predicted:
"There are good signs for midstream operators when it comes to exports."

"But he does expect to see a number of bankruptcies this year."
On February 1st, OK Energy Today described the landscape.
"Eleven percent of the exploration and production companies defaulted in December of 2015 on debts coming due. A year earlier, the default rate was 0.5 percent."
As already mentioned, Matrix Service's clients are primarily midstream and downstream companies. And, while most industry analysts agree the E&P sector will continue to bear the brunt of the pain, dominoes will still fall. International Business Times reported the Haynes and Boone law firm in Houston expects bankruptcies in the oilfield services sector will double the rate of 2015. And, while the 2015 rate was well under 5%, it still demonstrates further pain is ahead and the impact of bankruptcies to the economy is not over.
Disclosure: I am/we are long MTRX.
I wrote this article myself, and it expresses my own opinions. I am not receiving compensation for it (other than from Seeking Alpha). I have no business relationship with any company whose stock is mentioned in this article.