Note: Familiar readers can skip the overview and jump straight to the earnings commentary, and the remaining analytics. New readers may wish to read the overview first, check previous analysis, and of course everyone should always do their own due diligence in all aspects. This report reflects my opinion as a researcher and shareholder and is NOT direct investment advice.
Overview
DHT Holdings (NYSE:DHT) is a shipping holding company specializing in VLCC vessels with a mixture of spot and time-charter exposure. DHT (then called "Double Hull Tankers") first went public in October 2005, as a spin-off from OSG Shipholding. It hit severe financial struggles in 2012 and diluted heavily with a backstopped equity offering. The company received an institutional private placement, followed by a 30.3M share offering for $7.50 in February 2014. DHT sold 23M shares at $6.50 to fund the Samco acquisition in September 2014, which expanded its total fleet by nearly 50%.
My most recent public analysis on DHT was published in December 2015 when it was in the high-$7s. I personally grabbed shares for just under $8 in December, and I added more shares earlier this week at $5.90. DHT currently sits at $5.78 and has 113M fully diluted shares outstanding. Since the convertible senior notes have a strike of $7.56, which is currently anti-dilutive, there are currently just 93.2M basic shares outstanding for a total market capitalization of roughly $540M. My current target for DHT is $12, but with strong spot market performance and strategic repurchases, the company could have total upside potential to $15+.
DHT reported its Q4-15 earnings on Wednesday afternoon. The following report provides an overview of this firm and discusses the latest earnings report and repurchase program. My previous analysis from December provides additional background information.
Growing Modern Fleet
DHT has rapidly increased its vessels over the past two years, both through a major acquisition (Samco) and a six-vessel newbuilding program. DHT still has four vessels remaining to be delivered over the next eight months, as shown in its recent (January 2015) presentation.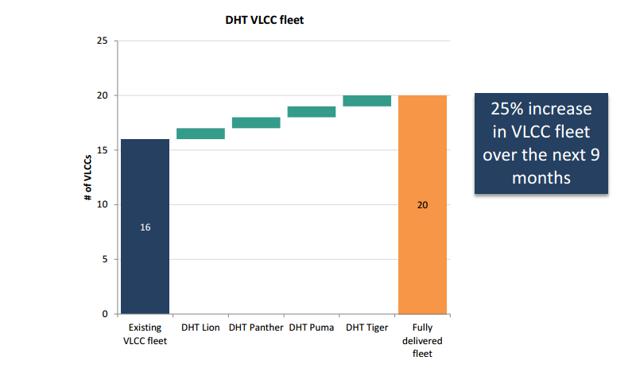 DHT is emerging as a major player in the VLCC field, currently owning the world's 5th largest VLCC fleet amongst private owners. The three closest public comps are Euronav (NYSE:EURN), Gener8 Maritime (NYSE:GNRT), and Frontline (NYSE:FRO).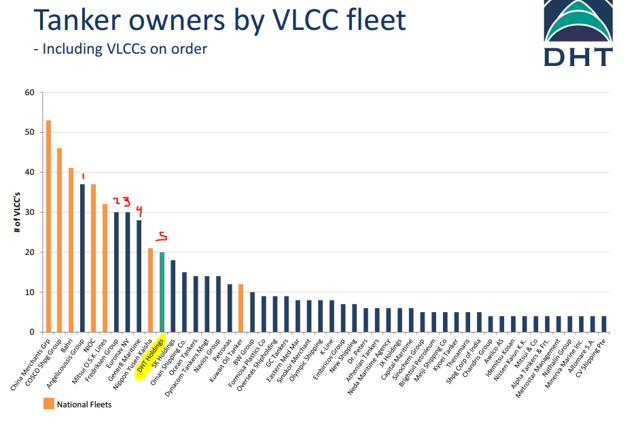 Impressive Time-Charter Performance and Low Cash Breakeven
DHT employs a balanced approach to the markets by employing some of its fleet in stable time-charter contracts while keeping the rest open to the potentially lucrative spot markets. In early December, DHT announced impressive two-year time-charter rates of $45k/day and $47.3k/day for two of its VLCCs. Another VLCC was chartered for one year at $53.2k/day. These recent moves have set the company up for major cash blow upside in 2016 as shown in the chart below: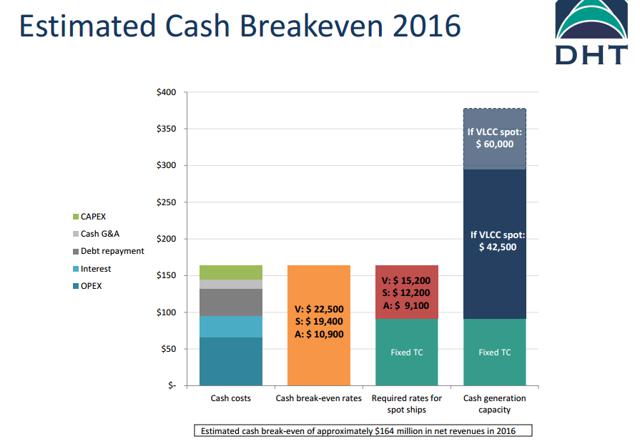 Due to the fixed TC revenues, the breakeven rates are only $15.2k/day for VLCC (12.5 on spot), $12.2k/day for Suezmax (0.75 on spot). As a comparison, during Q4-15 and FY15, DHT earned $62.2k/day and $58.7k/day respectively in the VLCC spot markets. YTD16 spot rates have been around $60k/day, and the current spot rate as of 4 February 2016 is $49k/day.
At $50k/day realized for 2016, DHT would produce nearly $160M in cash flow. At $60k/day, it is capable of earning over $200M. Note that these conservative figures are after maintenance capex and scheduled debt repayment. Actual direct operating cash flow would be even higher.
DHT Trading Weak: Why?
Over the past few months, DHT has traded very weak despite its strong underlying performance. I believe there are three factors leading to this dip, but only one is a concern while the other two factors offer an opportunity for patient investors to achieve a nice entry point.
High-yield stocks have suffered tremendously over the past two months, primarily those related to energy markets. I have previously highlighted major disconnects in names such as Navios Maritime Midstream (NYSE:NAP) and Golar LNG Partners (NASDAQ:GMLP). DHT is suffering from the same general "flight-to-safety."
DHT is a crude oil tanker firm, and the oil markets have continued to suffer heavily over the past year. Savvy investors have figured out there is low correlation or perhaps even negative correlation between oil price changes and tanker rates. DHT is also a "shipping" firm. Shipping broadly rises and falls with the global economy, which is showing serious signs of slowing. Obviously, there is a far higher correlation to containers and dry bulk (both of which are crumbling), but retail investors often lump all shipping into the same bucket.
The third reason is the most serious: VLCC spot rates have dipped over the past month, from a jaw-dropping $100k/day figure to the most recent $48k/day performance. As the cash flow charts below illustrate, DHT does fantastic in a $50k/day or even a $40k/day market, but for a cautious market any shift in spot rates can send related stocks tumbling.
Add the high-yield, energy sector, global trade related, and recent spot rate dips altogether and you have a valid explanation for the horrendous recent price performance, even in the face of outstanding earnings results. I believe the majority of these concerns are misperceptions, and DHT was cheap even at $9-10, but the market clearly disagrees, at least in the short term.
Q4-15 Results and Updates
In my Q4-15 earnings preview, posted on Monday as an exclusive for Value Investor's Edge members, I discussed some important focus items:
How did DHT perform in the spot market? Did it best Euronav again? I expected DHT to once again edge out Euronav in spot performance (EURN earned $61.5k/day), and I was forecasting close to $63k/day on a TCE basis. The company reported $62.2k/day and posted $58.7k/day for the full year. Pleased overall, and it is on track to post a strong Q1-16 as well, especially considering the higher TC fixtures and the two brand new VLCCs on the water.
Does management have any plans to deal with the enormous convertible debt overhang? Any broad repurchase strategy? DHT announced a $50M repurchase and immediately deployed $3M of it against its 2019 convertible notes (current strike of $7.56). The company is likely to repurchase both equity and convertible notes, but it is currently leaning towards the latter. See the following snippet from the Q4-15 earnings call transcript, which explains the overall thought process (highlights added):

Fleet Valuation
The latest VesselsValue.com report shows a pro forma fleet valuation of $1.4B, including the four newbuild vessels with 2016 deliveries. Despite the surge in spot rates, the VLCC fleet has barely increased in value over the past two years. During the last bull market, a similar fleet was worth double, but market pessimism and struggling shipyards have held down values this year.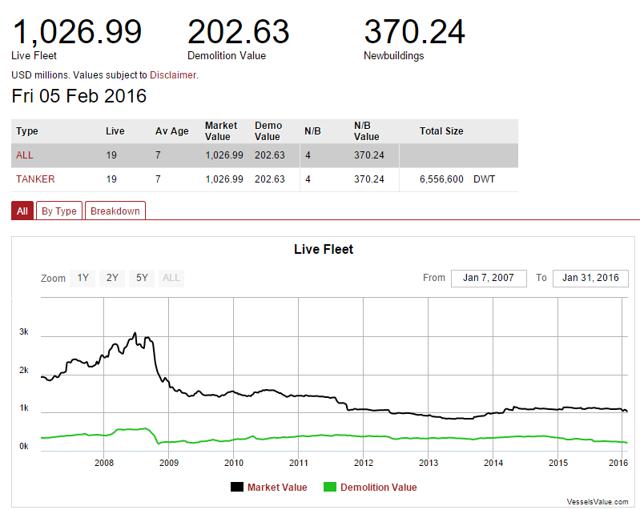 Balance Sheet
DHT ended Q4-15 with $441M in net debt and remaining installment payments of $266M, for total pro forma debt of $707M. Against vessel valuations of $1.4B, the company has current net debt-to-assets ("D/A") of 51%. However, $150M of its debt is in convertible notes with a current strike price of $7.56 per share. If this debt is removed from the equation, DHT's adjusted D/A is only 40%. In this scenario, the company would have roughly 113M shares outstanding.
With the current 93.2M shares outstanding, DHT's net asset value is $7.40/sh. Even after adjusting for the weak VLCC valuations, DHT currently trades at 78% of NAV. With the $147M in remaining convertible notes, the company has 113.1M diluted shares outstanding, for an adjusted NAV of $6.10, still a discount of over 5%. In that scenario, it also has a very impressive balance sheet as most lenders will allow D/A up to 60%.
Cash Flow Potential
The following tables show DHT's cash flow potential in a variety of spot rates while also incorporating approximations for the fixed time-charters and $17.5k/day in adjusted cash expenditures. The yellow tabs reflect recent spot rate performance, but the 2015 average was $67k and YTD16 is $64k. This table assumes the sale of its remaining Suezmax. It also assumes full dilution from the convertible notes.

Here is a table with the basic share count to illustrate the massive overhang effect of those convertible notes. DHT is trading like a highly leveraged (risky) venture in an unstable market. In reality, it will turn decent cash flow even at miserable VLCC spot rates, and the balance sheet is in fine shape.

Summary
DHT is well positioned in this market and is cheap on pretty much every metric in the book - earnings, book value, dividend yield cash flow, upside potential. The past six weeks have been brutal for DHT's equity, wiping out over 30% of the stock valuation despite the improving earnings and decreasing balance sheet leverage. Management has shown it will be proactive with its recent $50M repurchase program.
I recently bought shares at $5.90, adding to a previous stake I started just under $8. My near-term price target is $12, but there is upside to $15+ if the VLCC market stays strong throughout 2016, and DHT is able to capture additional time-charters while repurchasing a good portion of its convertible notes.
Additional Research
If you would like continual updates on this name and many other deep value opportunities, please consider a membership to Value Investor's Edge. Members are currently benefiting from an exclusive earnings preview series and live updates during all relevant earnings reports.
Disclosure: I am/we are long DHT, FRO.
I wrote this article myself, and it expresses my own opinions. I am not receiving compensation for it (other than from Seeking Alpha). I have no business relationship with any company whose stock is mentioned in this article.