Nothing like accounting shenanigans to start your day.
This morning, Brixmor (NYSE:BRX) announced that its audit committee has determined that the firm has been smoothing net operating income ("NOI") since its IPO and they have replaced the CEO and CFO as well as two accounting personnel. From the release:
CEO, CFO and Two Others Resign Following Audit Committee Review of a Non-GAAP Financial Reporting Measure
Issue Relates to Quarter to Quarter Smoothing of Non-GAAP Financial Measure; the Company Does Not Expect to Restate Historical GAAP Financial Reports
Company Reaffirms 2015 FFO Guidance of $1.96 - $1.98 per Share
Daniel Hurwitz, former CEO of DDR Corp. and the founder and CEO of Raider Hill Advisors, LLC, has been named Interim Chief Executive Officer, effective immediately.
Specifically, the smoothing and the amount were: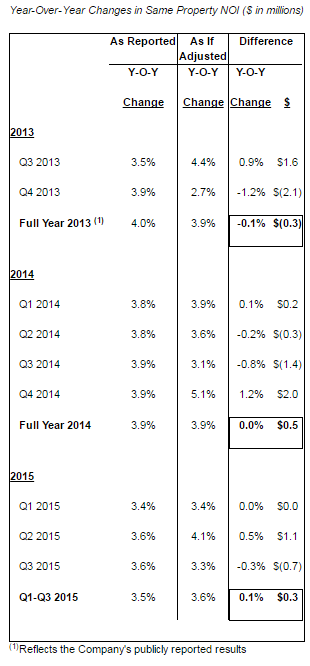 As you can see, the smoothing went both ways and was designed to increase NOI consistency and, therefore, a higher valuation due to this stability.
Currently, BRX has the following fundamental snapshot relative to peers:

As the table shows, BRX trades at lower multiples than most of its peers - but a lower dividend yield as well.
Returns have been decent though:
BRX data by YCharts
While I don't think it is apples to apples with the accounting voodoo at VEREIT (NYSE:VER), and the board has taken swift action, it is worth remembering what happened the last time we saw accounting games at a REIT: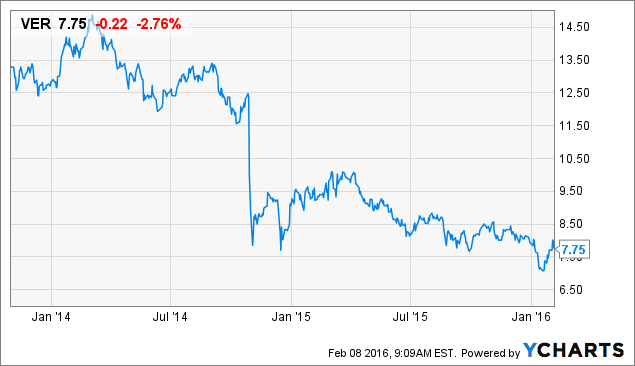 VER data by YCharts
At this point, we have to hope the same thing does not take place - and we have to keep in mind how long it takes for investors to regain trust in a company playing games. VER has been nearly dead money since this occurred.
Recall as well that they were IPO'd in October of 2013 by Blackstone (NYSE:BX). I am not saying the venerable Blackstone set this one up, but I might wonder about "knock on" effects on them.
My advice: stay clear. Brixmor brings nothing to the table that can't be found in Kimco (NYSE:KIM) or anywhere else.
Disclosure: I/we have no positions in any stocks mentioned, and no plans to initiate any positions within the next 72 hours.
I wrote this article myself, and it expresses my own opinions. I am not receiving compensation for it (other than from Seeking Alpha). I have no business relationship with any company whose stock is mentioned in this article.