Despite solid Q4 results, GrubHub (NYSE:GRUB) still sits near all-time lows. Despite claims otherwise, the online food ordering and delivery service faces fears of mounting competitive threats.
At $21, GrubHub is valued at $1.8 billion. While the service is highly profitable, the profit picture isn't improving much with growth due to investing in food delivery and pressure on commissions. Is the stock worth a gamble at the lows?
My original hesitations with the impressive GrubHub story was that the leading brand in online food ordering didn't have the scale to hold back a whole host of entrants into the general sector. From Amazon.com (NASDAQ:AMZN) to Uber (Private:UBER) to Yelp (NYSE:YELP) to numerous startups, the competition dove into the sector that promised big profits from developing a network and the related benefits.
The quarterly results and management commentary tend to tell a different story. GrubHub continues to add restaurants, diners and orders to the business at a fast clip. The below results for 2015 show no appreciable difference in the growth from what the company did in 2014.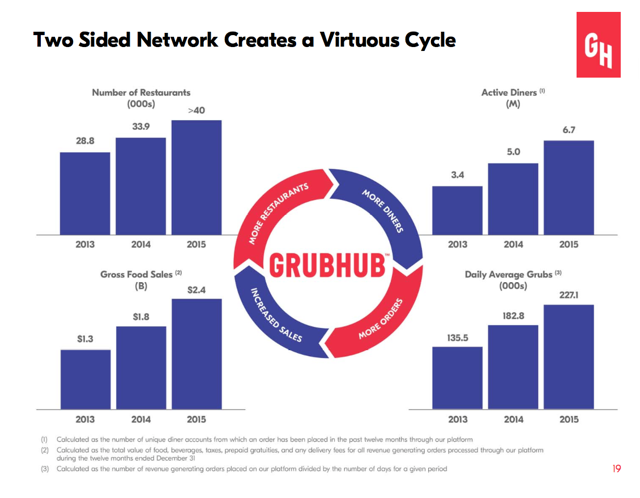 Source: GrubHub Q4 2015 presentation
When asked directly about competition on the earnings call, CEO Matt Maloney had the following to say:
...we continue to see players in the markets. I don't think they are being as aggressive as they have been. For example, in Q3 and Q4 of 15 we haven't seen a material impact on our business one way or the other.
Analysts such as Oppenheimer turned neutral on the stock due to the perceived threats from Amazon.com and Uber that have bigger networks, but unrelated to food ordering and delivery. The real question though is whether these services can beat a focused brand like GrubHub. Do restaurants really want to deal with Uber when food delivery is a secondary business?
Without the fears of competition, the stock would be attractive at roughly 23x forward earnings. GrubHub is reasonably priced at roughly 4x 2016 revenue estimates.
Though the company might rightfully see the stock as cheaply valued, the recommendation is that GrubHub saves the $100 million proposed for stock buybacks. At this point, consolidating competition and building a bigger network would provide a huge benefit to the long-term prospects of the company and hence the stock.
The key takeaway is that the stock is near a point where it becomes attractive. Most of the analysts appear afraid to recommend GrubHub despite the evidence that competitive threats are waning, if anything. The downturn in venture capital funds should help established brands and networks shake-off startups that no longer are getting adequate funding.
For now, I'm taking a watch and see opinion on the stock. Any more signs that competitors are leaving the space, GrubHub is a buy.
Disclosure: I am/we are long YELP.
I wrote this article myself, and it expresses my own opinions. I am not receiving compensation for it (other than from Seeking Alpha). I have no business relationship with any company whose stock is mentioned in this article.
Additional disclosure: The information contained herein is for informational purposes only. Nothing in this article should be taken as a solicitation to purchase or sell securities. Before buying or selling any stock you should do your own research and reach your own conclusion or consult a financial advisor. Investing includes risks, including loss of principal.