Introduction
Back in December I was positively surprised to learn Tourmaline Oil (OTCPK:TRMLF) was actually profitable despite having a special focus on its gas production. Despite the low gas price, Tourmaline was able to keep its operating cash flow more or less in line with its capital expenditures, and that's quite the comfortable position to be at.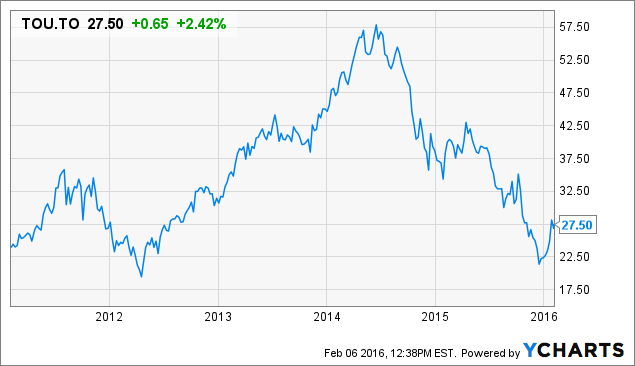 TOU data by YCharts
Tourmaline is a Canadian company, and its Canadian listing on the Toronto Stock Exchange is much more liquid compared to the OTC-listing. The ticker symbol is TOU, and the average daily dollar volume is in excess of US$8M, so I would recommend you to use the Canadian listing for trading purposes.
The 2015 exit rate guidance has been met, and the cash flow will increase
Despite the turmoil on the oil and gas markets, Tourmaline Oil continued to invest in its assets as it wanted to reach an exit rate of approximately 200,000 barrels of oil-equivalent per day by the end of 2015. The efforts have paid off as Tourmaline had already reached this level approximately one month before the self-proclaimed deadline. Keep in mind that despite the company's name, the vast majority of the annual production consists of natural gas, as the liquids contribute less than 15% to the total production mix.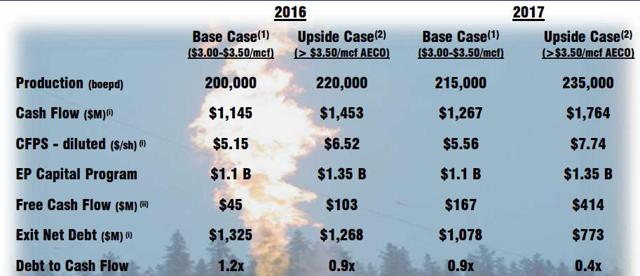 Source: company presentation
On top of that, the new Edson gas plant has been started up as well which pushed the company over the symbolic 200,000 boe/day mark, and I do expect this daily output to increase even further as Tourmaline was planning to add several tie-ins in the next few weeks (which could easily add another 21,000 barrels of oil-equivalent output to the existing annual production).
It's always great to see and hear a company is effectively delivering on its promises, and that's actually quite a refreshing impression, as most oil and gas companies had to scale back the scope of their operations. Tourmaline now expects the total Q4 production to have increased by 20% compared to Q3 2015 as in excess of 50,000 boe/day were brought online. On top of that, the capital expenditures were sharply reduced as well, which could indicate Tourmaline's cash flow statements will be pretty good, and I'm looking forward to see the company's financial results which should be released in the next few days or weeks.
The new acquisition could be a smart longer-term move, and Tourmaline doesn't overreach
Tourmaline Oil is also doing what I'd like some other O&G companies to do as well, making smart and strategic acquisitions. In some other articles I have always been quite negative about companies that are paying a dividend (and sometimes even borrow to pay that dividend) whilst it might be smarter to allocate more capital to M&A possibilities as this could greatly enhance a company's production profile and financial results once the market starts to turn around.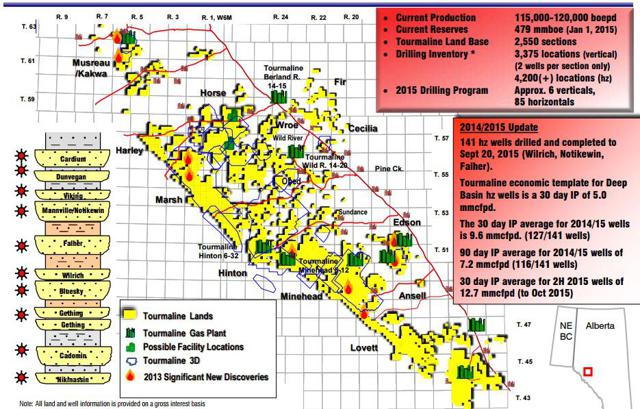 Source: company presentation
Tourmaline is open for business and has just coughed up US$130M to acquire a new gas project which is located immediately adjacent to Tourmaline's existing production facilities. The current production range at the Deep Basin assets is approximately 4,500-5,000 boe/day but this could easily be boosted by 50-66% by the end of this year. On top of that, Tourmaline expects it should be pretty easy to continue to increase the production rate of this gas field in 2017 and beyond, making this an excellent bolt-on acquisition.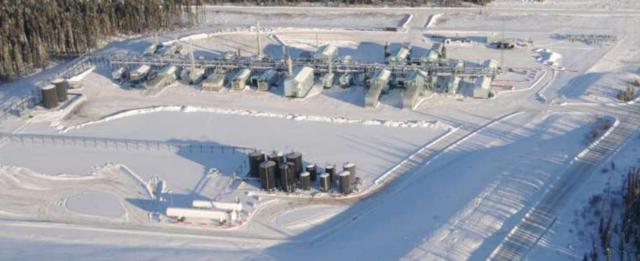 Source: company presentation
US$130M sounds like quite a lot of cash for any O&G company with the oil price still trading in the lower thirties, but I'm actually quite impressed by the cheap price Tourmaline was able to pay for the acquisition. According to the company, the gas field will generate a cash flow of approximately US$22-25M per year which means Tourmaline paid less than 6 times the operating cash flow for the new addition. And indeed, that's definitely not expensive at all, especially when you realize there are additional synergy advantages that could be unlocked. Tourmaline plans to re-route the gas to its own gas processing plant which will cut the operating costs of the new asset by 50% and this should further enhance the cash flows (and reduce the payback period even more).
To finance the acquisition, Tourmaline isn't taking on any additional debt. As it wants to protect the balance sheet, it has decided to cut the capital expenditures to US$650M to be able to afford the acquisition. And this, my dear readers, is exactly the sort of common sense and logical thinking I'd like to see at every company I'm considering to invest in. Don't overspend, but make logical choices.
Investment thesis
It's good to hear the company has been able to reach the exit rate it was eyeing in 2015, and I'm looking forward to see the production rate being ramped up to in excess of 220,000 boe/day on the back of more tie-ins and the new acquisition. This new acquisition could provide a very nice boost to Tourmaline's financial results as the company expects to be able to cut the production costs by 50% (!) by taking advantage of the synergy benefits.
Tourmaline remains on track to surprise quite a few people, and the capital expenditures in 2016 will fall by approximately 35% compared to the 2015 level.
Disclosure: I/we have no positions in any stocks mentioned, and no plans to initiate any positions within the next 72 hours.
I wrote this article myself, and it expresses my own opinions. I am not receiving compensation for it (other than from Seeking Alpha). I have no business relationship with any company whose stock is mentioned in this article.
Editor's Note: This article discusses one or more securities that do not trade on a major U.S. exchange. Please be aware of the risks associated with these stocks.