OTG EXP Incorporated (NASDAQ: OTG) expects to raise $584 million in its upcoming IPO. Based in New York, New York, OTG EXP operates food and beverage facilities within airports in North America.
We previewed OTG on our IPO Insights platform, a weekly highlight of deals on deck, along with unique real-time alerts as they develop. We also highlight opportunities to buy and short newly public companies at their IPO quiet period and lockup period expirations.
This week OTG will offer 32.5 million shares at an expected price range of $16 to $18. OTG filed for the IPO on January 7, 2016.
Lead Underwriters: Credit Suisse Securities and Morgan Stanley
Underwriters: Barclays Capital, BMO Capital Markets, Fifth Third Securities, KeyBanc Capital Markets, Maxim Group, and Regions Securities
Business Summary: Operator of Food and Beverage Facilities in Airports
OTG EXP operates food and beverage facilities in airports across North America. The company has approximately 220 locations in 23 terminals in 10 airports. OTG EXP serves individuals, crewmembers, employees and airport partners, as well as airport operators, airlines, concession program managers and other commercial operations.
The company's current target market is the top 30 airports in North America by passenger and cargo data. These airports account for 576 enplanements and $5.2 billion in sales from news and gift concession retailers.
OTG has operations in the highest traveled airports including Kennedy, Newark, LaGuardia, Reagan, Philadelphia, Toronto-Pearson, and Minneapolis-St. Paul. During fiscal years 2012 to 2014, OTG grew from 111 food and beverage sites in eight airports to more than 220 sites in 10 airports. During that same time period, net sales grew from $146 million to $274 million, for a CAGR of 23 percent.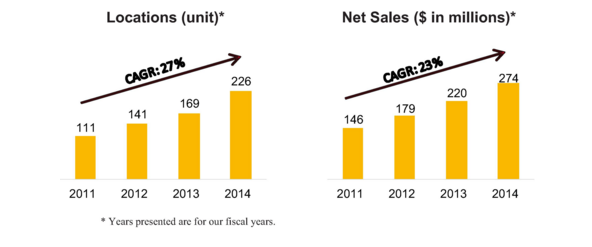 (Source)
OTG EXP integrates four primary goals into its business model including:
· Inviting hospitality
· Authentic dining experiences
· Thoughtful and innovative design
· State-of-the-art technology
In addition, the company keeps celebrated chefs such as Andrew Carmillini, Mario Carbone and Michael White as consultants, and they utilize high-quality design firms to create inviting spaces within the airports to draw in customers.
OTG expects to use the proceeds of the IPO to purchase newly-issued LLC units from the LLC, which will then use the proceeds to pay down debt.
Executive Management Highlights
Chairman of the Board and CEO Eric Blatstein is also the founder of OTG EXP. He has over 30 years of experience in the restaurant and hospitality sectors, and he consults on industry panels such as the PHX Symposium and the Trinity Forum.
President Brian Britton has over 15 years of experience in executive operations positions. He has held positions at Levy Restaurants and The Walt Disney Company. He holds a bachelor's degree in systems engineering from the United States Naval Academy and a master's degree from Harvard Business School.
Potential Competition: AirMall, Westfield Corporation and Marketplace Development
Competition for retail space in leading airports is considered intense, especially with the number of captive consumers who travel through airports each year. OTG EXP faces competition from AirMall, Marketplace Development, Westfield Corporation (NASDAQ:WFD), and other operators such as Starbucks (NASDAQ:SBUX), PF Changs (NASDAQ:PFCB), McDonalds (NYSE:MCD), HMS Host, and The Grove.
Financial Overview: Growing Sales, Widening Losses
OTG EXP Incorporated provided the following figures from its financial documents for the 39 weeks ended September 27:
| | | |
| --- | --- | --- |
| | 2015 | 2014 |
| Net Sales | $285,321,000 | $199,759,000 |
| Net Income | ($116,120,000) | ($24,811,000) |
As of September 27, 2015:
| | |
| --- | --- |
| Total Assets | $277,458,000 |
| Total Liabilities | $584,290,000 |
| Stockholder's Equity | ($308,137000) |
Conclusion: Consider An Allocation
We are intrigued by OTG's unique business (compared with the several healthcare deals YTD). A diverse syndicate could support the deal to success, following the solid performances of BGNE and EDIT IPOs last week.
We do have concerns about OTG's growing losses, which are significantly more than its sales growth. Additional risks include failure to expand into new airport terminals, reliance on New York airports, restrictions due to debt requirements, and risks from adverse weather/other incidents driving customers away from airports.
We suggest investors consider a modest allocation.
Disclosure: I/we have no positions in any stocks mentioned, and no plans to initiate any positions within the next 72 hours.
I wrote this article myself, and it expresses my own opinions. I am not receiving compensation for it (other than from Seeking Alpha). I have no business relationship with any company whose stock is mentioned in this article.