My last article on Netflix (NASDAQ:NFLX) was published right before the company reported its Q4 earnings report. In that article, I outlined problems with Netflix's ongoing international expansion. In particular, I pointed out the inferiority of its EU product and how Netflix will continue to struggle to streamline its localized versions. Another Seeking Alpha author has recently highlighted the massive requirements that will likely cause the company to raise capital either through bonds or an equity offering.
The main point of my previous article was that investors would come to the medium-term realization that Netflix is offering a commodity service that will ultimately be only one of many. Its sky-high valuation is based on the assumption of a swift international expansion that will lead it into dominance over competitors that are still figuring out their strategy (e.g. Hulu). In this article, I give a post-earnings update and reflect on the weakness of technology stocks we saw last week.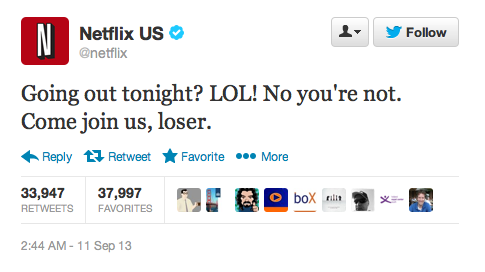 Post-earnings observations
Netflix reported strong earnings: 1.56M domestic net subscribers were added (versus a consensus estimate of just over 1.3M ). More importantly, over 4M international subscribers were also added. Since Netflix has primarily been judged on its subscriber expansion in the past years, the slight revenue miss was negligible with regard to the general positive judgment on their results. Yet, the stock collapsed spectacularly after soaring over 10% in after-hours trading. Netflix has lost almost a quarter of its market capitalization since reporting 'strong earnings', trading down from around $108 to $82.65 in the first week of February.
While my pre-earnings short thesis looks good with regard to the actual outcome, I don't think I was really right about how things would unfold. In this article, I correct my short hypothesis with regard to recent events, namely LinkedIn's (NYSE:LNKD) collapse. LinkedIn reported Q4 results last Thursday. While its revenues came in over the consensus estimate, LinkedIn management lowered its 2016 guidance by roughly 10%. The reaction on Friday was absolutely brutal. LinkedIn shares fell by 43.6% and dragged down the whole sector with it.
Netflix is not LinkedIn
I knew you were about to say that. Of course, Netflix is not LinkedIn. Netflix is currently dominating the online streaming business. LinkedIn is dominating the online recruiting business, but growth has slowed down, whereas Netflix's growth has not. Netflix reported strong earnings, but nonetheless got crushed with the overall equity market, which seemingly has become unforgiving towards high-multiple tech stocks.
Some (like a Piper Jaffray analyst) find that Netflix is an attractive buy again at current levels. I attribute this to mental anchoring. In a bull market, 'buying the dip' pretty much always works, so any share price is viewed relatively to the most recent (all-time) high. Netflix is off almost 40% from its late 2015 highs. The problem is that it is still comically overvalued by any sensible metric (current P/E is ~290). So the truly interesting question is, how bad can it get from here onward?
This is where my LinkedIn comparison comes in. As long as the growth story continues, high multiple tech stocks can be fine if there is GAAP-profit to go with the growth. Facebook (NASDAQ:FB) is fine and will continue to be fine. LinkedIn shows how a beginning bear market reacts when the music stops playing. Netflix still has an intact growth story, even though it is burning money to finance its expansion. Nevertheless, the stock is down 40%. The next quarterly earnings report is a few months away and the market might recover a bit.
I just want to take the time to imagine what happens to Netflix when it reports some actual bad news. Netflix will not do a GoPro (NASDAQ:GPRO) because people realize its product is one of many commodity platforms of streaming content. The much more imminent danger is that any real bad news cause a LinkedIn-like deflation, which would send shares way below $50.
All-time high?
Let's consider one of my favorite charts of all-time. It is Microsoft's (NASDAQ:MSFT) share price over the past 30 years.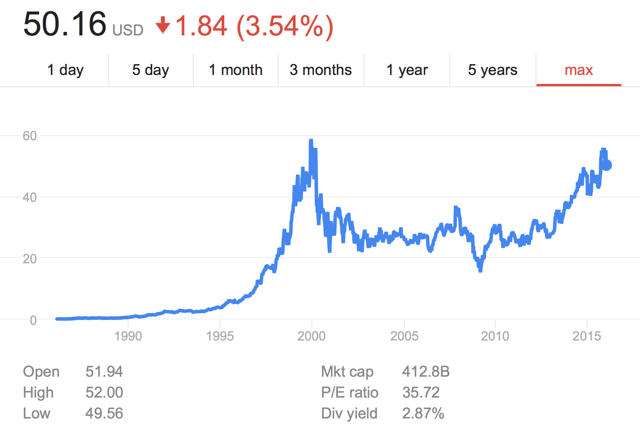 If you are a Netflix shareholder and are asking yourself whether you should continue holding your shares with the hopes of the company reclaiming its late 2015 highs, this chart summarizes my view. It took Microsoft 15 years to grow into its pre-dotcom crash valuation. I expect something similar with Netflix. The company has a strong product that will continue to grow. It might, however, take the better part of a decade to grow into its late 2015 valuation and justify it with profits. Until then, tough times might be ahead. If you are playing the long-game - hedge, hedge, hedge. Otherwise you might see a LinkedIn-style compression when subscriber growth stumbles.
Disclosure: I am/we are long LNKD.
I wrote this article myself, and it expresses my own opinions. I am not receiving compensation for it (other than from Seeking Alpha). I have no business relationship with any company whose stock is mentioned in this article.