With oil and gas limited partnerships in the headlines due to constant financial challenges from the lower commodity pricing, it's nice to see that at least one partnership that probably will make it through the storm. Memorial Production Partners Limited Partnership (NASDAQ:MEMP) announced a reduced distribution of $.10 per share per quarter for an annual rate of $.40 per share. More interestingly, the company believes that it can maintain that rate throughout the year. In 2015, the company made two acquisitions, and now is pouring a fair chunk of its greatly reduced budget into at least one of those acquisitions. This company could climb past the current industry difficulties much faster than its peers because of how it is doing things.
It has one of the best hedging programs in the industry.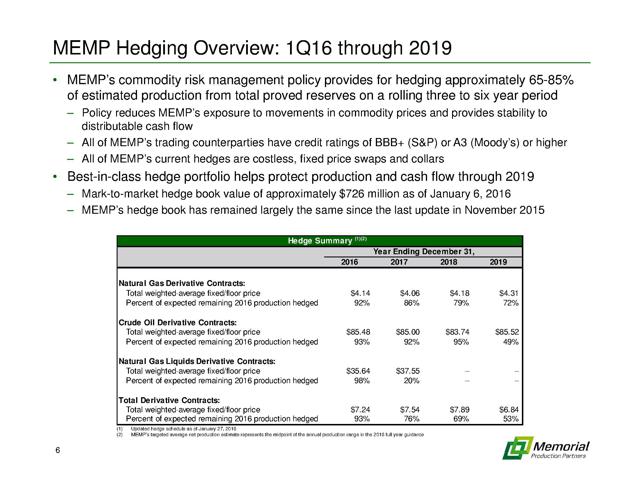 Source: Memorial Production Partners LP 2016 Guidance, January, 2016
From the 2016 guidance presentation, the company is fully hedged for this year, and is the only company that I cover with this much hedging for 2016 through 2019. So even though its cash flow is affected by commodity price declines, the cash flow is less affected than is the case with the rest of the industry which is far less hedged. Here is a company that realized what commodity price declines could do and took measures to minimize the damage.
As noted previously, this company has a history of making acquisitions. It had made an average of an acquisition a year for quite some time. Usually the acquisitions are small, and the company has an adequate history of integrating the acquisitions promptly and with minimal disruptions. Last year the company made two acquisitions. Purchasing distressed property in the current environment could lead to a lower cost structure for this company faster than other competitors in the industry.
The company credit line was adjusted after the last acquisition in November, and management had stated that they wanted to move some of the debt off the credit line. Management has until about April or so for another credit line redetermination, so there is still some time for the company to move some money off the credit line and into bonds, a business development corporation, or a private party should it choose to do so. In the meantime there is more than $300 million available and that should be plenty of liquidity.
The company has some means to increase its reserves cheaply though as it claims to purchase properties where reserves and production can be increased through reworks and drilling. One or two wells place correctly could cushion the commodity price declines. Or maybe some re-completions in a previously unknown zone on some of the leases that have multiple plays. This may offset the declines due to lower commodity pricing. In addition, the company can demonstrate a comprehensive hedging program second to none that makes reserves profitable to produce for this company (that may not be profitable for others to produce with a less effective hedging program). That hedging book is worth far more to the lenders than it is with most companies.
Source: Memorial Production Partners LP 2016 Guidance, January, 2016
From the 2016 guidance presentation, an investor can bet that the company's lenders saw this. Management has been proactive in handling their debt in the past, they have made some judicious acquisitions that have probably lowered their operating costs and provided reworks available when drilling really does not pay back in an environment like this (on some properties), plus they have found a way to maintain a dividend. The company would be absolutely crazy to put out a document like this without passing the major points by their lenders. Now commodity prices can still go lower still and then this would have to change, but it is still very significant that the company is able to put out this guidance.
"As disclosing the earnings release, a recent mark-to-market of our hedge book was $681 million although over $140 million in value in 2018 and over $90 million in 2019. Given the volatility in the market and a heightened focus on maintaining liquidity through this prolong downturn; we are thinking through the merits of monetizing a portion of the earlier hedges with the Board. We are taking great measures to build our hedge book over the last four years and continue to see it as a major asset that can provide some flexibility in these volatile times."

"Further, we are actively pursuing the ability to bond side our plugging abandonment obligations at Beta which will provide a significant release of cash, potentially in excess of $50 million."
From the third quarter conference call transcript, this company has some very significant sources of liquidity. Since commodity prices have dropped considerably since the last conference call, that hedge position has definitely increased in value. It is probably getting close in value to the amount of the credit line with the bank. So the company may well book a significant hedging gain for the fourth quarter of 2015 and first quarter of 2016. If they decide to liquidate some or all of that hedging, the lenders may request some of that money (or demand it) but it is still a source of available liquidity should the company need it, and that liquidity is worth more than one third of the value of the long term debt.
Plus the company could liquidate is 2019 and 2018 hedging and still have far more protection than most of the industry. In the quote above those two years were worth more than $200 million, and they have only increased in value as commodity prices have declined.
In the latest company presentation, the company is stating that it is not currently considering liquidating any of the hedging position. However, that could change as the value continues to build, and the company adjusts to the new lower cost environment. Whether or not the company uses the hedges for cash, those hedges are a source of liquidity and will remain so as long as they are on the books.
The money that is returned from bonding the plugging abandonment obligations is not quite as liquid, but the company is predicting to have the money around the third quarter. The company also has a packaging of outlying Permian properties that are not efficient to manage so it wants to sell them. That gives the company several sources of very crucial liquidity should the company need those sources. These values will be looked at by the lender also as part of the periodic evaluation of the company credit line. Therefore this company looks much better than average at this point in the eyes of a lender.
The company estimates that it has cash flow from operations of about $185 million, and that it has about $2 billion in long term debt. The long term debt to cash flow ratio is therefore in excess of ten to one. But what may well make this a viable proposition is the hedges, and the non-essential property sales that would enhance liquidity in a crunch if that is what the company needed. This limited partnership is clearly in shape to operate as it always has and weather the current storm. Unforeseen conditions could make things worse (like much lower commodity pricing for an extended period of time or maybe some unexpected dry holes). However, in an era where banks and other lenders have a ton of distressed companies, this company is a very pleasant surprise. It has taken some hits, but it is still standing and its model is clearly viable.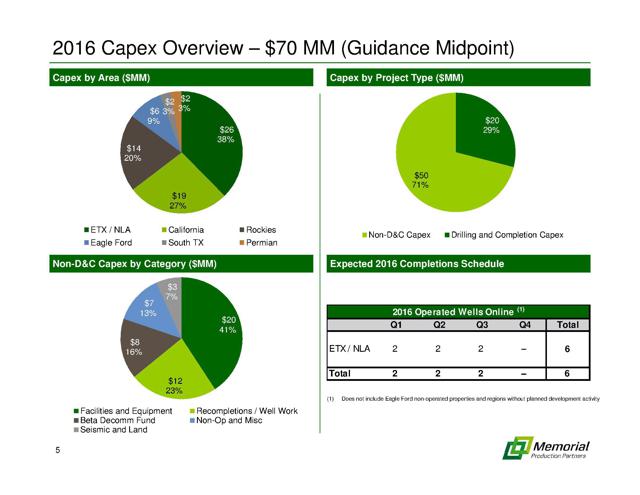 Source: Memorial Production Partners LP 2016 Guidance, January, 2016
From the 2016 guidance presentation, the emphasis will be on high IRR reworks. The number of new wells drilled will be minimal, and the average amount of production this year will be about 7% less than last year. This budget is very flexible and could therefore go lower or higher (especially the number of new wells). California, where the new Beta acquisition is located, will receive the second largest chunk of money.
"As you may recall from our second quarter call, one of the new wells of Beta had an IP of 2,100 barrels a day and we've reduced costs there by over 30%, unhedged operating margins are around 40% and unhedged drilling rates of return are in access of 30%, both a current strip process. Given these economics along with full operational control, only more of this bill will give us greater flexibility in our capital planning and execution in 2016 and beyond.

Further by improved oil reserves for less than $9 per barrel in the ground, historically, very low long-lived oil multiple."
From the third quarter conference call, the company later stated that the Beta properties had about 40% of their production hedged, and that hedging came along with the properties in the acquisition. Furthermore, the company rearranged its hedging portfolio to better match the production from these properties and provide further protection. So even though commodity prices have since declined considerably since the third quarter conference call, these properties could be very profitable to the company, and any way of cheaply adding production could increase that profitability. Beta produces mostly oil, which is a little more profitable than gas. Like many other companies with choices between oil and gas this company is currently opting to increase its oil production.
The largest budget is still for the East Texas - North Louisiana properties. The North Louisiana area emphasizes gas, but the South Texas area emphasizes liquids and is operated by Murphy Oil (NYSE:MUR) Corporation, a known low cost producer. The lease operating costs of Murphy run in the six dollar range. It has reported some major declines in well drilling costs. So if anyone can make money in this environment, its Murphy, and if that company wants to drill with the current low commodity price environment, then that money will earn a decent return (probably unhedged). Murphy Oil does not have that robust a hedging program for its production. Instead it depends upon its low costs to make money. So if Memorial Limited Partners has hedged this production as the company indicated, it could really be raking in the cash for this production.
Since the company does not operate the wells, it does not control the pace of drilling and development of the leases. It can however, opt out of any wells that it does not deem profitable. Murphy, however, has reported sharply decreased drilling times, and relative well outperformance in this area. So the South Texas area could show more profits than currently budgeted. So about half of the company's money is allocated towards some prospects that could very well exceed the official budget expectations.
Summary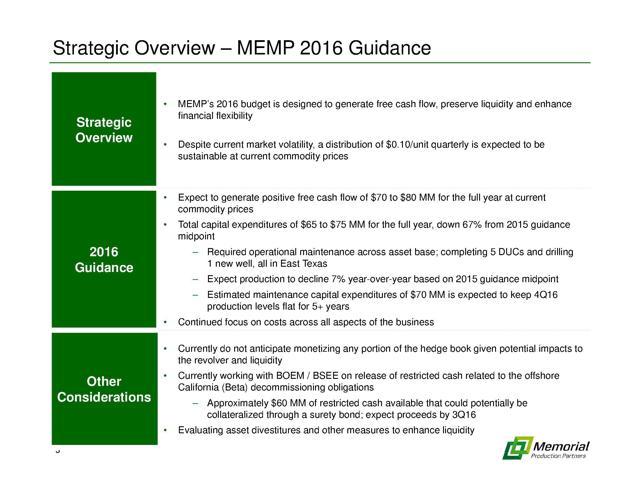 Source: Memorial Production Partners LP 2016 Guidance, January, 2016
From the 2016 guidance presentation, the company made a fairly conservative budget. While production is expected to decline, the emphasis on the California acquisition could well increase the percentage of oil produced across the company and lead to increased profitability. This budget might even be relatively "bullet proof". However, should prices go lower, the company has extensive hedging to protect its cash flow, so it is unlikely to be fatally damaged by lower commodity pricing. Oil prices would need to drop considerably from the current levels and stay there for this budget to be in danger of needing a material revision.
In the second half of the year, the company should have about $60 million from the Beta acquisition bonding issues. This could be right about the time that oil prices begin to rally. Should the company want to expand its operations because commodity prices are favorable, that $60 million could come in handy. The company also has the option of liquidating some of all of its hedging (probably with the consent of its lenders).
That potential sixty million dollar windfall makes the dividend look far more secure than it otherwise might. Currently the market is betting against the sustainability of the dividend. But this company has more than a few extra potential resources to maintain the dividend. It has an excellent partner in South Texas in Murphy Oil. Costs to drill, and resource recoveries could exceed budget expectations. Shareholders can expect Murphy to beat forecasts as Murphy does not have much of a hedging program to protect itself from low prices. The Beta acquisition in California also looks to make more money than forecasted.
So the company could do better than it forecasts. But the big news is the company believes that it has a sustainable distribution at what is probably the bottom of the oil pricing cycle. Investors taking a small position in this company as part of a basket of diversified speculations, could find this company a very rewarding (though risky) investment. Since that dividend currently yields more than fifteen percent (market close on February 5, 2016), Mr. Market is clearly expecting another cut. That dividend will be raised when oil prices start their inevitable up cycle.
If the company management is wrong and the distribution needs to be eliminated, the stock price has already taken that into account. So losses from such a move may not be that great. But it really comes down to how much faith the investor has in this management. Financially this management has done far better than competitors such as Linn Energy (LINE). It has been proactive in handling its debt in the past and it has made some judicious acquisitions that have give the company some very low cost and high return prospects in this very adverse industry outlook. Expect this management to find a way to survive the current downturn in far better shape than the competition.
Disclaimer: I am not an investment advisor and this is not a recommendation to buy or sell a security. Investors are recommended to read all of the company's filings and press releases as well as do their own research to determine if the company fits their own investment objectives and risk portfolios.
Disclosure: I/we have no positions in any stocks mentioned, and no plans to initiate any positions within the next 72 hours.
I wrote this article myself, and it expresses my own opinions. I am not receiving compensation for it (other than from Seeking Alpha). I have no business relationship with any company whose stock is mentioned in this article.