Allied Motion Technologies, Inc. (NASDAQ:AMOT) has a solid financial position and historical FCF growth. The company is going to keep growing due to the recent acquisition of Heidrive for $22M that's going to boost revenue like it happened in 2013 with a previous acquisition, and the board is doing a good job running the company in a very responsible way as it has been able to repay part of its long-term debt while they have increased its dividends and cash.
Taking into account a DCF model, AMOT is undervalued, with a 38% share price growth potential. Looking at some relative valuation metrics, we can also see that those metrics are not reflecting the high growth that the company has conducted during the last 3-4 years due to the high pressure that the company's shares have suffered since last year.
In spite of that, the macroeconomic situation for the industry is concerning and it can drag revenue in the short-mid-term, so that's the reason why AMOT is a good bet for the long run instead of a short term.
Company overview:
Allied Motion Technologies is a designer, manufacturer and seller of motors, electronic motion controls, gearing and optical encoders, based in Colorado, since 1962.
The company operates in the aerospace and defense, electronics and vehicle markets, selling its products using its own sales force and distributors.
AMOT decided to split its installations into owned and leased, in order to reduce its costs of acquisition when they need to increase it.
The board is conducting a long-term growth strategy in order to create value for the shareholders. In order to achieve that, they invest in personnel to have the highest skilled professionals of the industry and they also base its business in their know-how when they produce its products. They also look for improving its net margin, for what they conduct a cost improvement policy.
In order to increase the company's market share, open new markets and diversify its product range, the company purchased Globe Motors, what boosted 2014 revenue and doubled its income, and during the first quarter of this year (2016) they are going to close a deal to acquire Heidrive for $22M (Heidrive provides customized products for many industries, from medical technology to building tech). Those are strategic acquisitions as the company is trying to transform its business from being a component supplier to a more complete solutions provider.
The company ownership is divided as follows:
22% of insider ownership (an 11.22% owned by founder and CEO Richard S. Warzala).
42.85% of institutional ownership.
Sector overview:
The global macroeconomic situation is concerning right now and as we could see in the latest European metrics recently released, it seems that's becoming worst by moments. And also the US economy, despite having released lower unemployment rates recently, is going to perform worst due to the USD strength.
The Chinese slowdown, jointly with the forex volatility and the US strength against foreign currencies, has hit global trade and this is affecting the industry as global demand is lower than last year. I expect industrial demand to remain flat or even lower during 2016 due to the deteriorating macroeconomic situation.
The industry in which AMOT operates is highly leveraged due to the expansive monetary policies conducted by many central banks, and despite the US tightening policy, I'm not worried about the lack of cheap financing in the short-medium run as the ECB is going to keep interest rates low due to the low inflation that the EU is suffering (and other central banks are going to keep interest rates flat in the mid term, so it will be easy to get cheap financing).
On the other hand, industrial companies are going to benefit from low raw materials costs due to the pressure from a lower demand from large industrial economies such as China and, in the case of oil not only a lower demand but also a higher supply.
Financials: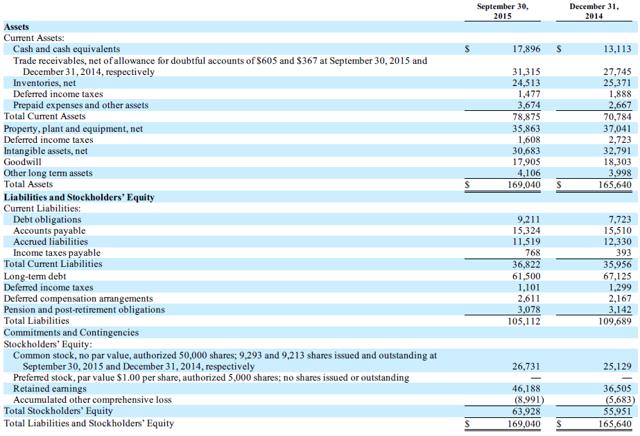 Source: AMOT November 05, 2015 10Q
In 2013, when AMOT acquired Globe Motors, that was a company with a similar size and it acquired some long-term debt. Before that, AMOT hasn't had as much long-term debt as it owns nowadays (the company was holding a 1.11 debt to equity ratio in Sept 2015). But, it seems that the board is doing a good job as, despite acquiring another company recently they have been able to increase dividends and payback long-term debt while they have increased its cash (AMOT has reduced its long-term debt from $73.5M in Dec 2013 to $61.50M in Sept 2015 as can be seen in the balance sheet above).
It's true that the company has issued some shares in order to do that and it would maybe be better to reduce or even eliminate its dividends until the whole (or at least a great part) long-term debt has been paid, but with a 27.80% ROE (using Sept 2015 data) that is not to be a major concern for shareholders and is not destroying shareholder value.
The company has a 10.36% operating margin and 6.26% net margin, what's fairly above the global electronic components industry median (a 6.84 and 3.23%, respectively) and it won't have any problem to pay its debt interests in the short run as it has a quick ratio of 1.48 (in Sept 2015).
AMOT has no problems generating cash from its assets as it has been able to keep a 8.4 ROA during the last 6 years (8.9 in Sept 2015).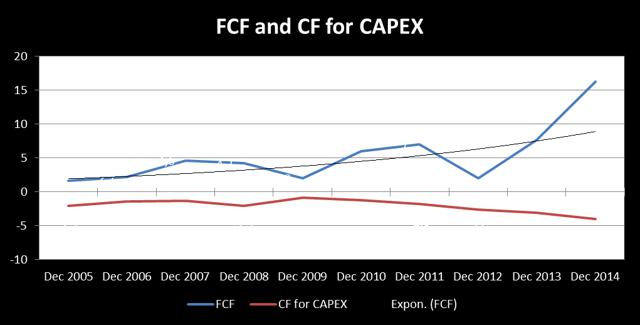 About FCF, we can see that the company has no problems generating it and that it has skyrocketed since 2013 as a consequence of the previously mentioned acquisition.
Taking a look at income statements, we can see that the company had reduced its income a 3.3% during 2015 (using Sept 2015 figures) but it has also reduced its costs of goods sold by a 4.03%, so it seems that the efficiency plan is working slowly but well.
We can also see that its total operating costs and expenses have been reduced by a 5.07%, despite having increased its engineering and development expenses by a 3%. But they have also reduced its amortization costs, maybe to make up a bit the numbers, but in spite of that they have also substantially reduced other expenses like the general and administrative ones.
Valuation:
From a DCF point of view, I have used the following metrics in order to obtain a fair value per share for the company:
Discount rate: 17.93% (obtained from the sum of the company WACC + a 5.37% that can be obtained by the difference of WACC-ROIC, so then we cover the possibility of a 'non value creation' scenario).
Terminal growth rate: 1.5%
Short-term growth rates: 2% and 1.5% (for 1-5 and 5-10 years).
So, by using this metrics we obtain an estimate fair value of $23.60 per share, what's a 38% higher than today's price ($17.05).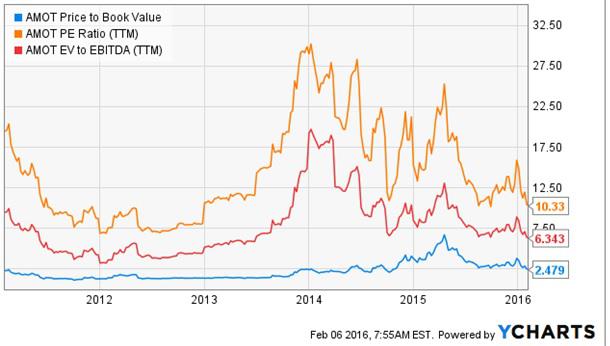 From a relative point of view, we can see in the chart above that the company is trading at multiples near to the lower ones we could see in 2012 despite having doubled its income and increased its FCF per share in more than 7X.
The company is also trading at lower metrics than its industry average, so in my opinion it doesn't make sense the recent pressure on the company shares and it offers a good opportunity for the long run even more taking into account that the new acquisition of Heidrive is going to boost revenue again as it happened with Globe Motors in 2014.
Risks:
The Chinese slowdown will have a certain impact in the business as demand from that country will be lower. The global economic situation is also concerning so if things continue to deteriorate the company is going to suffer.
Forex volatility will also have an impact in the bottom line as some of its revenue comes from outside the USA.
Another risk is competitors, but the company is doing a great job conducting a know-how strategy as that, joint with its patents are going to protect the company against them.
As the company is acquiring some companies in order to increase its market share there's the risk of doing bad acquisitions, by paying more than needed for a certain company or by acquiring not such a good company for the business.
Disclosure: I/we have no positions in any stocks mentioned, and no plans to initiate any positions within the next 72 hours.
I wrote this article myself, and it expresses my own opinions. I am not receiving compensation for it (other than from Seeking Alpha). I have no business relationship with any company whose stock is mentioned in this article.