I am a long-suffering Toronto Maple Leafs fan. This year might go down as one of the tougher seasons in Maple Leafs history. Even if you're not a hockey fan, you can appreciate this.
It's better when the Leafs flat out stink. During these times, you're left with no hope. No expectations whatsoever. But, this season the Leafs actually are not half-bad. They have, arguably, the top tandem in the NHL with Phil Kessel and Joffrey Lupul. And us diehards hold out hope that the league's best GM, Brian Burke, will work some magic prior to the trade deadline, shoring up the goaltending situation and snagging some size up front.
Even when the Leafs are undeniably horrible, us fans have something to hang our hats on. The boys remain the top draw throughout Canada, particularly in Ontario, win or lose. As much as I hate to make this comparison, Research In Motion (RIMM) has been able to at least look to its home country for a nod and a smile throughout its pathetic implosion.
Of course, there was talk that the Canadian government would never approve a foreign takeover of RIM. And RIM could always count on Canada as the one place where it owned a lead in the race to the smart phone. Apple (NASDAQ:AAPL), as it has done just about everywhere else, is about to yank that feather from RIM's toque.
Consider the latest data from comScore: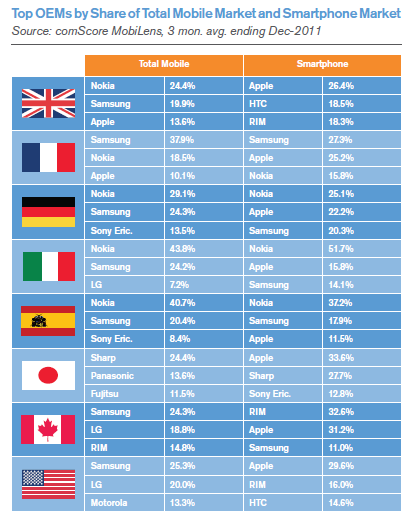 And then the research firm's analysis of the Canadian numbers:
While RIM currently maintains the top position in Canada, the market dynamics are shifting and its hold is tenuous at best. Apple looks poised to assume the top position during the first few months of the year, though Android could surprise and get there first. Over the past six months, RIM has lost 6 percentage points of market share with most of it going to Android.
So, iPhone is about to overtake RIM in its own backyard as phones running Google's (NASDAQ:GOOG) Android operating system also eat away at RIM's market share north of the border.
You may (or may not) remember an article I wrote last April. In Short Play on RIM After Apple Moves Into Its Backyard, I noted that Apple had plans to open a store in Waterloo, Ontario, where RIM keeps its headquarters. In that article, I thought it might make sense to consider ...
The Jan 2013 RIMM $55 puts, which traded at $9.80 back in late March. With open interest of 5,504, no contracts changed hands on Wednesday, but the bid/ask spread was $10.15/$10.40. I feel comfortable getting in on either of these plays on any strength in RIMM (for example, the type of move up we saw on Wednesday). In addition, I will also look at the out-of-the-money LEAPS puts in RIMM, ranging from $42.50 to $52.50.
At the moment, those RIMM Jan 2013 $55 puts sport a bid price of $38.55. For you non-math geeks out there, each contract represents a profit of roughly $2,875 if you got in for $9.80 back in late March 2011.
That's all fine and dandy. RIM imploded. Canadian Parliament should disown the company. And Apple makes the fantastically symbolic move of opening a store in Waterloo just as it's about to kick RIM's butt in yet another sovereign nation. But, what can you do today, as an investor, who remains laughably bearish on RIM other than buy AAPL?
Great question. And I am not certain I have the answer. There might not be one at this point other than choosing not to decide. And that will be your choice.
I sure as heck do not buy any type of bull case, ranging from turnaround (hearty laughter) to buy-out (who in their right mind!?). At the same time, the bear case of bankruptcy likely has quite a while to play itself out. Why tie up capital, on either end, waiting around for something that might never happen? This stock will likely stagnate and head fake, up and down, for the foreseeable future. If you're unfortunate to be sitting on shares at a loss, think about selling some covered calls, but be prepared to bail at a moment's notice.
Disclosure: I am long AAPL.