During the earnings conference call on January 19, AMD's (NASDAQ:AMD) management made it clear that gaining market share in the PC client space was an objective for the new year. AMD's Carrizo notebook processors are the linchpin of this strategy, targeted at the all important $400-700 segment. However, systems running Carrizo will not be competitive with Intel (NASDAQ:INTC) notebooks in performance, but will cost about the same. Carrizo could become just the latest in a string of financial setbacks for AMD.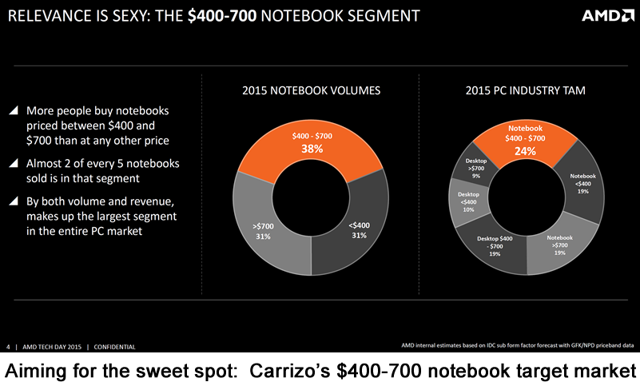 Source: Anandtech
Good Aim, Poor Ammunition
AMD's Carrizo laptop processors were very deliberately aimed at the most important segment of the PC industry. According to the chart above from AMD, the $400-700 notebook segment represented nearly a quarter of all PC sales in 2015 and 38% of all notebooks.
Carrizo is a system on chip (SOC) similar to the SOCs in mobile devices such as smartphones. Its design includes an on-board graphics processor, dual CPU cores as well as peripheral interfaces. The highly integrated SOC was supposed to provide performance improvement along with greater battery life: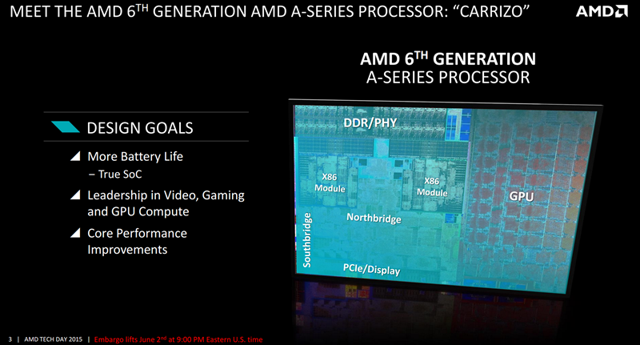 It was nearly a year ago that AMD revealed Carrizo to the world. Although Carrizo would be manufactured on the same process node (28 nm) as the previous generation, AMD promised significant architectural improvements. But it wasn't clear how Carrizo would stack up against the new Intel Skylake processors fabricated on Intel's much superior 14 nm FinFET process. It didn't seem that architectural improvements alone could bridge the performance gap of two process generations.
Late in the year, as more and more Skylake processors hit the market, I was still wondering how Carrizo would compare. There didn't seem to be any systems on the market, and test data was sketchy. As of the September quarter earnings report, I could only find a single review of a Carrizo system. On the basis of the limited data, I predicted that Carrizo would be dead on arrival.
The new year has finally seen the arrival of Carrizo in laptops from companies such as HP (NYSE:HPQ) and Lenovo (OTCPK:LNVGY), along with the most comprehensive review we're likely to see of Carrizo laptops in Anandtech. Well, calling the Anandtech article a review may be something of a misnomer: mournful eulogy might be more accurate.
The author seems genuinely reluctant to break the news of how bad Carrizo is compared to Skylake. When he finally gets around to it (after 15 separate web pages), it's truly bad. In every single benchmark Skylake processors with the same power rating as Carrizo were better by a large margin, usually 50-100% better. The Carrizo and Skylake processors tested both included on-board graphics, but even AMD's much vaunted graphics were no match for the Intel processors.
CPU Cost vs. System Cost
Of course, the AMD processors are quite a bit less expensive, with Anandtech indicating a price of less than $150 for AMD vs. about $300 for Intel (with variations depending on specific processor). It can be argued that AMD processors offer slightly better performance/cost compared to Intel.
However, this cost differential isn't being reflected in the system cost to the consumer. The best way to see this is to look at the few systems that are offered in Intel and AMD versions, but are otherwise identical. For instance, the Lenovo Ideapad 500 AMD version starts at $499.00, while the Intel version starts at $549.00. The HP Pavilion 17z Touch Laptop AMD version starts at $749.00, while the Intel version starts at $639.00.
Why would the Intel version be less expensive? This could be due to the difference in manufacturing volume between the two versions, and it's possible Intel is offering special discounts as well.
Investor Takeaway
Given the very important market segment that Carrizo was intended to address, I think it's reasonable to conclude that Carrizo was intended to be the principal vehicle by which AMD would achieve greater PC market share in 2016. However, it's a poor vehicle for that purpose. Whatever cost advantage Carrizo may have is swamped by the notebook system costs, and the cost advantage doesn't reach the consumer.
All the consumer is going to see are systems of comparable cost, but very different performance. AMD has given consumers an easy choice, and it's not Carrizo.
AMD's next generation processor architecture, known as Zen, offers some hope of being truly competitive. It will be fabricated on a 14 nm FinFET process, probably by Global Foundries. Zen also will feature other architectural advancements. At the January earnings call, AMD was a little vague about the release of Zen, but appeared to confirm that volume production would not start until 2017.
That leaves Carrizo to carry the ball this year. I believe Carrizo has all the makings of a financial disaster for AMD. It won't increase market share or PC revenue, but it will end up costing a bundle in inventory write downs and purchase commitments for Carrizo wafers the company doesn't need.
In my article on AMD's December quarter earnings, I concluded that trying to compete with Intel in x86 architecture devices is a dead end. I believe that Carrizo, rather than being a vehicle of market share growth, will be the vehicle that demonstrates that AMD has reached a dead end in PC processors. I continue to rate AMD a sell.
Disclosure: I/we have no positions in any stocks mentioned, and no plans to initiate any positions within the next 72 hours.
I wrote this article myself, and it expresses my own opinions. I am not receiving compensation for it (other than from Seeking Alpha). I have no business relationship with any company whose stock is mentioned in this article.