There is no question that it is a zero percent interest rate world out there today. For fixed income investors who depend on dividends and interest to survive, life it hard and has been for quite a while.
Last year, it appeared the situation might be about to change toward the benefit of those needing to earn a decent return on income type investments when the Fed was signaling it was ready to start raising its lending rates.
At their last 2015 meeting, they bumped the short-term rate a ¼ point and strongly implied they intended to continue that trend on a quarterly basis through 2016. However, a weak stock market and weakening economic indicators now seems to have put that plan back on the shelf. Some are even beginning to call for a reversal of the ¼ increase that was implemented last year.
What's an income investor to do?
Ares Capital- A Solution To Your Income Dilemma
As a business development company (BDC) Ares Capital Corporation (NASDAQ:ARCC) pays no income tax on its earnings. In exchange for this special treatment, it is required to pay out almost all of its earnings in distributions to its shareholders who are then taxed as if the money is normal income. A relatively small amount it treated as long-term capital gains.
Ares Capital is involved in providing capital to the grossly underserved market of mid-sized private companies. It makes these capital allocations across a wide variety of businesses and industries and employs investment professionals to assess the quality of the businesses seeking capital.
Areas deals with both domestic and international companies and will make loans involving Senior Secured Loans, Senior Subordinated Debt and Equity. These loans tend to be very high on the repayment ladder in the case of liquidation which minimizes the potential loss in the worst case event of default. Ares also restricts their investments to companies with positive and long-established cash flow streams providing even a greater margin of safety for investors.
Ares offers a full line of structured capital products to its customers that can fulfill just about any need of their businesses. This broad and varied capability also enhances the opportunities for increased profits enjoyed by Ares and its shareholders.
How Safe Is The Dividend?
Investors are generally looking for income, capital gains or a combination of the two. Depending on the objective, what we look for and watch can be very different things. When investing for income, we need to keep our focus on the safety and reliability of the income stream more so than on the price of the underlying asset.
The primary reason for investing in Ares today is to provide a reliable income stream against the original capital allocated to the investment. While there can never be any guarantees regarding what the future might hold, Ares certainly has an impressive history when it comes to paying dividends.
Between December 2004 and December 2015 the company has declared and paid a dividend every quarter. These payments ranged from $0.30 per share to $0.50/share. During the 2008 and 2009 market crash, the company issued quarterly payments of between $0.42 & $0.35/share even as the share price collapsed from above $20.00/share in 2007 to below $3.50/share in 2008.
Those who were courageous enough to buy the stock at $3.50/share in late 2008, were rewarded with $1.47 in dividend payments during 2009…a 42% return on capital. They also receive a huge capital gain over the next few years as the stock price rose to $16.00 in 2011. Even those investors who had bought shares at the $20.00 peak and were brave enough to hold on received a very attractive 7.35% return on their original investment during 2009 and have continued to be handsomely rewarded every year since.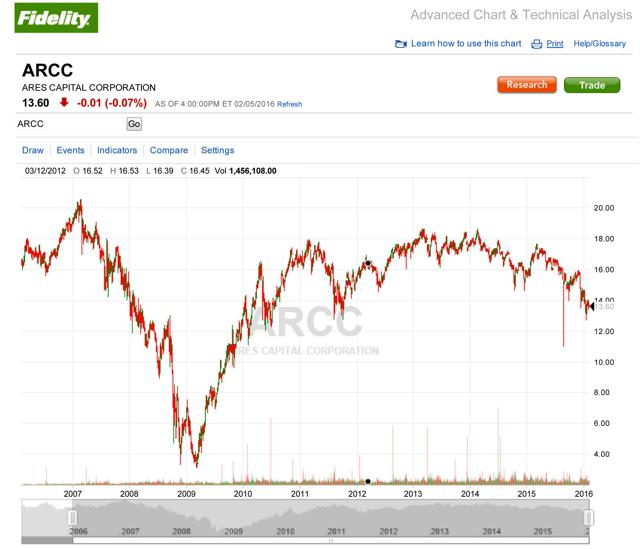 Investors who were solely focused on the capital yield and were able to ignore the share price have enjoyed an exceptionally nice income stream from capital allocated to Ares over the last 10 years. Especially when you consider the yields from other income investments available.
According to Fidelity Investments, the dividend has been holding steady at $0.38/share for the last ten quarters and currently yields 11.17%. As shown in the chart below:

There were a lot of businesses that simply eliminated their dividends during 2008 and 2009 while Ares continued to pay every single quarter.
How Does The Business Look Going Forward?
Just using the analysts' projections from Yahoo!Finance, we can see that Ares is projected to earn $1.54/share for 2015 and $1.59/share in 2016.
Earnings Est

Current Qtr.
Dec 15

Next Qtr.
Mar 16

Current Year
Dec 15

Next Year
Dec 16

Avg. Estimate

0.39

0.39

1.54

1.59

No. of Analysts

19.00

18.00

15.00

19.00

Low Estimate

0.37

0.36

1.52

1.50

High Estimate

0.41

0.43

1.57

1.77

Year Ago EPS

0.41

0.39

1.43

1.54
This should allow the company to maintain its current dividend going forward.
The company's balance sheet was showing $382 million in cash, short-term investments and receivables as of September 30, 2015, so it has plenty of capital available to allocate to any compelling opportunities that might arise.
So while the business is not projected to experience rapid growth going forward, it appears to be a very solid and reliable play for income investors based on its past history and future outlook.
Where Is The Potential Kicker?
For many of its customers, Ares provides one of the few accessible sources of financing for their business needs. Their requirements are often too large or outside of the product offerings of local funding sources but simply too small or complex for the major institutional funding sources, such as the large investment banks.
The fact that Ares offers such a wide range of product structures makes it a very convenient "one-stop shop" for its customers. It can also be the only alternative they have at times.
I believe the financial sector has taken advantage of the zero interest rate policies of the last several years to engage in some less than prudent allocations of credit. I further believe that these practices are going to result in some stress in the credit and corporate bond markets over the next 12 to 18 months.
If this thesis is correct, it will cause private lending rates to rise and also result in fewer sources of available funding for mid-sized private businesses, without regard to their ability to pay. Ares proven expertise in evaluating this type of opportunity will give them very strategic advantage in this type of condition as they will be able to accurately assess the safest loan opportunities and provide them under the most favorable conditions due to the limited availability.
Tighten credit and rising rates will result in higher demand for the services Ares provides and that will result in rising profits and dividends. Now that the Fed appears likely not to raise their short-term rates in the near future, that will keep the capital cost low for a business like Ares.
This has the potential to become a perfect storm for Ares. It will take a lot of "ifs" for this to occur. However, if you are an income investors and drawing an 11% yield on your capital in a zero percent world, how disappointed will you be if you don't get a big capital gain on top of it? And, if you do, a little extra icing on the cake never hurts.
Final Thoughts And Actionable Conclusions
If you are looking for a stock with lots of solid upside potential, Ares is probably not a good place to allocate your capital. However, if you are an income investor who can ignore the share price and is looking to generate a solid income from your capital allocation…this is it.
With long history of paying consistent dividends during the best of times and the worst of times, Ares looks like a great home for income investors. Especially the ones who can ignore fluctuations in share price and stay focused on their return on capital.
Disclosure: I/we have no positions in any stocks mentioned, but may initiate a long position in ARCC over the next 72 hours.
I wrote this article myself, and it expresses my own opinions. I am not receiving compensation for it (other than from Seeking Alpha). I have no business relationship with any company whose stock is mentioned in this article.