"A message prepared in the mind reaches a mind; a message prepared in a life reaches a life." - Bill Gothard
Markets continue to be resilient as internals continue to suggest that the Winter Resolution persists. For those unfamiliar, the "Winter Resolution" idea was meant to be description of the environment I believed we would be entering following the Summer Crash and Fall Melt-Up, whereby correlations and volatility would fall, and a trend would assert itself. Following the first week of January, I stressed the idea that market internals dramatically signaled a return to inflation expectations, which would be bullish for equities. I addressed this in a segment I did last week on Nasdaq Live around the 10 minute 30 second mark, viewable here.
I've been hearing a lot of bearish arguments now hitting the airwaves in recent days, with many calling a "top" in equities. I don't see it just yet in any of the market internals I study, as the conditions are suggesting a continuation of the reflation theme and the idea that its still very early on. Having said that, what has been a bit of a concern has been the very recent weakness in high beta small-cap stocks. Take a look below at the price ratio of the small-cap Russell 2000 ETF (NYSEARCA:IWM) relative to the large-cap S&P 500 ETF (NYSEARCA:SPY). As a reminder, a rising price ratio means the numerator/IWM is outperforming (up more/down less) the denominator/SPY.
Click to enlarge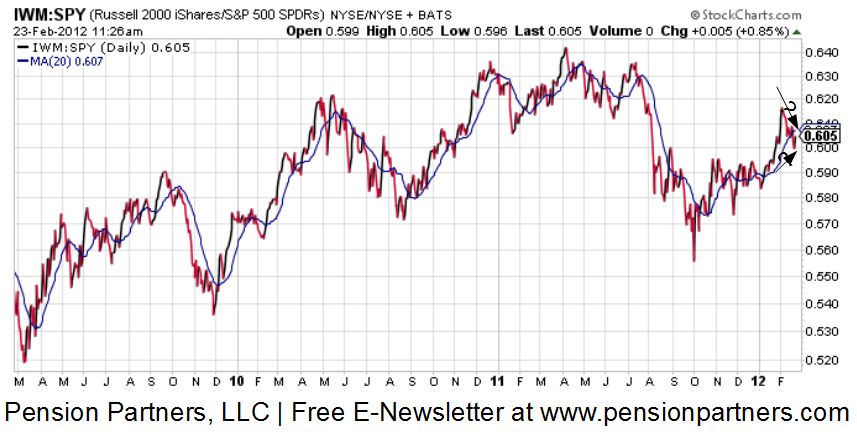 I've annotated the chart to show the significant pickup in strength that occurred in January, with the subsequent weakness there afterwards. Has the trend in leadership definitively broken? Its not clear, but there is some pick up in strength returning to the Russell 2000. Should money move back into small-caps, I would argue we could be headed for higher highs with no near-term correction just yet as risk-sentiment continues to rise. This likely will remain an important ratio to watch in coming days to see what the risk bias is internally within the stock market.
Disclosure: I have no positions in any stocks mentioned, and no plans to initiate any positions within the next 72 hours.
Additional disclosure: This writing is for informational purposes only and does not constitute an offer to sell, a solicitation to buy, or a recommendation regarding any securities transaction, or as an offer to provide advisory or other services by Pension Partners, LLC in any jurisdiction in which such offer, solicitation, purchase or sale would be unlawful under the securities laws of such jurisdiction. The information contained in this writing should not be construed as financial or investment advice on any subject matter. Pension Partners, LLC expressly disclaims all liability in respect to actions taken based on any or all of the information on this writing.