Most small and mid-cap oil and gas exploration firms were too leveraged when the downturn in prices started in the second half of 2014. PetroQuest Energy (NYSE:PQ) was amongst those firms. Even though PetroQuest had a nice portfolio of assets and a strong management team the company was going to have a hard time surviving in this brutal energy commodities market. Consequently, the company's stock has been priced for bankruptcy and is still trading under 50 cents per share.
PetroQuest has done two things in the last few months to completely change its high risk profile. First and foremost it sold one of its prized natural gas assets in June of 2015. PetroQuest sold its Woodford and Mississippian Lime assets for $280 million: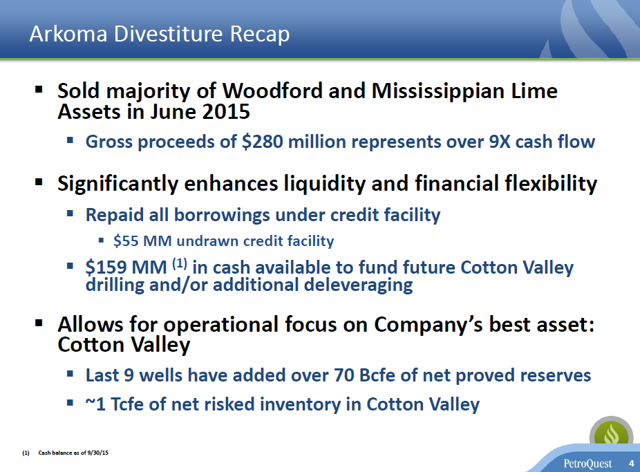 The company took the cash and cleaned up its balance sheet. It also repaid its line of credit in full and still had $159 million in cash available at the end of the third quarter of 2015.
But the company still had a major liquidity problem. Its $350 million in outstanding bonds were due in September of 2017. The unsecured credit market for small oil and gas firms was frozen. The firm had to find a way to come up with an additional $200 million by September of 2017.
Last week PetroQuest announced the results of a Tender Offer to replace its existing bonds due in 2017 with cash, stock, and new bonds due in 2021. The holder of an $1,000 note would receive $250 in cash, a new bond worth $675, and 20 shares of stock. Effectively, a company with stock trading under 50 cents a share was able to issue a few shares at $3.75 per share to reduce its overall indebtedness.
The results of the tender offer were the acceptance by 61% of the outstanding notes worth $214.4 million. PetroQuest will give the note-holders $53.6 million in cash, issue 4.288 million shares of stock, and issue $144.7 million worth of new bonds due in 2021. The company has reduced the amount of debt due in 2017 to $136 million. Importantly, the company still has over $100 million in cash and an undrawn upon credit line. It certainly looks like Petroquest will not be going out of business in 2017.
PetroQuest has two very nice assets. The first is its natural gas play in the Cotton Valley in East Texas. The last well drilled and completed in the field cost $3.9 million. Here is a look at recent well results: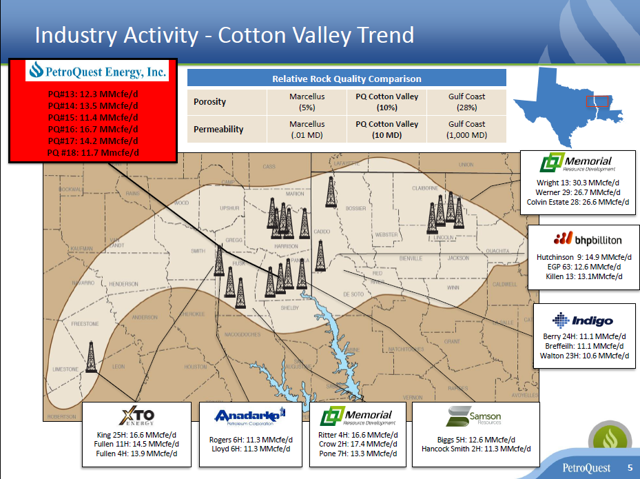 The next major asset PetroQuest has is its deep wells in the marshes of Southern Louisiana. Petroquest has a 37% net working interest in its most recent well at Thunder Bayou. This well is producing in the lowest zone. The company plans to complete the well in the main target zone in the first half of 2016 for $800,000. This will more than double the daily production from the well, which is currently averaging 30 MMcf/d equivalent of natural gas, natural gas liquids, and some oil: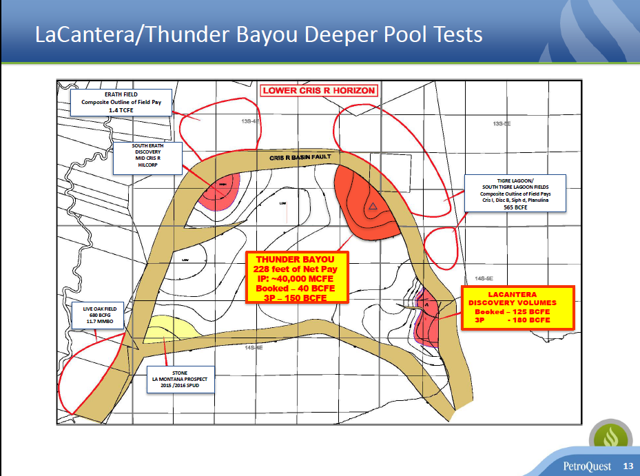 PetroQuest's stock is trading for less than $40 million in market-cap. Its assets are worth a lot more than its debt, assuming that natural gas prices rise. The article The Coming Natural Gas Supply Crisis details why it is only a matter of time before highly depressed natural gas prices do rise. When is dependent on the weather. The reason prices are so depressed is we just had the warmest December in the 122 years of recorded history. This has created a current storage glut. For those that believe natural gas prices will rise substantially in the next year or two PetroQuest offers a speculative leveraged way to play any potential significant rise in natural gas prices.
Disclosure: I/we have no positions in any stocks mentioned, and no plans to initiate any positions within the next 72 hours.
I wrote this article myself, and it expresses my own opinions. I am not receiving compensation for it (other than from Seeking Alpha). I have no business relationship with any company whose stock is mentioned in this article.
Editor's Note: This article covers one or more stocks trading at less than $1 per share and/or with less than a $100 million market cap. Please be aware of the risks associated with these stocks.