Last month, some panic ensued when Apple's (NASDAQ:AAPL) weak guidance started fueling worries over peak iPhone sales and the future of the company's growth. In encouraging investors to relax, I received a number of comments suggesting Apple give in to investors and massively raise the dividend at the next earnings report in late April. While I understand those critical of the company's dividend yield, I believe that management will continue to follow its current path that favors share repurchases over large dividend increases.
While Apple produces tremendous cash flow each quarter, investors know that most of these funds are located outside the US. As stated on page 29 of the company's most recent 10-Q filing, only about $15.6 billion of Apple's tremendous cash hoard was US based at the end of fiscal Q1. Instead of paying large tax bills to repatriate funds, Apple has decided to borrow against this hoard, a smart decision in this low interest rate environment. I recently called for Apple to issue more bonds given the recent pullback in US yields, and the chart below shows how the 10-year rate has come down even more since.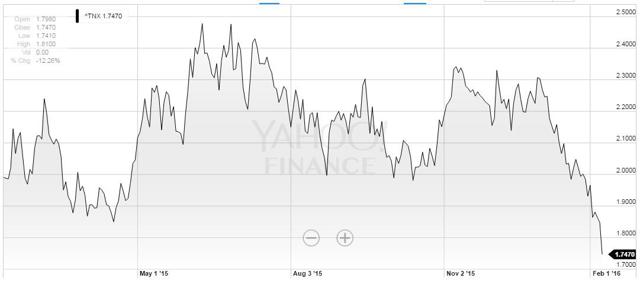 If Apple's cash was all located inside the US, I would probably have a completely different viewpoint of this matter. But I don't see why the company should issue debt just to pay a dividend. By repurchasing shares, Apple helps its earnings per share number and adds another bidder for shares to the market. Just imagine where Apple shares might be now if the company hadn't reduced its outstanding share count by 700 million or so in the past two years. Additionally, with rates low enough, there's a chance that Apple can buy back shares whose dividend yield is higher than the after-tax interest rate the company is paying. That provides a cash flow savings over time, allowing for more future capital returns.
At last year's fiscal Q2 earnings report, Apple announced a large increase to its capital return plan, part of which included a dividend raise to $0.52 per quarter. On that date, shares of the company closed at $132.65 (not dividend adjusted), which gave the $2.08 new annual payout a yield of 1.57%. With Apple shares falling almost $40 since then, investors looking at buying the stock now are presented with a much higher annual yield, 2.20% as of trading midday Monday.
So while Apple hasn't increased the dividend yet, the annual yield has risen by 63 basis points. In fact, shares now yield about 45 basis points more than a 10-Year US Treasury bond. With the combination of a low stock price and a yield that's already much higher than it was a year ago, I don't think management is going to change its course. Apple will continue to buy back billions of stock per quarter, and we'll get a high single digits or low double digits dividend raise.
On Monday morning, we received comments from analysts at Mizuho and Merrill Lynch talking about the potential super upgrade cycle regarding the iPhone 7. If you are a long-term investor, you are hoping that this year's phone launch will reduce the replacement cycle and restart the iPhone's growth. In that case, buying back shares in the $90s, well below most street price targets, seems like a much better idea than paying out a few extra pennies in a dividend.
In fiscal Q1 of 2016, Apple's outstanding share count declined by a little over 34 million shares. For simplicity, let's assume that pace picks up a little in this quarter, mainly due to the lower share price, and the count drops about 44.5 million shares to 5.5 billion at the end of the March fiscal Q2 period. This would imply that the share count declined by 4.55% over the past twelve months. At last year's Q2 report, Apple reported a 4.47% yearly decline, nearly the same.
So with a similar drop in the share count, I feel that the board will likely announce a 2016 raise that matches last year's. In the table below, I've detailed what that count looks like, with the yellow area being the range I currently see. The yield figure is based on a $94.56 share price a little after noon eastern on Monday.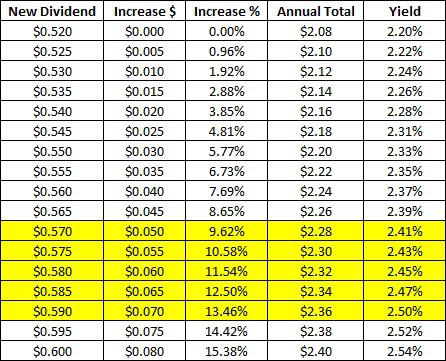 If you subscribe to the notion that Apple will likely only use whole cents, I think a 4 cent increase seems a bit too small. A 5 cent bump would match last year's raise in terms of cents, and by rounding up management could at least say it was a 10% raise. But to at least combat those that would argue the 9.62% is in the single digits, I think a 58 cent payout is most likely, so there is no debate over a double digit raise. This would be a larger raise in both cents and percentage than last year, and would put Apple close to a 2.50% annual yield based on current prices.
In the end, I see Apple continuing to favor share repurchases over a massive dividend hike at the April earnings report. With shares under $100 and interest rates low, it makes sense for Apple to borrow and have management signal it believes shares are undervalued. Apple's yield has already risen tremendously thanks to the fall in shares, so those buying now have essentially felt a raise. While I see buybacks being favored, I think we'll see a dividend raise comparable to last year's, with a new 58 cent quarterly payout giving the stock an annual yield of almost 2.50%. That's a lot better than most fixed income instruments currently, with the potential for more long-term upside if the iPhone 7 super cycle plays out.
Disclosure: I/we have no positions in any stocks mentioned, and no plans to initiate any positions within the next 72 hours.
I wrote this article myself, and it expresses my own opinions. I am not receiving compensation for it (other than from Seeking Alpha). I have no business relationship with any company whose stock is mentioned in this article.
Additional disclosure: Investors are always reminded that before making any investment, you should do your own proper due diligence on any name directly or indirectly mentioned in this article. Investors should also consider seeking advice from a broker or financial adviser before making any investment decisions. Any material in this article should be considered general information, and not relied on as a formal investment recommendation.