Success consists of going from failure to failure without losing enthusiasm. —Winston Churchill
Introduction - An Overview
For nearly a year now, I have been publicly bearish on the broader stock markets, with a series of "market outlook" articles on Seeking Alpha that have advocated selling everything from biotech stocks to Dr. Pepper Snapple (NYSE:DPS) shares. Specifically, in an April 29th, 2015 article I recommended selling individual biotech positions and shorting the iShares Nasdaq Biotechnology ETF (NASDAQ:IBB), and this recommendation was met with much resistance at the time, which is clear by re-reading the comments section today.
While this bearish outlook has proved prescient, selling positions is hard when there is emotional attachment to a stock position. Additionally, shorting the market is contrarian in nature and difficult to execute. On top of this, investors do not listen to well-reasoned analysis when stock price gains, or losses in the case of some of my long recommendations, seemingly continue on forever, and when their positions turn negative, they hold out for a recovery. I have been in all of those positions, and have empathy, as I have been actively investing and trading for over twenty years.
Last week, I authored two pieces, one describing the current bear market, and one articulating why we are now just entering an intermediate-term capitulation phase, in my opinion. The second article generated a very active discussion board with a plethora of nuggets of wisdom for investors.
One of my conclusions with those two recent research pieces was that while the average stock was down over 25%, a number of stocks were just now facing selling pressure, and thus the broader markets would decline further. By examining the sell-off in LinkedIn's (LNKD) shares and the holding of one of its top institutional holders, Sands Capital Management, I think it will be clear why the market faces additional selling pressure.
Thesis
Large institutional shareholders have seen substantial declines in their portfolio holdings, precipitating additional selling in the remainder of their portfolios. This suggests that broad market indices have further to correct.
LinkedIn Is Symptomatic Of The Disease
LinkedIn shares fell nearly 44% on Friday, February 5th, wiping out approximately $9.7 billion dollars in the company's stock market capitalization.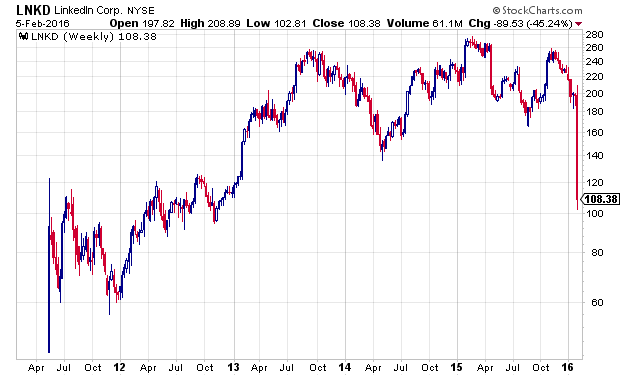 For the week, as shown in the chart above, LNKD declined more than 45%. The company was not alone, as a number of growth oriented stocks including the touted FANG stocks, Facebook (NASDAQ:FB), Amazon (NASDAQ:AMZN), Netflix (NASDAQ:NFLX), and Alphabet (GOOGL, GOOG) faced selling pressure on the week as shown in the charts below.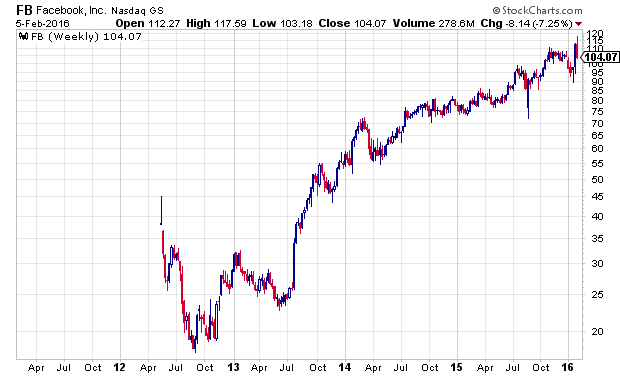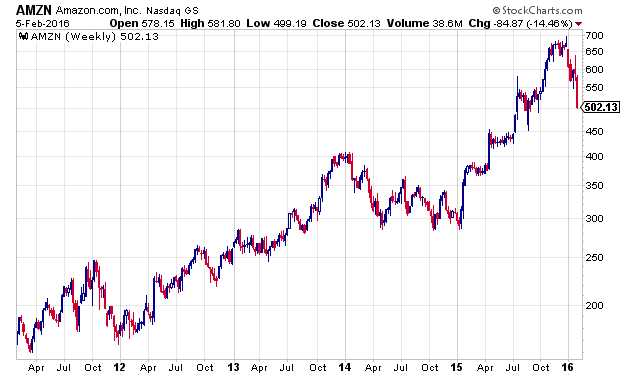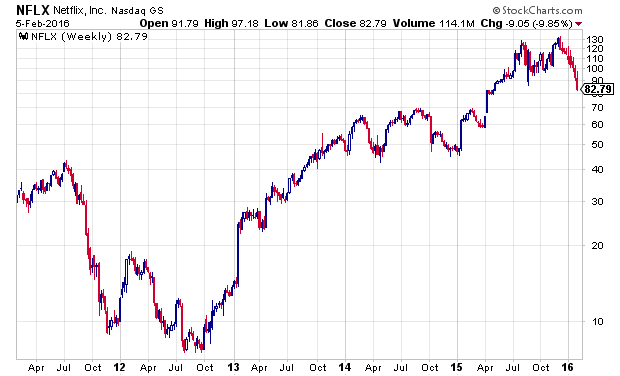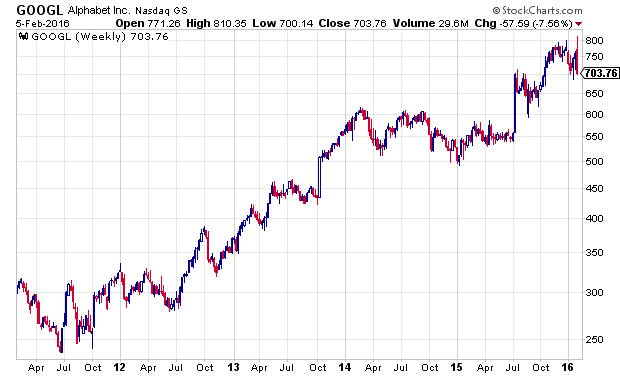 While the weekly declines of the FANG stocks, 7%, 14%, 10%, and 8% respectively, were not as severe as LNKD, the sell-off showed substantial selling pressure, as both FB and GOOGL had exhibited relative strength earlier in the week, on the back of stronger earnings reports for both companies. However, both companies succumbed to the overwhelming selling pressure in growth stocks, finishing lower for the week.
Institutional Shareholders Selling
What caused the reversal in shares of Facebook and Alphabet? One reason, from my perspective, is that large institutional growth investors are now liquidating shares. To build my case, let's look at the top shareholders of LNKD.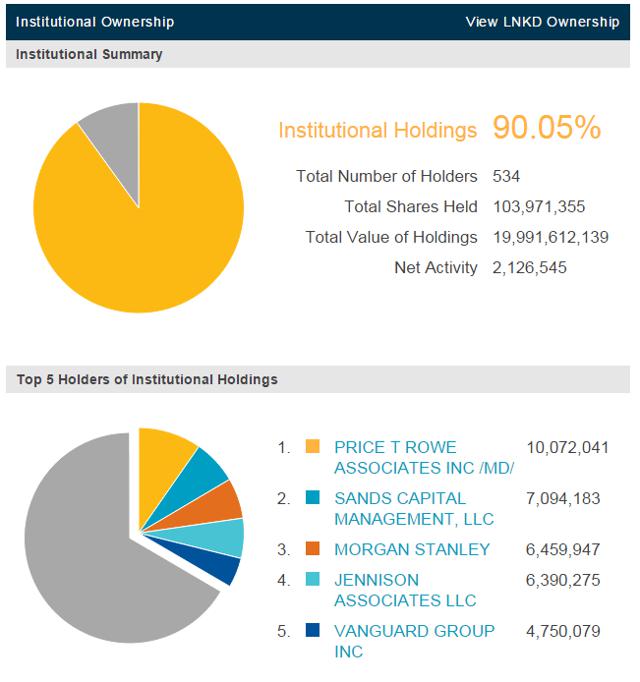 I am familiar with all of the firms, as I have interacted with each company during my two decade investment career. T. Rowe Price (NASDAQ:TROW) is an industry behemoth, as are Morgan Stanley (NYSE:MS), and Vanguard Group, which is a privately held company, most famous for its index strategies, including the Vanguard S&P 500 Index Fund (MUTF:VFINX). For this analysis, I am going to focus on Sands Capital Management, who I have researched and worked with during a portion of my career, particularly from 2005 to 2009.
Sands Capital Management
Sands Capital Management runs three concentrated growth strategies, and they are well known in the investment industry for their U.S. focused growth portfolios. Growth has outperformed valued for the past five years, and Sands Capital Management has prospered.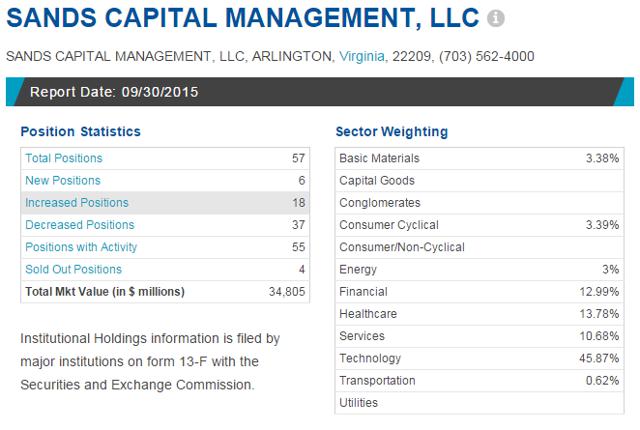 As of the end of the third quarter, 2015, they managed nearly $35 billion dollars, with a majority in their U.S. centric strategies.
Sands Capital Management's Top Positions
As we previously reviewed, Sands Capital Management is a concentrated growth manager. The firm held 57 positions, with a majority of their assets in the top holdings. Below, I am showing their top 18 positions as of the end of the third quarter 2015.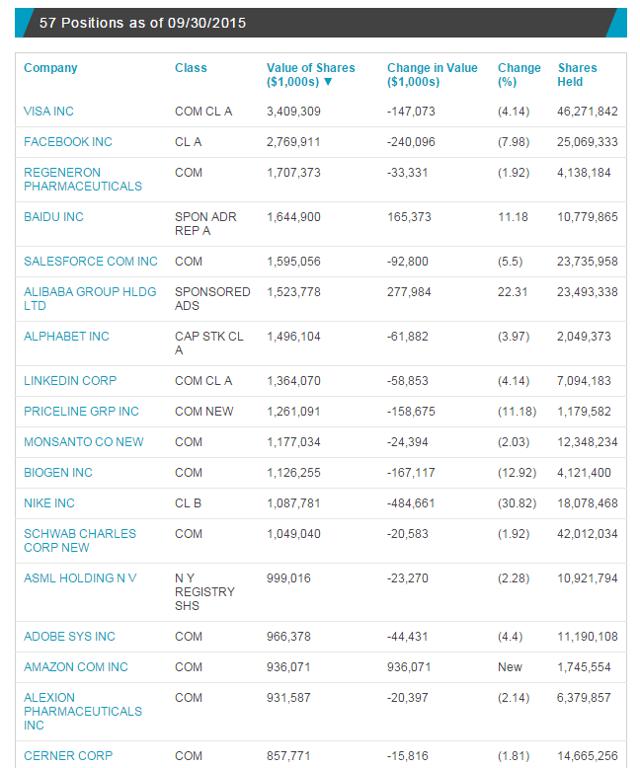 Sands Capital Management's top 18 positions compromised roughly $26 billion dollars of the firm's assets, or roughly 75% of Sands Capital Management's total portfolio. LNKD was the eighth largest position as of 9/30/2016, with a value of approximately $1.4 billion dollars. If Sands Capital Management still held the same amount of shares, Friday's decline in LNKD would have wiped out nearly $600 million dollars of their portfolio by itself.
Selling Begets Selling
Growth stocks, after outperforming over the past one, three, and five-year time periods, have started to stumble over the past two months. The top 18 positions of Sands Capital Management all faced pressure last week, with only one exception. Here is brief review of the companies' stock price performances last week:
Visa (NYSE:V) - Down 4%
Facebook - Down 7%
Regeneron Pharmaceuticals (NASDAQ:REGN) - Down 6%
Baidu (NASDAQ:BIDU) - Down 11%
Salesforce.com (NYSE:CRM) - Down 14%
Alibaba Group (NYSE:BABA) - Down 7%
Alphabet - Down 8%
LinkedIn - Down 45%
Priceline (PCLN) - Down 5%
Monsanto (NYSE:MON) - Up 4%
Biogen (NASDAQ:BIIB) - Down 3%
Nike (NYSE:NKE) - Down 8%
Charles Schwab (NYSE:SCHW) - Down 5%
ASML Holdings (NASDAQ:ASML) - Down 4%
Adobe (NASDAQ:ADBE) - Down 11%
Amazon - Down 14%
Alexion (NASDAQ:ALXN) - Down 3%
Cerner (NASDAQ:CERN) - Down 5%
Below I have posted weekly charts in order of their position size in Sands Capital Management's portfolio: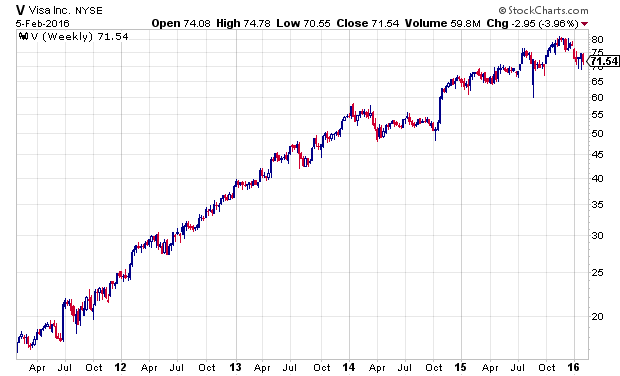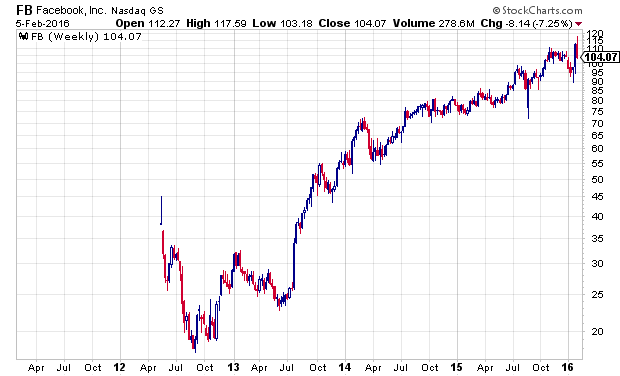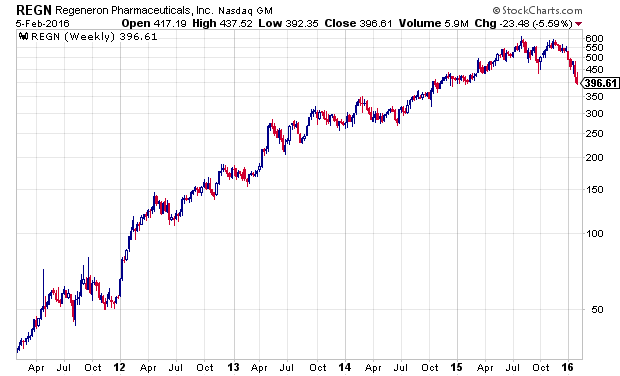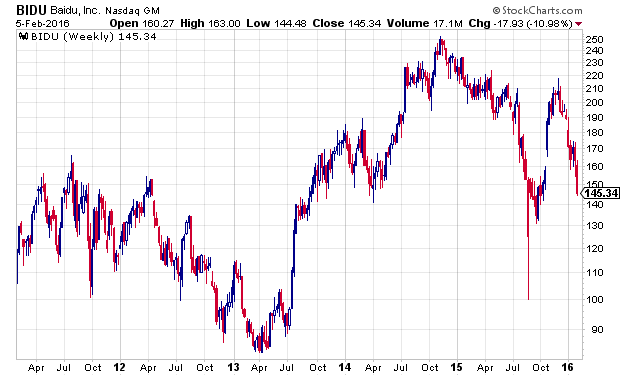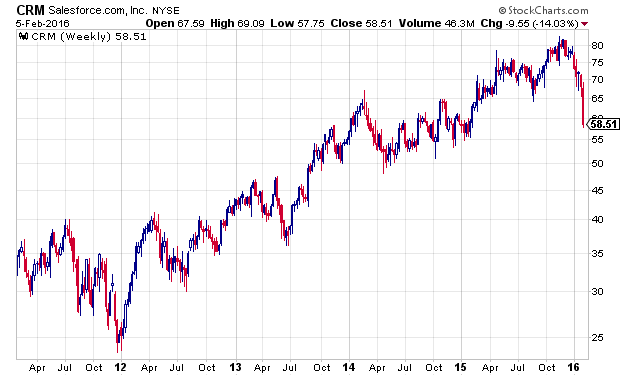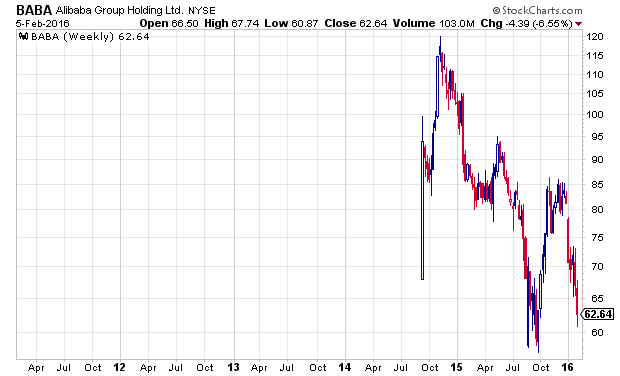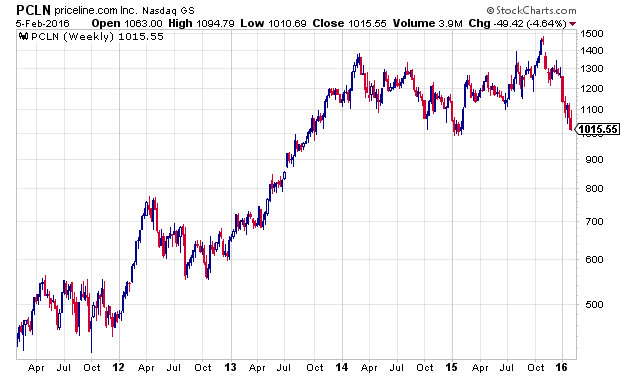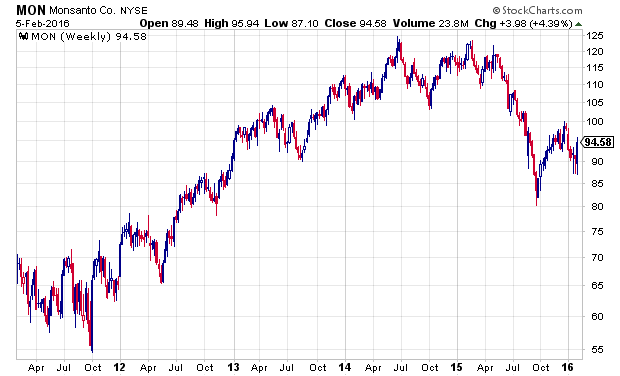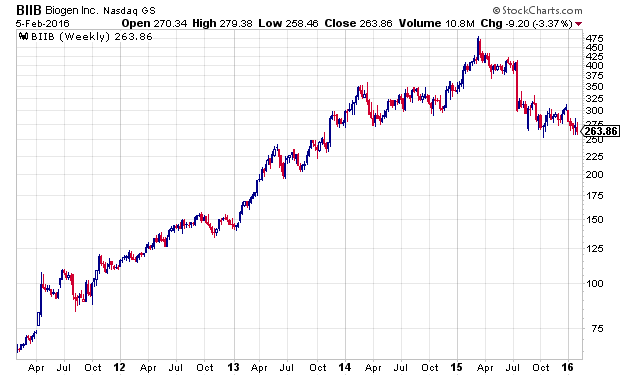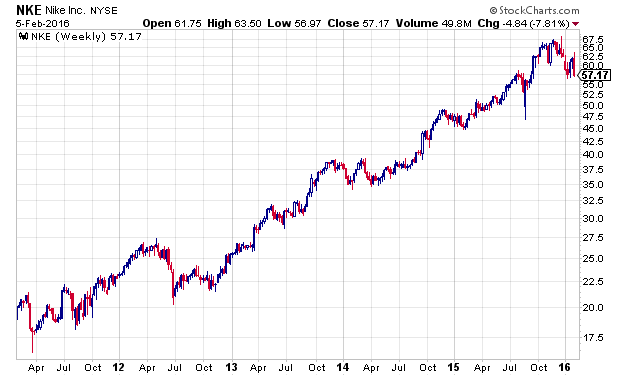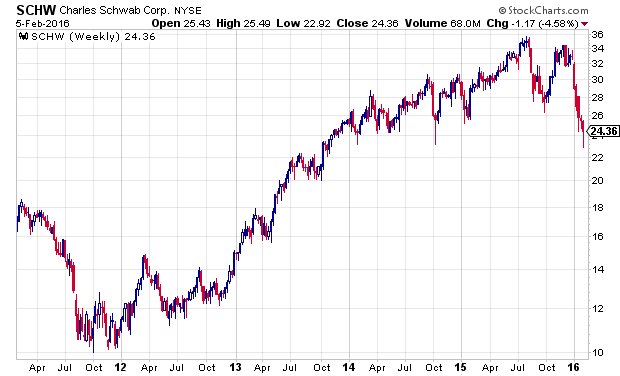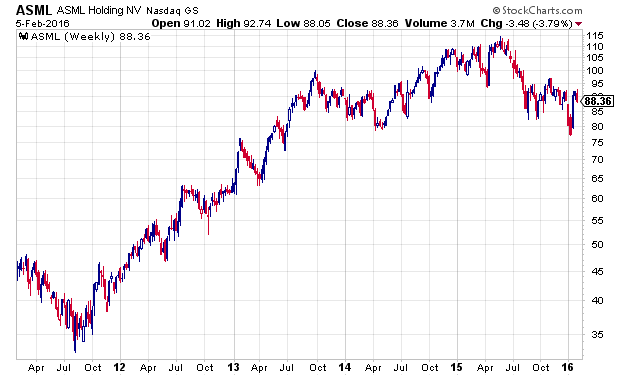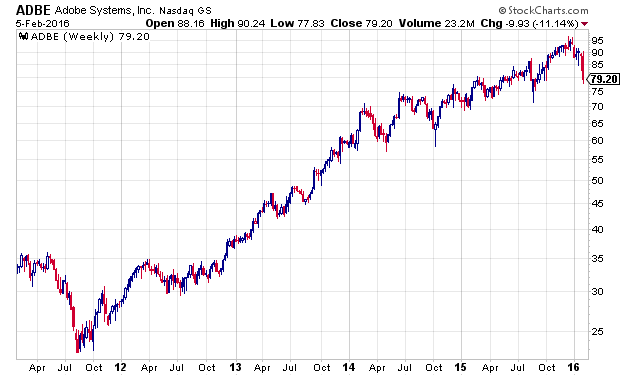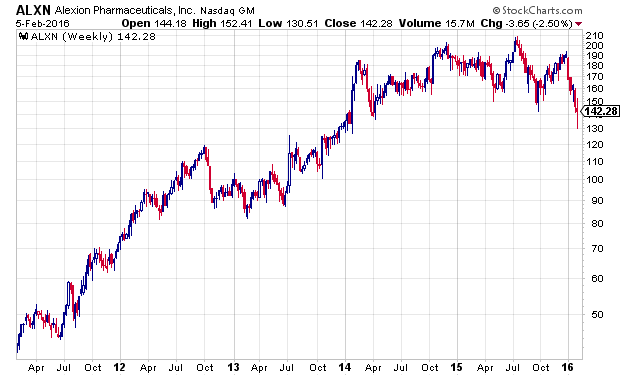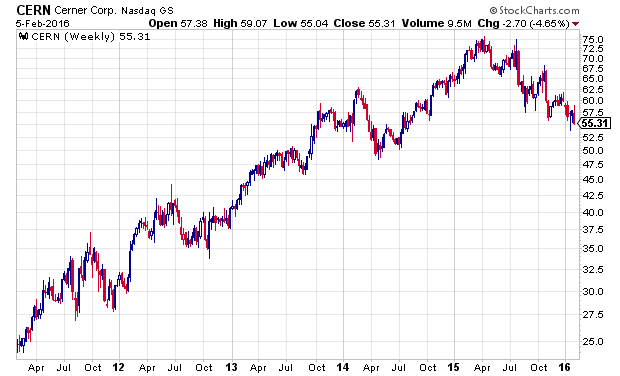 Shorting Opportunity As Growth Managers Liquidate
Once investors, both retail and institutional, see the performance of their growth managers, they are likely to reduce their holdings in these growth managers. Why is this? Put simply, investors chase performance. As investment managers, like Sands Capital Management, raise liquidity to meet redemptions, their growth stock positions will continue to exhibit selling pressure. There will be sharp bounces, as any move in in the stock market is not a one-way street, but until the broader market indices reflect more of the carnage under the surface, I do not believe this correction will be over.
For that reason, I think investors can short companies in this basket that are still close to their all-time highs. Thus, I am recommending intermediate-term short positions in Visa, Facebook, and Nike, alongside my continued recommendation to short the SPDR S&P 500 ETF and the PowerShares NASDAQ 100 Index ETF (NASDAQ:QQQ).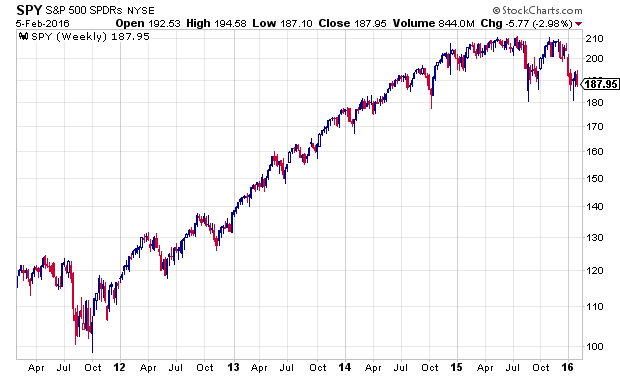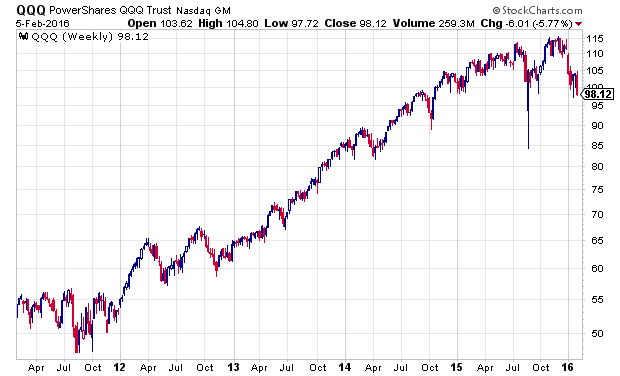 Conclusion - Stay Defensive
To be clear, I am far from a perma-bear, and my conviction in out-of-favor, undervalued firm's remains higher that shorting at this juncture. The best performing stocks, which are often the best performing companies, are the last companies to fall in a market correction. That does not mean that these will be good long-term investments, it just means that risk is high in their shares right now.
With the average stock down by more than 25%, there are a number of interesting opportunities in value stocks, particularly deep value equities. Thus, while I remain bearish on the broader markets, I am the most bullish I have been in a long-time on active stock picking.
With the average stock off by more than 25%, and leading momentum stocks down even more than that as shown above, it is only a matter of time till market capitalization indexes, and leading growth stocks catch up on the downside, as their primary sponsors, institutional and retail shareholders, throw in the towel on the last remaining holdouts. To close, you cannot hide from a bear market, but you can do your best to survive it, and have capital for long opportunities that emerge on the other side.
Disclosure: I am/we are short IBB, DPS, SPY, AND MAY INITIATE FURTHER SHORT POSITIONS. POSITIONS CAN CHANGE AT ANY TIME.
I wrote this article myself, and it expresses my own opinions. I am not receiving compensation for it (other than from Seeking Alpha). I have no business relationship with any company whose stock is mentioned in this article.
Additional disclosure: Every investor's situation is different. Positions can change at any time without warning. Please do your own due diligence and consult with your financial advisor, if you have one, before making any investment decisions. The author is not acting in an investment adviser capacity. The author's opinions expressed herein address only select aspects of potential investment in securities of the companies mentioned and cannot be a substitute for comprehensive investment analysis. The author recommends that potential and existing investors conduct thorough investment research of their own, including detailed review of the companies' SEC filings. Any opinions or estimates constitute the author's best judgment as of the date of publication, and are subject to change without notice.