In 2016, the technological trends I am most bullish on are live streaming (Periscope), cryptocurrencies (Bitcoin), and paid video content (YouTube Red). I have been writing about paid video content on YouTube (NASDAQ:GOOG) (NASDAQ:GOOGL) since before YouTube Red was launched. This is because the opportunity is vast as most young people are shirking the TV for content online. This content is difficult to replicate off of YouTube, because the type of engaging videos have become their own genre. In a past article, I discussed how Grace Helbig's show on YouTube was getting more views than her TV show. It's awkward to replicate YouTube videos by putting them on TV.
go90
Putting content on other mobile apps is also awkward. I have never been a fan of the Verizon (NYSE:VZ) go90 app because I don't see any benefit in having a separate app for video content where YouTubers make video series that are often of lower quality than what is on their channel. The quality term is subjective, but as a big fan of YouTubers, I can say their best work is on their channel not on some other app. This is sensible because this is the reason why they are successful in the first place. The download rankings underscore my point as go90 struggles to reach the top 500 in the iOS App Store. Verizon threw a lot of money at these creators to get the app going. Unless it starts to receive more downloads, the spending on the app will become unsustainable.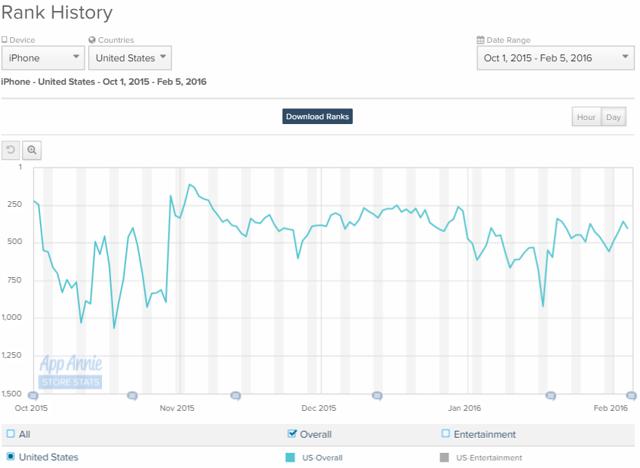 Vessel
The main reason why I have highlighted Vessel in the past is because it was ahead on the innovation curve. It allows YouTubers to post their content on the site early. Because it makes money on subscriptions, it is able to pay creators more money than they make in YouTube's ad-based model. We may start to see a decline in Vessel's popularity because of the launch of YouTube Red. Vessel was able to out-innovate Alphabet for a short time, which allowed it to do well. Vessel gave us a preview of what YouTube could become.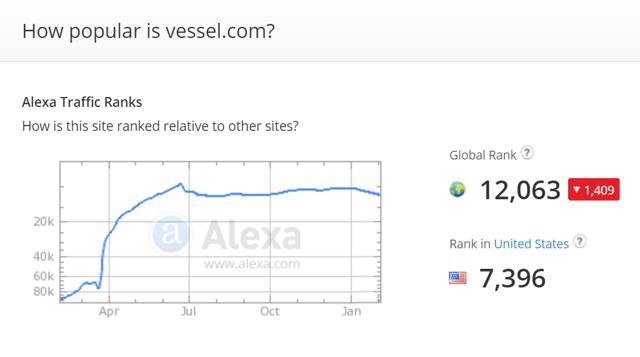 YouTubers Will Make More Money
The amount of money spent on linear TV content is going to decline rapidly and the money spent on online content such as YouTube is going to increase. YouTubers are hardly oppressed as popular channels are able to earn creators a decent living while allowing them to do what they love. The amount of money these creators make is increasing, so it was smart of Alphabet to try to partner with these creators with YouTube Red. Although the chart below is from a 2014 article, I think it illustrates an important point. If tens of millions of viewers are watching PewDiePie's content, why is he getting so much lower than advertising on TV shows such as the Super Bowl? If you aren't in your 20s, you may gasp at the idea of PewDiePie being compared to the Super Bowl, but the reality is young people anticipate Felix's content the way others anticipate the Super Bowl.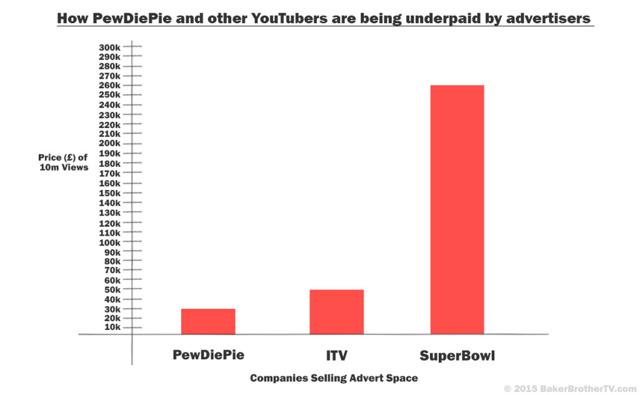 Alphabet didn't give any specifics about how YouTube Red is doing because its launch hasn't reached full steam. The first original content is set to premier on February 10th, so previous YouTube Red subscribers were only getting music and an ad-free YouTube. Personally, I'm confused why Alphabet decided to give its month free trials out last fall. The most interesting part of the deal is the original content. Either way, the subscriptions should spike this week. Usually movies that individual YouTubers are in do well. The fact that the subscription covers several different YouTubers' movies and series and is being promoted by YouTube itself gives it a big boost of momentum.
Let's Look At My Channel To Read The Tea Leaves
I decided to post my own channel's analytics to give readers some insight into how YouTube Red is doing. It's not a perfect sample size because 92% of my viewers are male and most are in America, but I still think it's valuable data to consider.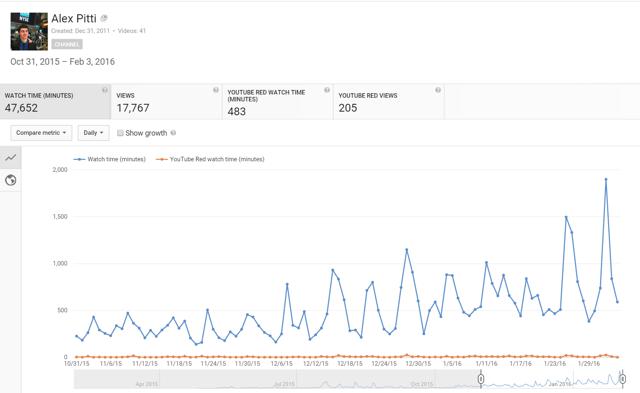 I started the chart on the day I received my first view from YouTube Red which ended up being October 31st. As you can see from the chart, the amount of views and watch time from YouTube Red is a very small part of the total. The amount of watch time on YouTube Red is 1.01% of the total watch time. The number of views from YouTube Red subscribers is 1.15% of the total views.
It's important to understand that you can't just multiply the 1% number by the 1 billion users on YouTube to get a rough estimate about the number of YouTube Red subscribers. There are not 10 million YouTube Red subscribers because YouTube Red subscribers most definitely spend more time on YouTube than the average viewer. I'd be willing to bet there are over one million subscribers to YouTube Red, but this is only a rough guess.
As I mentioned, there was a free-trial which launched on October 28. The chart below of my watch time would seem to indicate there hasn't been a drop-off after the initial free-trial period ended, but the chart has noise because my channel got more popular over time.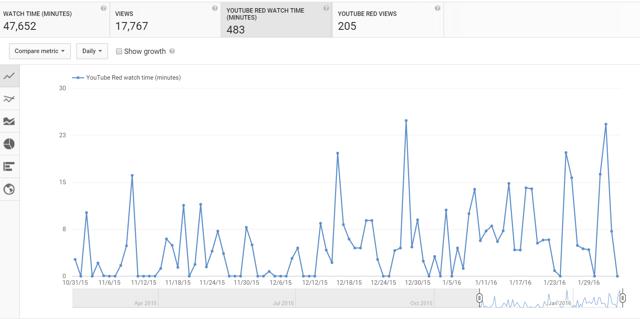 The point of YouTube Red is to earn content creators and Alphabet more money. It also diversifies YouTube's business model, so it isn't solely dependent on ads. Below I have the chart of the monetization on my channel from when I started monetizing on December 22. The monetization rate of YouTube Red is 0.75% of the total. It's difficult to determine why YouTube Red is making me less money than advertisements. My impression based CPM was $12.05 which is actually lower than the $14.72 average. I would expect a high CPM to cause YouTube Red videos to make me less money than videos with ads, but this isn't happening. I'm still going to assume YouTube Red will earn creators and Alphabet more money than ads. If any reader has a YouTube channel, I would be curious to hear what the results are for your channel.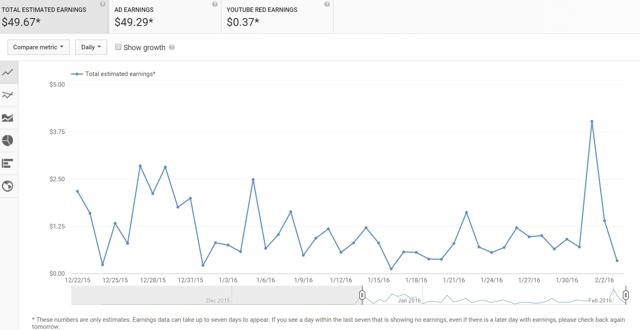 Conclusion
YouTube is uniquely positioned to take advantage of the increase in money spent on online content over the next few years. Alphabet's relationships with its creators and the ubiquity of the platform give it a competitive advantage over other platforms. Ads will always play a part in monetization of content. AdSense is another competitive advantage for YouTube. Facebook (NASDAQ:FB) has nowhere near this level of sophistication in its video ads as of today. However, Facebook knows more about viewers than YouTube does, so it may be able to beat out Alphabet in several years.
Another point to consider is the fact that Facebook is a social network that needs to keep its users on its platform, while YouTube is closer to a television network of the 1980s. Facebook has a higher probability of losing popularity than YouTube does. Looking at the competitive landscape, Facebook currently has to compete with Twitter (NYSE:TWTR) and Snapchat (CHAT) for millennial's attention while YouTube doesn't have much competition in its category. This conversation proves this lack of competition as Facebook, which only expanded video in 2015, is widely considered to be YouTube's biggest threat. The reality is YouTube doesn't have much competition, which bodes well for the long-term strength of the business.
YouTube Red will start to grow subscribers when the original content is released this week. Currently, it probably has between one million and 10 million subscribers if we use my channel as a guide. The monetization rate on my channel is less from YouTube Red than ads, but this may be a quirk in the numbers in my channel instead of an actual trend to cite.
Stock Advice
Earlier last week, I was short every part of the FANG except Alphabet. I am shorting high beta cyclical stocks because of the impending recession I foresee. While I would never short Alphabet because I love the business model, it isn't in the category of stocks I would recommend. The reality is you shouldn't own any stocks in this environment. If you have to own stocks I would recommend Colgate (NYSE:CL), Reynolds (NYSE:RAI), Altria (NYSE:MO), General Mills (NYSE:GIS), McDonald's (NYSE:MCD) and utilities over a stock like Alphabet.
Disclosure: I am/we are short FB.
I wrote this article myself, and it expresses my own opinions. I am not receiving compensation for it (other than from Seeking Alpha). I have no business relationship with any company whose stock is mentioned in this article.