Who is CDK Global?
CDK Global (NASDAQ:CDK) spun-off from Automatic Data Processing (NASDAQ:ADP) in late September 2014. The firm provides software for car dealerships and has a market cap of $7bn.
Since the spin-off, its share price has performed well, rising 55% to a peak in June 2015. Since then, shares have given back 20%. Despite the decline, valuations still appears stretched, trading at a trailing P/E of 32x and 17x EV/EBITA.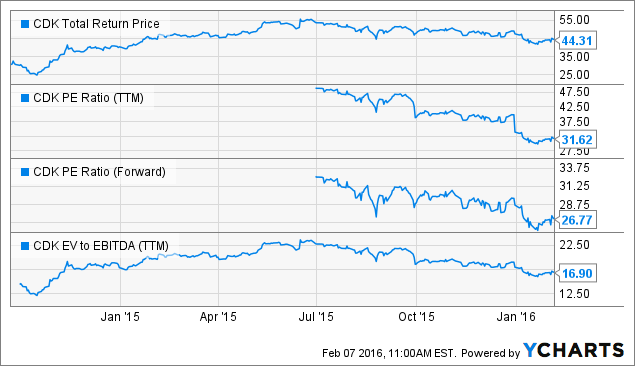 CDK Total Return Price data by YCharts
Who Is Involved?
Despite the high valuations, activist hedge funds appear to like CDK and have piled into the name.
Three activist hedge funds collectively own 20% of CDK as at September 30, 2015, which is by no means a small amount. The ownership split was 8% (Sachem Head Capital), 7% (Fir Tree Inc.) and 5% (Elliott). The trio have held the shares for some time.
Both Sachem Head and Fir Tree were early investors in CDK since 2014. According to our estimates, they have established their positions in the low $30s, which implies a ~20% annualized return on this investment to date. On the other hand, Elliott joined the party late, having averaged into the stock at much higher prices of ~$48, which is higher than last Friday's close.
All of this point to something interesting. Despite having achieved nice IRRs for their investment, Sachem Head and Fir Tree are still firmly parked in CDK with no signs of major stake disposals. This point to the possibility of more returns to come, such as through operational improvements or a sale. The late arrival of Elliott also point to possible further upside, as the manager has probably not made money on this investment. The manager is well known to take on software companies, as highlighted in our previous article.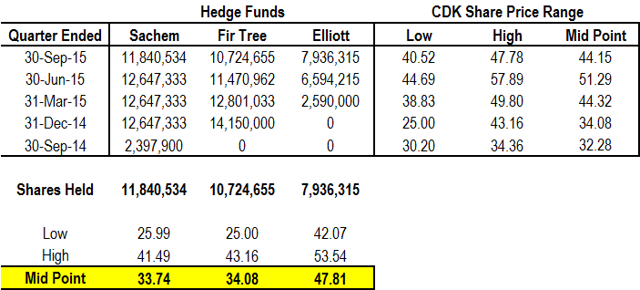 What Do We Know So Far?
September last year marked the first anniversary of the spin-off, which means tax implications for a sale would have eased. Indeed, this seemed to have coincided with news surfacing in August 2015 of a possible sale:
Oct 27 2014: 13-D filed by Sachem Head
Dec 8, 2014: 13-D filed by Fir Tree
May 15, 2015: 13-D filed by Elliott
Aug 11, 2015: CDK Global Said To Explore Sale to Private Equity Firms (Bloomberg)
Sep 9, 2015: CDK Getting Interest From Buy Out Firms (Automotive News)
Sep 16, 2015: Elliott Seeks Partner To Take CDK Global Private (Reuters)
Dec 14, 2015: CDK announces capital return plans of $1bn via dividends and buybacks. CEO also to step down in June 2016.
Shares spiked initially in August and September 2015, but have since then declined with the broader market despite plans of capital return.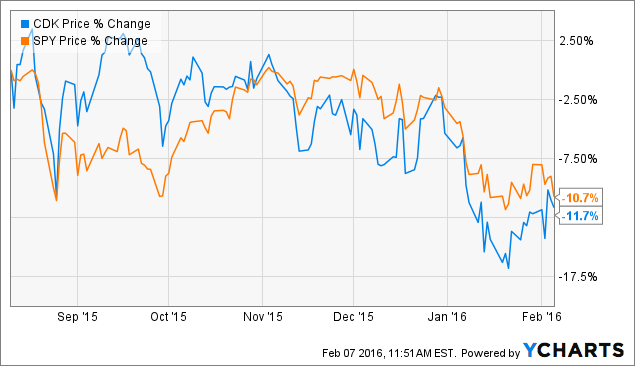 CDK data by YCharts
News flow since December have been limited. CDK reported its earnings last week on Feb 3, and there were no update on the sale process on the earnings call.
Summary Thoughts
Is No News Good News? We may soon find out. It has been 266 days since Elliott Management first filed its 13-D, a time frame that is nearing the end of typical Elliott activist campaigns. Additionally, recent share price declines may have just made the company slightly easier to absorb, although still by no means easy to finance.
That said, 13-Fs filings are due next week and should provide investors an update on the hedge funds' ownership. No change in stakes should be reassuring, although any material stake disposal by any manager would be a bad sign.
Disclosure: I/we have no positions in any stocks mentioned, but may initiate a long position in CDK over the next 72 hours.
I wrote this article myself, and it expresses my own opinions. I am not receiving compensation for it (other than from Seeking Alpha). I have no business relationship with any company whose stock is mentioned in this article.